August 30, 2019: 'Cats End Series at Lowell With 5-3 Victory
Tri-City won the final two series' of the season against their divisional foes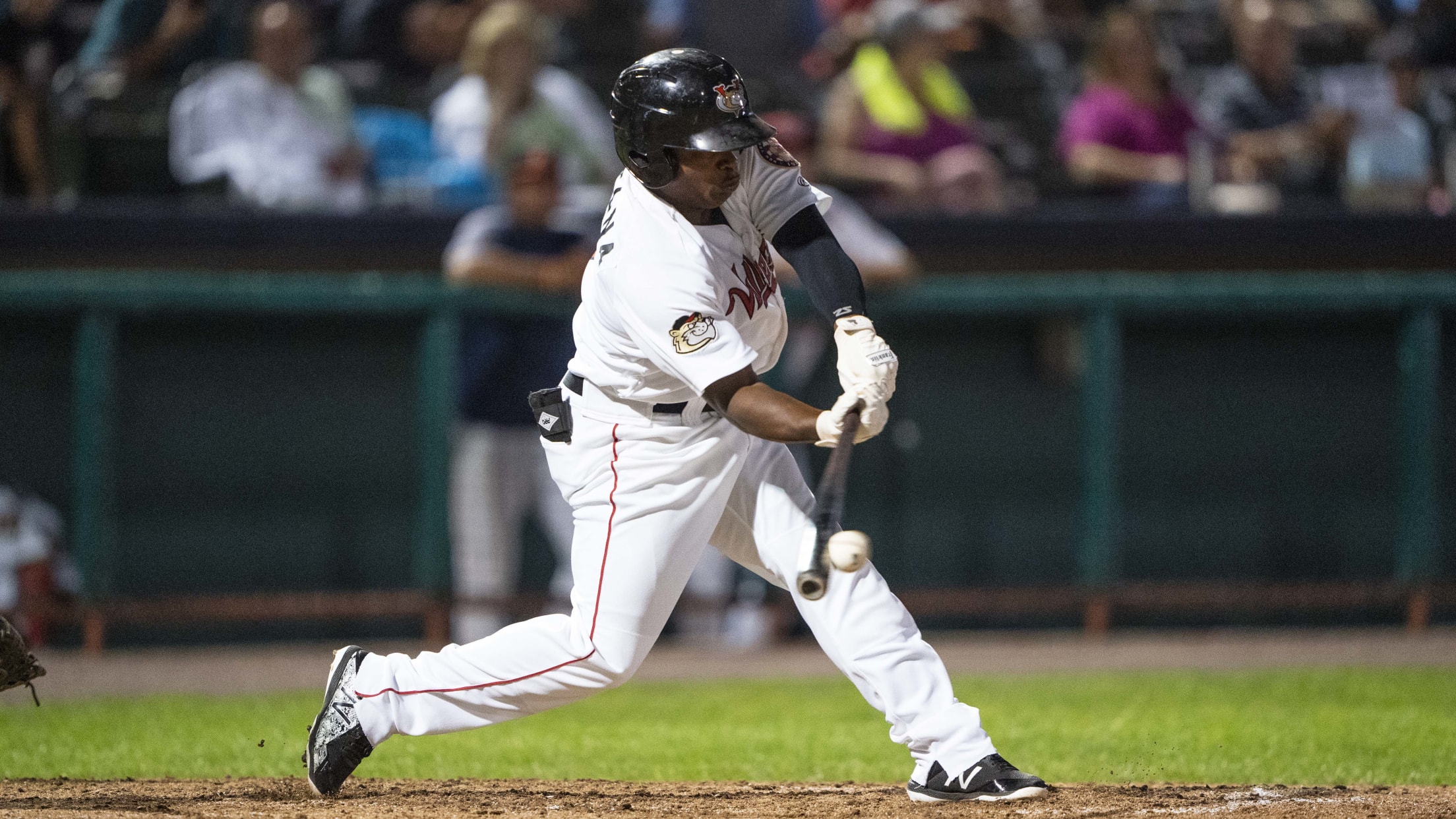 August 15, 2019: Tri-City ValleyCats third baseman Luis Santana (7) hits a single during the fourth inning of the game between the Aberdeen Ironbirds and the Tri-City ValleyCats. (Gregory J. Fisher)
LOWELL, MA - The Tri-City ValleyCats closed out their 2019 road campaign on a high notes Friday evening, capturing a 5-3 victory over the Lowell Spinners to win their second series of the season over their divisional rivals.Following a doubleheader split last night, the ValleyCats (30-42) darted out to a 5-0
LOWELL, MA - The Tri-City ValleyCats closed out their 2019 road campaign on a high notes Friday evening, capturing a 5-3 victory over the Lowell Spinners to win their second series of the season over their divisional rivals.
Following a doubleheader split last night, the ValleyCats (30-42) darted out to a 5-0 lead after five innings, not allowing a Lowell hit until the fifth inning in the contest.
A pair scored in the second thanks to a fielding error that allowed James Nix to come in and an RBI double from Luis Santana that scored Juan Ramirez. Santana struck again in the fourth inning, plating Bryan Arias on a sacrifice fly.
The top of the fifth saw Nate Perry send in Korey Lee with an RBI single and Arias allow Joe Perez to score on an RBI double.
The Spinners broke through with a pair of runs off a fielder's choice and a double in the sixth, and added one more in the bottom of the ninth, but the 'Cats solidified the win to end the season 5-7 against their Bay State rivals after starting 0-6.
Following four hitless innings from starter Ryan Gusto, right-hander Christian Mejias (2-3) took the win for the 'Cats, allowing a pair of runs off hour hits in three innings while striking out three and walking one. Peyton Plumlee then picked up his second save of the season in the final two innings of the night, allowing just one run off a pair of hits and striking out two.
Right-hander Brock Bell (0-1) was tagged with the loss for the Spinners, allowing two unearned runs off three hits while striking out one and walking two in 1.2 innings on the mound.
Following the series, the ValleyCats are set to conclude the 2019 season at home this weekend. The team will welcome the Vermont Lake Monsters to town for one final go-around, with first pitch on Saturday, August 31 set for 7:00 p.m.