August 7, 2019: 'Cats Sweep Spinners for Sixth Straight Win
Tri-City captured their sixth straight win as their late-inning magic continued against Lowell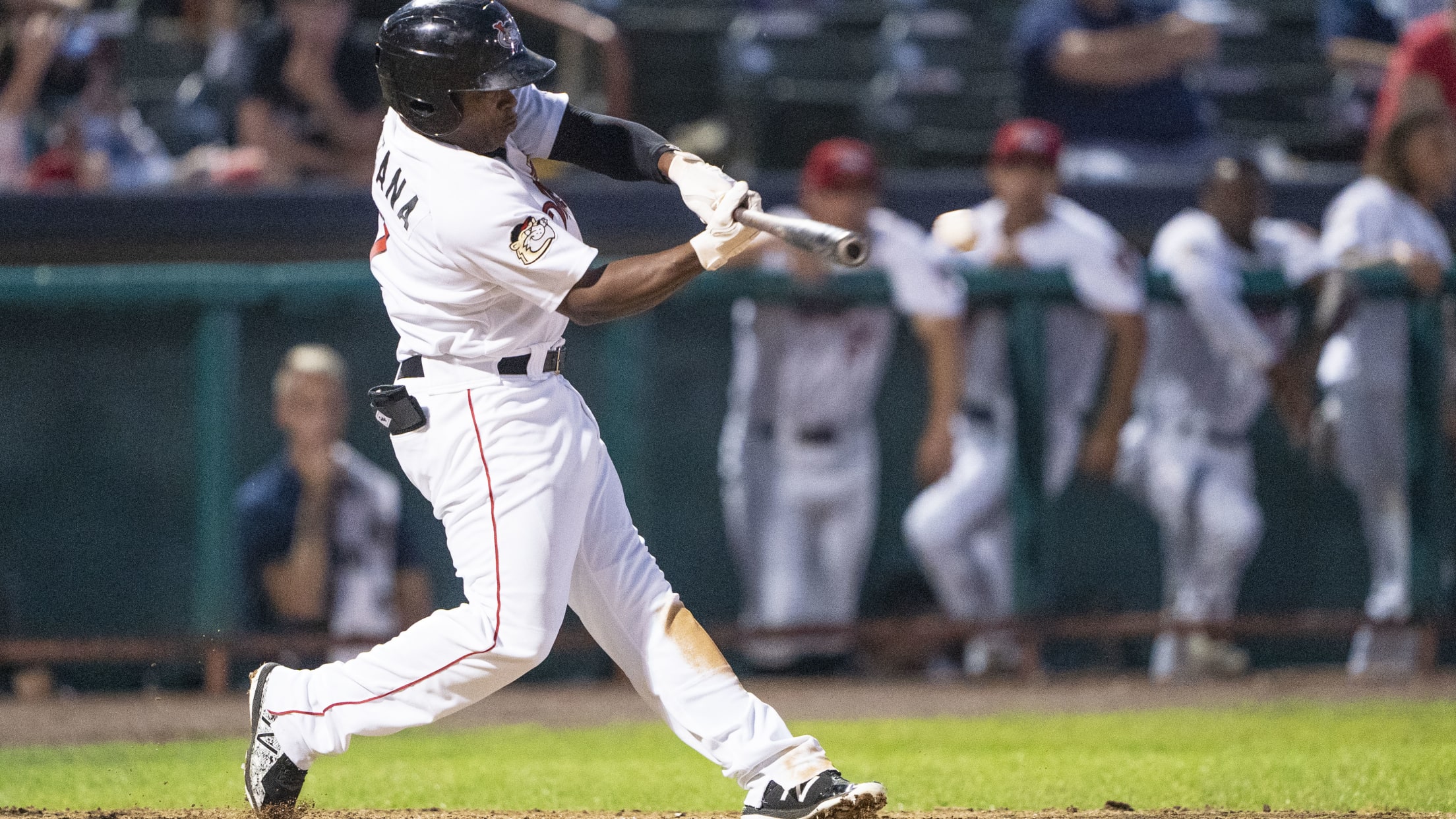 Aug 6, 2019: Tri-City ValleyCats third baseman Luis Santana (7) hits a single during the third inning of the game between the Lowell Spinners and the Tri-City ValleyCats. (Gregory J. Fisher)
TROY, NY- The Tri-City ValleyCats (23-28, 9-14) took home their sixth consecutive victory Wednesday night, and in doing so, finished the series sweep against the Stedler Division-leading Lowell Spinners (30-23, 13-4). The win once again came in the walk-off variety for the 'Cats, just two days after Joe Perez hit
TROY, NY- The Tri-City ValleyCats (23-28, 9-14) took home their sixth consecutive victory Wednesday night, and in doing so, finished the series sweep against the Stedler Division-leading Lowell Spinners (30-23, 13-4). The win once again came in the walk-off variety for the 'Cats, just two days after Joe Perez hit a walk-off home run to give Tri-City the walk-off in the series opener. Luis Santana was the hero in tonight's contest, scoring on a wild pitch from Lowell's Kris Jackson (2-3) in the bottom of the ninth to give the ValleyCats the 3-2 victory.
The game began as a pitcher's duel, with Peyton Battenfield taking the mound for Tri-City, and Chris Murphy starting for Lowell. Battenfield threw three innings of shutout ball, allowing only one hit and one walk while striking out three. Murphy pitched well in the contest, allowing just one hit, no walks, and striking out six over four innings of no-run ball.
The game continued at a scoreless pace through the sixth, when Derek West entered the game in relief of Battenfield, throwing another three innings for Tri-City while striking out five batters. For the Spinners, Brendan Cellucci threw two shutout innings of his own, surrendering two hits and striking out one.
The ValleyCats were the first to break through in the scoring department, plating a run in the seventh off the bat of Yeuris Ramirez. Ramirez hit a deep fly ball to left-field that was dropped by Marino Campana, allowing catcher C.J. Stubbs to come home from second. The Spinners were quick to answer however, scoring two runs of their own in the eighth off 'Cats pitcher Hunter Brown. Brown allowed hits to Nick Decker and Gilberto Jimenez before catcher Jaxx Groshens plated them both with an RBI-single up the middle that gave Lowell a 2-1 lead.
Tri-City responded in the ninth with a line-drive single by Yeuris Ramirez that scored pinch-runner Juan Ramirez. The hit knotted the game at two runs a piece, prompting a pitching change for Lowell, who brought in Jackson - the game's losing pitcher. Shea Barry (2-1) picked up the win for Tri-City after pitching in the ninth inning.
The ValleyCats will hit the road tomorrow to begin a season-long seven-game road trip Hudson Valley and Connecticut before returning to Joseph L. Bruno Stadium on Wednesday, August 14th against the Aberdeen IronBirds.