July 10, 2019: ValleyCats Explode for 14-7 Win over State College
Three 'Cats registered multi-RBI nights as the team set a season high in runs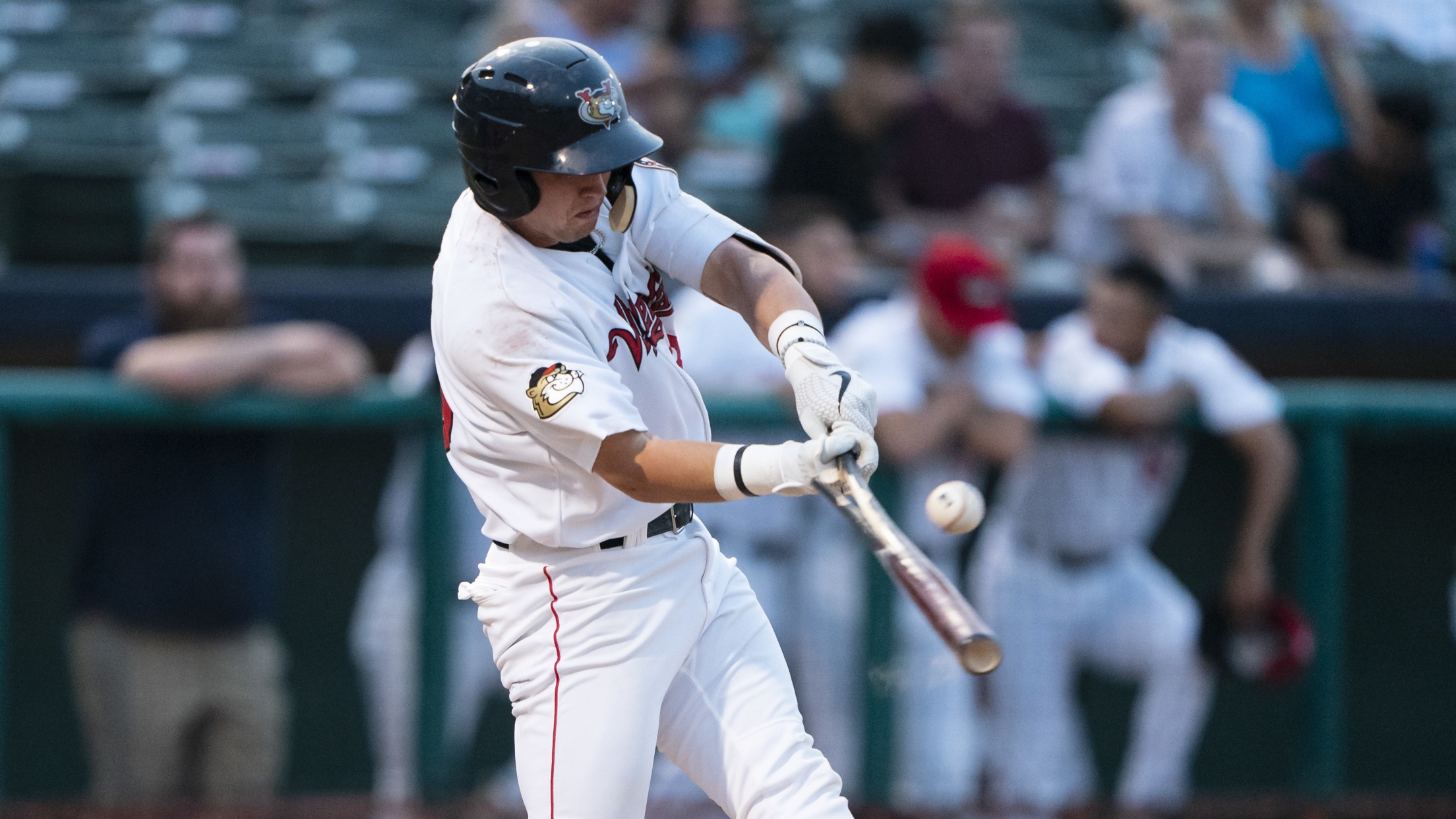 July 10, 2019: Tri-City ValleyCats catcher Korey Lee (35) hits a broken bat single during the fourth inning of the game between the State College Spikes and the Tri-City ValleyCats. (Gregory J. Fisher)
TROY, NY - The Tri-City ValleyCats put up a seven-run frame in the bottom of the second inning en-route to their most runs in a contest since August 7, 2016 on Wednesday evening. The 'Cats dismantled the State College Spikes, 14-7 to pick up their third straight victory and take the
TROY, NY - The Tri-City ValleyCats put up a seven-run frame in the bottom of the second inning en-route to their most runs in a contest since August 7, 2016 on Wednesday evening. The 'Cats dismantled the State College Spikes, 14-7 to pick up their third straight victory and take the mid-week series opener.
After winning the final two tilts of an early week series against Brooklyn to open up a six-game home stand, the 'Cats (10-14) wasted no time in putting up offense, with Zach Biermann plating a pair of runs on an RBI double in the bottom of the first. 10 men would bat in the home half of the second, with a season-high seven runs coming across in the frame off three RBI singles and another RBI two-bagger.
The 9-0 lead for Tri-City would be extended off an RBI ground out from Biermann in the bottom of the fourth, and would stand until the Spikes (14-12) got a pair back in the top of the sixth to begin a string of three straight scoring frames. The Pinckney Division squad used a pair of bases-loaded walks, an RBI ground out, a pair of RBI singles and a wild pitch to plate four runs in each of the final two innings, but the comeback fell short, with the team stranding 14 runners on the basepaths in total.
At the end of the day, Biermann (1-5, 3 RBI), Korey Lee (3-3, 4 R, 3 RBI) and Joe Perez (1-4, 1 R, 3 RBI) would all finish with their first three-RBI contests of the year. Seven different 'Cats helped the team to tie a season best with 14 hits, while Lee, Abreu, Luis Santana and C.J. Stubbs each put up multiple hits.
Right-hander Peyton Battenfield (1-1) earned his first professional win for the 'Cats in 3.2 scoreless innings on the mound, allowing just a single hit while walking a pair and striking out six. Scott Politz (1-2) took the loss for the Spikes after allowing the first 10 runs (nine earned) of the game to score on 10 hits, striking out two and walking four in five innings.
Following the rout, the ValleyCats will look to lock up their season-best fourth win in a row and take their second straight series on Thursday, July 11. First pitch at Joseph L. Bruno Stadium is set for 7:00 p.m.