The 2020 Minor League Baseball Season has been postponed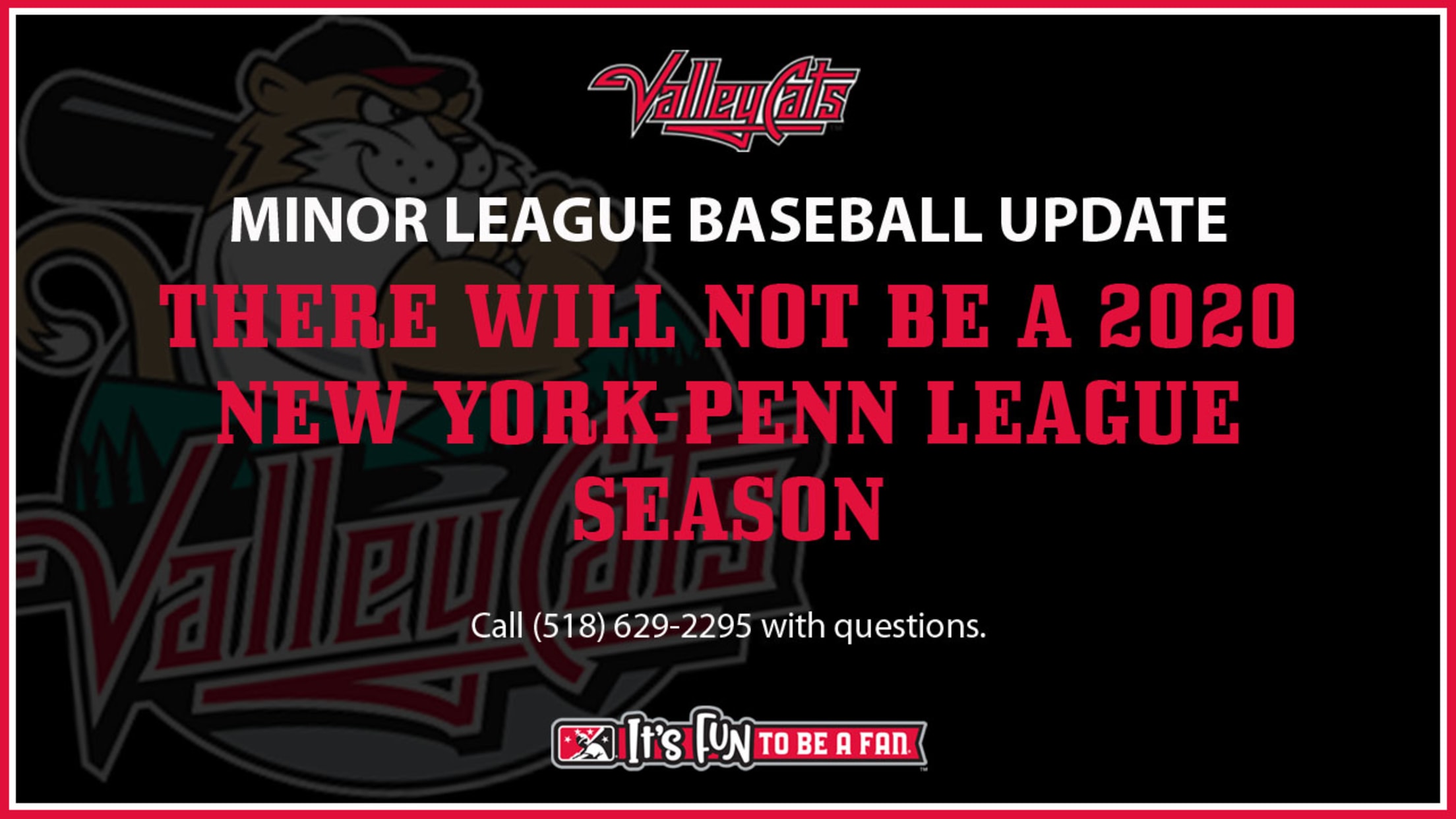 TROY, NY – Minor League Baseball announced today that due to the ongoing health concerns surrounding the COVID-19 pandemic, Major League Baseball will not be sending players to Minor League affiliates this summer. As a result, there will not be a 2020 Minor League Baseball season, including the Tri-City ValleyCats
TROY, NY – Minor League Baseball announced today that due to the ongoing health concerns surrounding the COVID-19 pandemic, Major League Baseball will not be sending players to Minor League affiliates this summer. As a result, there will not be a 2020 Minor League Baseball season, including the Tri-City ValleyCats and the New York-Penn League.
The ValleyCats schedule was set to begin on Thursday, June 18th, in what would have been their 19th season since moving to the Capital Region. Individual ticket purchases for the 2020 season will be credited toward the 2021 season with these fans receiving priority access to choose games and seats before tickets officially go on sale for next year. Season ticket and mini-plan holders will have their tickets credited for 2021 as well with a bonus credit added to their accounts. Fans are encouraged to contact the team's box office, (518) 629-2287 x-112, with any questions or to discuss their ticket plans. Team representatives will be contacting group event clients, corporate partners, and sponsors to work through this transition as well.
"We are obviously disappointed with this outcome but understand the decision given these unprecedented circumstances. The health and safety of our fans, players, staff, and the community remains our top priority," said ValleyCats President, Rick Murphy.
The Professional Baseball Agreement, which governs the relationship between Major and Minor League Baseball expires in September of 2020. While negotiations are ongoing, the ValleyCats expect to maintain a Major League affiliation for the 2021 season and beyond. "Despite the challenges ahead, we are committed to being an active member of the Capital Region community for the long term and look forward to reopening the gates at The Joe for our 2021 season," said Matt Callahan, ValleyCats General Manager.
In the interim, the team is exploring a variety of other events and opportunities that can be safely hosted at the ballpark this summer. Those plans will be developed with safe social distancing practices in mind and in accordance with the guidelines set forth by New York State. More information will be released by the team at a later date.
2021 will mark the Tri-City ValleyCats 20th year in the Capital Region and the franchise has seen more than 70 alumni reach the Major Leagues during that time. Updates on ballpark events, next season, former players, and the organization in general can be found online at tcvalleycats.com or on the team's social media outlets.
To learn more information please visit our 2020 Season Updates page HERE.