ValleyCats beat Spikes 4-3, win 2013 title
Tri-City collects second championship in 4 years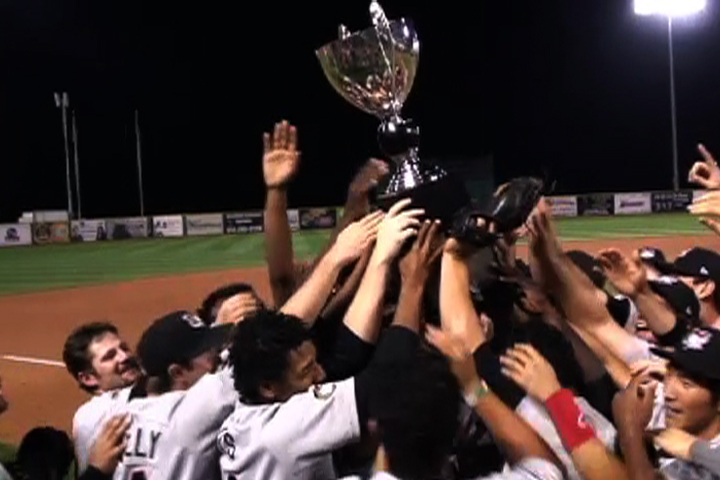 By Evan Valenti / Tri-City ValleyCats | September 12, 2013 7:11 PM ET
UNIVERSITY PARK, PA - The Tri-City ValleyCats collected the franchise's second New York-Penn League Championship in team history, defeating the State College Spikes 4-3 on Thursday night.
ValleyCats starter Kyle Westwood, one of Tri-City's best starting pitchers in 2013, gave his team another quality start. He pitched six more solid innings, giving his team a shot to capture another championship.
State College tacked on the first run of the ballgame, despite Westwood's best efforts. David Washington singled to begin the bottom of the fourth inning, but would be quickly erased at second base on a force play to the left side of the infield by Carson Kelly. Kelly would advance 90 feet to second on another Spikes groundout. With two outs, Mason Katz would single to center field to give the St. Louis Cardinals affiliate a 1-0 lead.
The 'Cats offense broke through in the top of the sixth inning. Ronnie Mitchell and Chan Moon would both reach via a bunt. James Ramsay would hit a sacrifice bunt of his own, giving his team two runners in scoring position. Victor De Leon replaced Jimmy Reed, but would he would face a similar fate to the Spikes' starter.
De Leon gave up a RBI-single and the lead to Jack Mayfield, but Moon had to hold at third base on the play. Two wild pitches during Tyler White's at-bat turned into a ValleyCats lead. White would eventually walk and end De Leon's night.
Jeff Rauh walked the first batter he faced, Conrad Gregor, and got Brian Holberton to hit a groundball to the right side of the infield. Gregor was out at second, but a bad throw by Cesar Valera plated two more 'Cats runs. Tri-City led 4-1 when the sixth was over.
'Cats closer Gonzalo Sanudo pitched a scoreless eighth inning, but ran into some trouble in the ninth. Michael Schulze hit a lead-off single and Mason Katz hit a home run to left to cut Tri-City's lead to just one. Luiz Perez hit a single to right, and would move up into scoring position on Jimmy Bosco's sac bunt. Sanudo would settle down and strike out the last two Spikes to end the 2013 postseason.
"It's unbelievable," said Manager Ed Romero. "We've been up and down the whole year. These guys - just watching these guys toughen up and play the game the way they've played it the last month - it's unbelievable."
"I cannot describe how proud I am of these guys. They showed a lot of character. They toughened up quickly. They came out to play, had faith, and knew they could [win]," said Romero.
The ValleyCats have enjoyed postseason success as of late. Tri-City captured its first NYPL Title in 2010, defeating the Brooklyn Cyclones 2-0 in the best-of-three series. The 'Cats fell just short in 2012, losing in the title game to the Hudson Valley Renegades.
This story was not subject to the approval of the National Association of Professional Baseball Leagues or its clubs.
View More