Rubin/Vesosky Lead Vermont To Win Saturday
Lake Monsters 12 straight wins after 5-3 victory vs. Worcester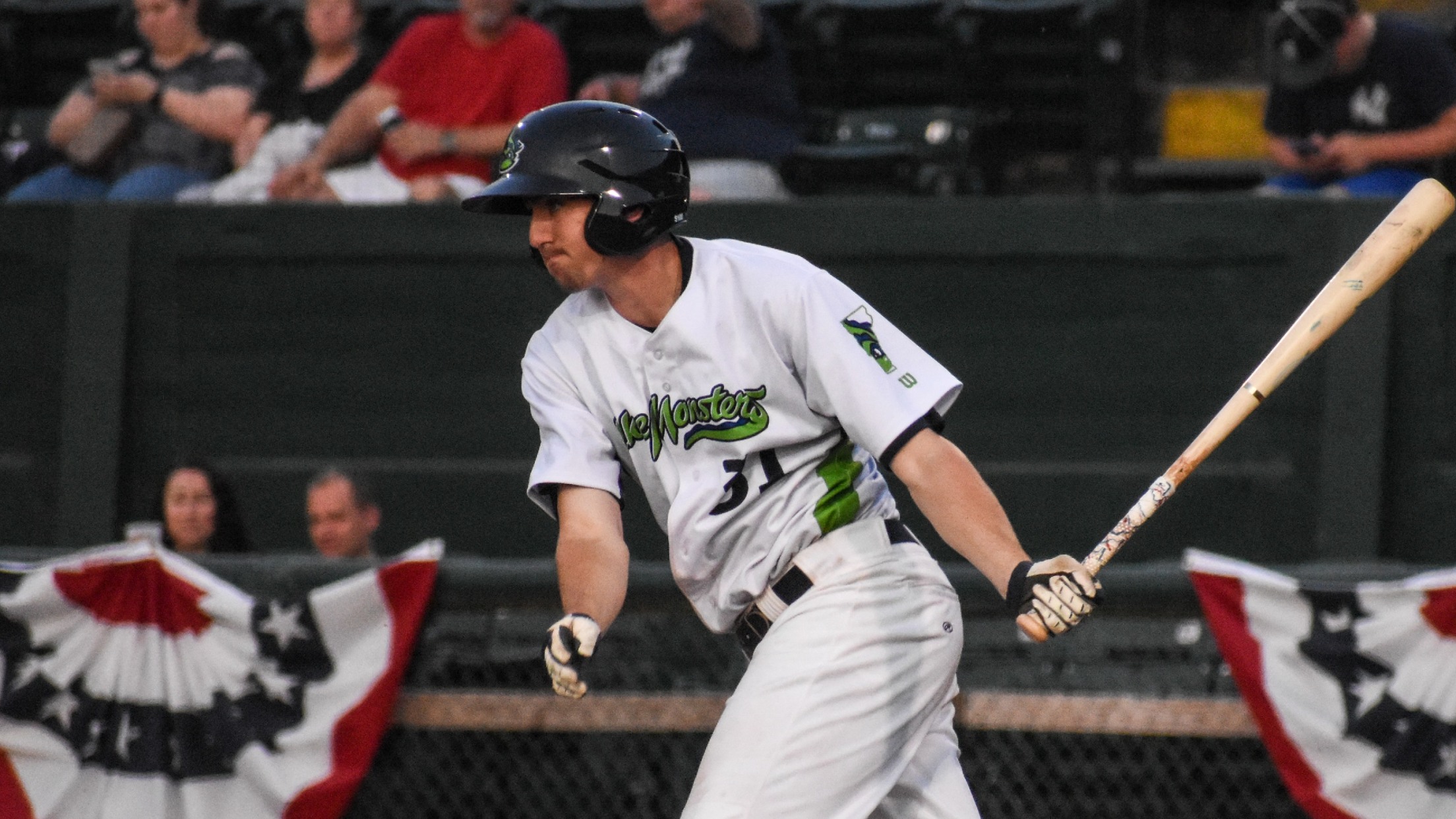 Tom Vesosky had a 3-run double in the Lake Monsters 5-1 win on Saturday. (Greg Bessette, Lake Monsters)
boxscore BURLINGTON, VT --- A Justin Rubin two-run single and Tom Vesosky three-run double were all the offense that Vermont needed Saturday night as the Lake Monsters won their 12th consecutive Futures League game with a 5-3 victory over the Worcester Bravehearts at historic Centennial Field. Rubin (Virginia), who had
BURLINGTON, VT --- A Justin Rubin two-run single and Tom Vesosky three-run double were all the offense that Vermont needed Saturday night as the Lake Monsters won their 12th consecutive Futures League game with a 5-3 victory over the Worcester Bravehearts at historic Centennial Field.
Rubin (Virginia), who had three of Vermont's four hits in the game, gave the Lake Monsters a 2-0 lead in the bottom of the third inning with a two-out, two-run single to centerfield scoring Ethan Firestone (Southern Cal) and Darren Hagan (Coppin State), who had reached on a one-out walk and two-out fielding error.
Vermont starter Billy Oldham (Eastern Connecticut State) allowed one run on five hits with two walks and two strikeouts over five innings. The run came onn a Kenny Mallory Jr. one-out RBI double in the fourth snapping Oldham's streak of 25 2/3 straight innings without allowing an earned run. He has now given up just two runs (one earned) over his last 28 1/3 innings and now has a 0.86 ERA overall (three earned runs in 31 1/3 innings).
The Lake Monsters loaded the bases in the sixth on a Brian Schaub (Trinity) leadoff walk, Ethan Anderson (Virginia) one-out walk and Andrew Bergeron (Georgetown) one-out walk. After a forceout at home for the second out, Colchester's Vesosky (Southern Maine) lined a 1-0 pitch into the leftcenter gap to empty the bases for a 5-1 lead.
The Bravehearts got single runs in the seventh off Colchester's Chase Carey (his first run allowed in 13 innings this season) and Shelburne's Will Hesslink, but Isaiah Rhodes came on to get a strikeout to end the eighth with the tying runs aboard and then a scoreless ninth to earn his fourth save.
Worcester starter Jack Choate took the loss despite allowing just two unearned runs on two hits with three walks and nine strikeouts over five innings. Randy Flores was 3-for-4 with a run and RBI for the Bravehearts (21-19), while Zach DeMattio and Kenny Mallory Jr. both had two hits.
Saturday's game also marked the 1,000th Vermont Expos/Lake Monsters game at Centennial Field in the franchise's history. Vermont is now 517-483 all-time at Centennnial since 1994 when the team joined the NY-Penn League.
Vermont (24-18) will look to tie the FCBL record for consecutive wins (2012 Nashua won 13 straight) on Sunday when the Lake Monsters host Worcester at 5:05pm. Fans can "Have A Catch" in the outfield following the game.