Slams Decide Win and Loss In Split Wednesday
Vermont Walkoff Grand Slam Opener, Brockton Slams Nightcap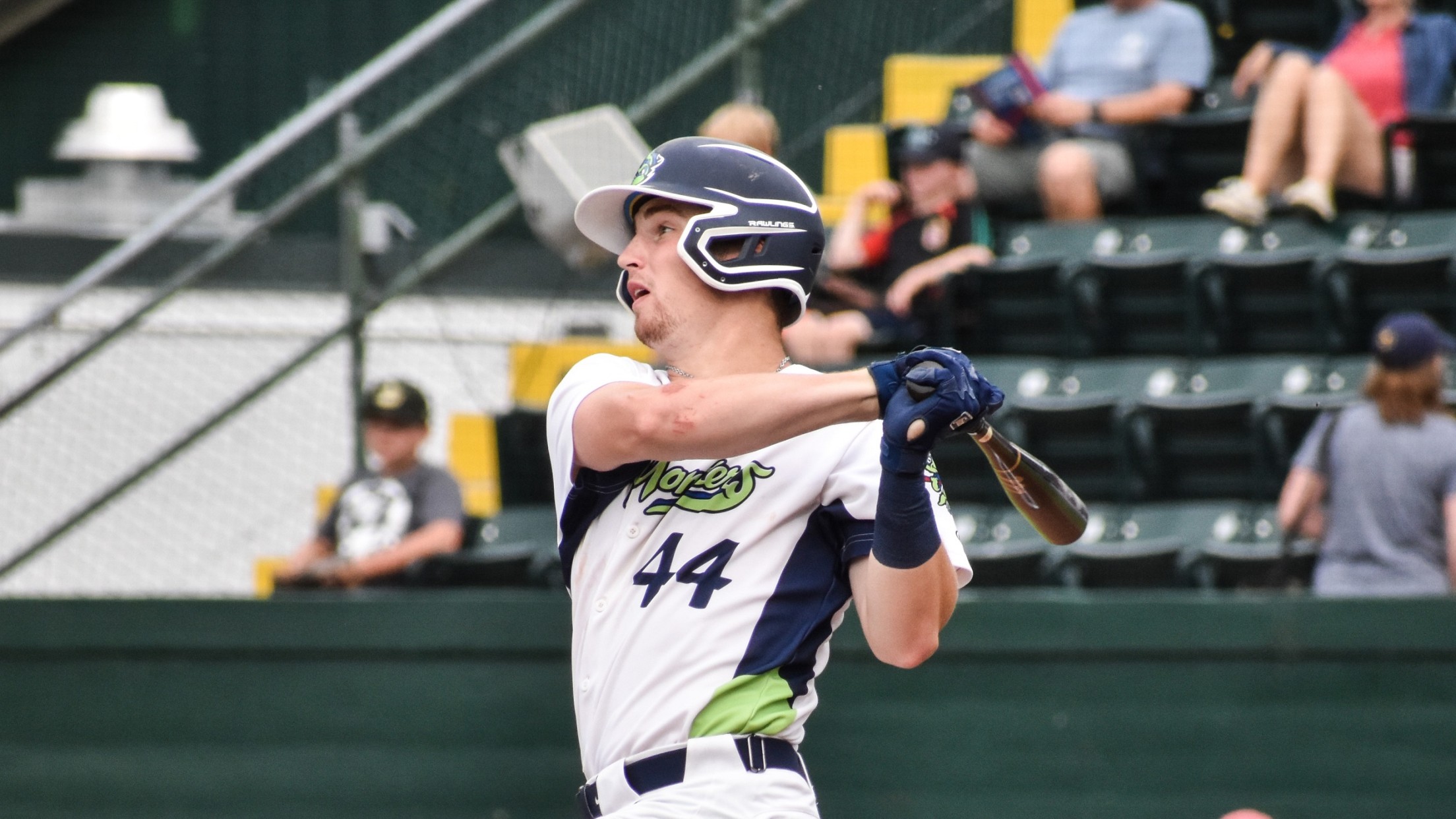 Chris Brown wins opener with walkoff grand slam for Vermont's 14 straight win. (Greg Bessette, Lake Monsters)
Game 1 Boxscore Game 2 Boxscore BURLINGTON, VT --- The Vermont Lake Monsters set a new Futures League record for consecutive wins in dramatic fashion Wednesday night as they rallied with two runs in the bottom of the final inning to tie the game and then won in extra-innings on
Game 1 Boxscore Game 2 Boxscore
BURLINGTON, VT --- The Vermont Lake Monsters set a new Futures League record for consecutive wins in dramatic fashion Wednesday night as they rallied with two runs in the bottom of the final inning to tie the game and then won in extra-innings on a Chris Brown two-out walkoff grand slam for a 7-3 victory in the completion of Tuesday's suspended game at Centennial Field for their 14th straight win.
The win streak would come to an end in game two of the doubleheader as Jacob Studley hit a go ahead grand slam in a Brockton five-run third inning and the Rox held on for a 5-2 victory to remain one game ahead of Vermont for first-place in the FCBL.
The Lake Monsters trailed 3-1 in the opener before tying the game in the bottom of the seventh on two-out RBI singles from Tom Vesosky (3-for-3) and Andrew Bergeron (Georgetown). Then in the eighth, Vermont loaded the bases with no outs on a leadoff single, stolen base/throwing error and a pair of intentional walks.
Rox reliever James Quinlivan got a forceout at home and strikeout to keep the game alive before Brown (UConn), who entered the game with just one RBI in 29 games this season, smashed a 2-1 pitch the opposite way over the fence in right for Vermont's second grand slam of the year and its first-ever walkoff grand slam.
Lake Monsters bullpen tossed 5 1/3 shutout innings after the game resumed with two outs in the top of the third inning, allowing just one hit with no walks and four strikeouts. Silas Reed (Tufts) tossed two perfect innings with two strikeouts in his Vermont debut and Isaiah Rhodes (Southern Miss) recorded final two outs of eighth for the win.
Brockton's Dillon Ryan came on in relief in bottom of third of the suspended game, giving up one run with one walk and 10 strikeouts over 4 1/3 innings, while Pat Roche was 2-for-3 with a solo homer.
In the nightcap, Ethan Anderson (Virginia) had an RBI single and M.J. Metz (Trinity) followed with an RBI double in the second inning to give Vermont a 2-0 lead. The Lake Monsters were able to load the bases with two outs in the seventh, but a pop out ended both the rally and win streak.
Vermont (26-19), which lost for the first time since June 30th, is off Thursday before playing at Pittsfield Friday and New Britain on Saturday. After an off day Sunday and doubleheader at Brockton Monday, the Lake Monsters return to Centennial Field for a four-game homestand July 27-30.