VT Hot Streak Continues With 10-6 Win Friday
5-Run 5th inning and Anderson 3-run HR key victory at Pittsfield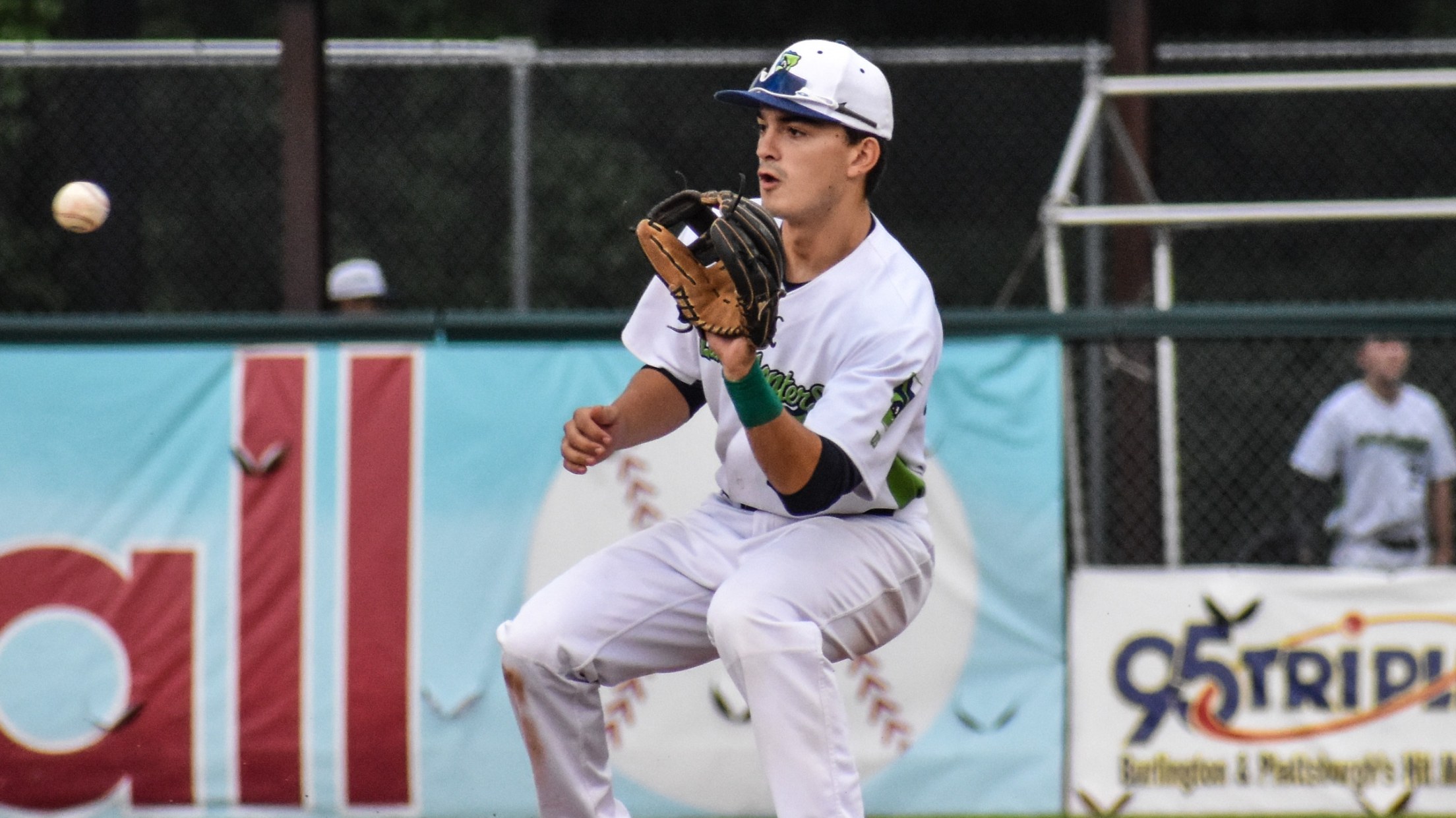 Anthony Stephan went 3-for-5 with a double and 2 RBi in Vermont's 7-1 win on Sunday (Greg Bessette, Lake Monsters)
boxscore PITTSFIELD, MA --- The Lake Monsters used three straight run-scoring hits to plate five runs in the fifth inning and Ethan Anderson added a three-run homer in the sixth to lead Vermont to its 15th win in last 16 games with a 10-6 Futures League victory over the Pittsfield
PITTSFIELD, MA --- The Lake Monsters used three straight run-scoring hits to plate five runs in the fifth inning and Ethan Anderson added a three-run homer in the sixth to lead Vermont to its 15th win in last 16 games with a 10-6 Futures League victory over the Pittsfield Suns Friday night at Wahconah Park.
After the Suns had scored three times in the third for a 3-1 lead, Vermont loaded the bases with one out in the fifth before an Andrew Bergeron (Georgetown) two-run single, Anthony Stephan (Virginia) two-run double and Tyler Faveretto (Crowder College) RBI double gave the Lake Monsters a 6-3 lead.
Then in the sixth with runners on second and third with one out, Anderson (Virginia) drilled the first pitch he saw to just the left of straightaway center for a three-run homer and 9-4 Lake Monsters lead. Anderson, who was 2-for-4 with a walk and two runs scored, has now hit three home runs in his last seven games.
Playing in its first road game since July 7th (and just second since June 30th), Vermont scored its 10th run in the ninth on a Matt DePrey (Xavier) bases loaded walk. It was the fourth time this season that the Lake Monsters have scored in double figures (first time since June 23rd).
Brett Hansen (Vanderbilt) allowed four runs on five hits with a walk and five strikeouts over five innings to earn the win, while Chase Carey (UMass-Dartmouth), Isaiah Rhodes (Southern Miss) and Wyatt Cameron (New England College) each tossed a scoreless inning of relief.
Stephan, who entered game in an 0-for-16 slump, reached base safely in each of his five plate appearances with two hits, two walks and catcher's interference. Darren Hagan (Coppins State) added two hits and M.J. Metz (Trinity) scored twice.
Javier Rosales was 3-for-5 with two runs and two RBI for Pittsfield (23-21), while Brendan Jones 2-for-4 with a pair of RBI. Kyle Roche allowed six runs (four earned) on five hits with five walks and two strikeouts over 4 1/3 innings to take the loss.
Vermont (27-19) continues its roadtrip with a 6:30pm game Saturday at New Britain. After an off day Sunday and doubleheader at Brockton Monday, the Lake Monsters return home for a four-game homestand starting Tuesday.