Vermont Splits Twinbill at Brockton Monday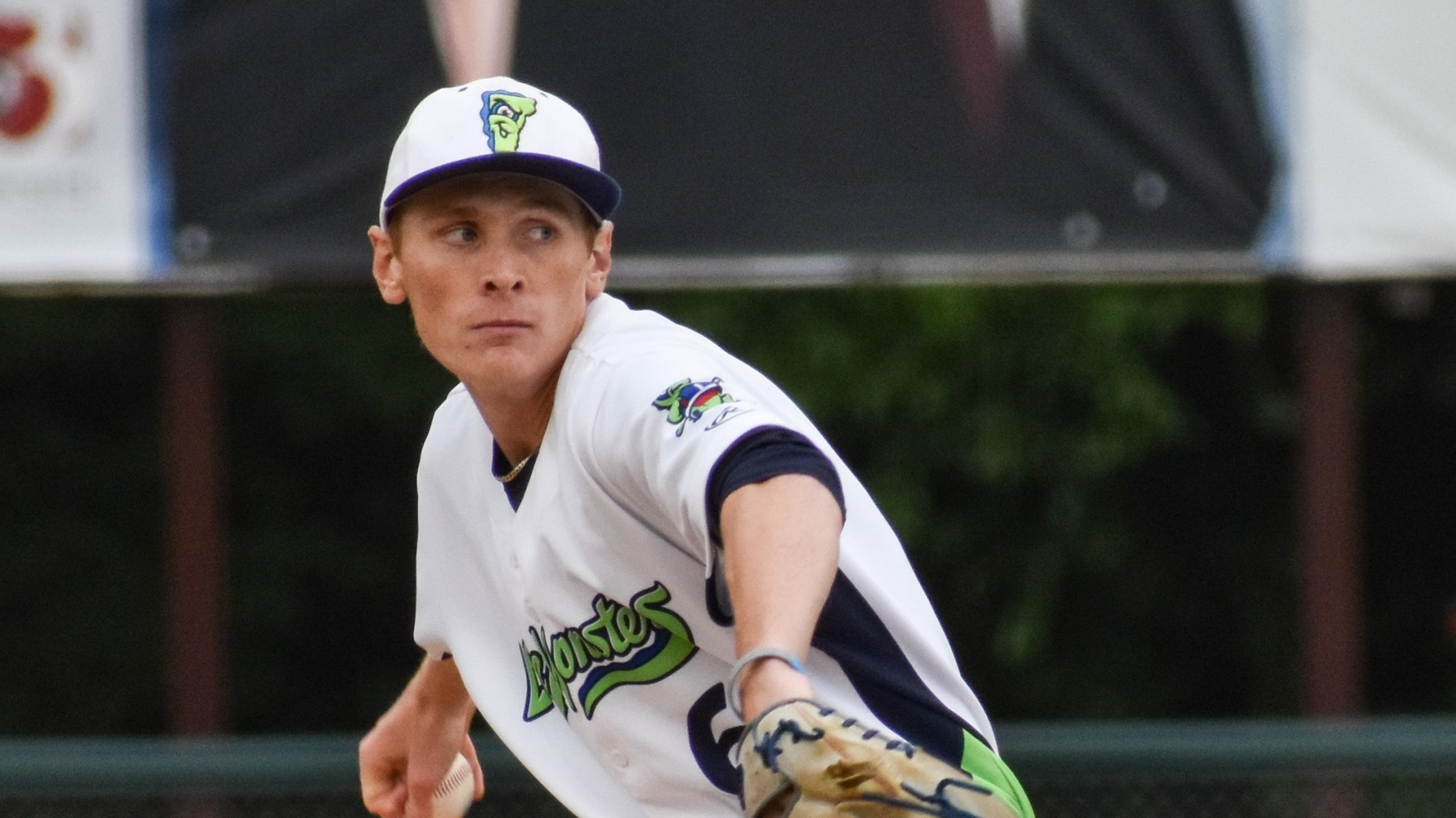 (Greg Bessette, Lake Monsters)
Game 1 boxscore Game 2 boxscore BROCKTON, MA --- After holding on for a 4-3 win in game one to briefly move into first-place in the Futures League standings, the Vermont Lake Monsters defense committed six errors in game two to fall back behind Brockton with a 12-2, five-inning loss
Game 1 boxscore
Game 2 boxscore
BROCKTON, MA --- After holding on for a 4-3 win in game one to briefly move into first-place in the Futures League standings, the Vermont Lake Monsters defense committed six errors in game two to fall back behind Brockton with a 12-2, five-inning loss Monday afternoon at Campanelli Stadium.
The 4-3 win in the opener was Vermont's 17th victory over the last 18 games and moved the Lake Monsters into sole possession of first-place in the FCBL for the first time this season by one-half game over Brockton (had been seven games behind the Rox at start of 17-1 streak).
After the Rox had tied game one 2-2 with two runs in the bottom of the fifth, Vermont reclaimed the lead in the sixth as Justin Rubin (Virginia) led off with a single and scored on a Matt DePrey (Xavier) two-out RBI single to center. Ethan Anderson (Virginia) made it 4-2 in the seventh with an RBI single to center.
That run proved to be the difference as Brockton scored a run in the bottom of the seventh after a walk and single to open the inning by Vermont starter Patrick Harrington (Assumption), who finished his 6-plus innings with three runs on six hits with one walk and five strikeouts to earn win.
Former Middlebury High pitcher Wyatt Cameron (New England College) came on in relief of Harrington with runners on first-n-third and no outs in the seventh. After a strikeout and RBI single cut the Lake Monsters lead to 4-3, Cameron recorded another strikeout and a groundout to earn his first save of the season.
Tyler Favretto (Crowder College) had given Vermont a 2-0 lead with an RBI single in the top of the second and a bases loaded walk in the fourth, both times scoring M.J. Metz (Trinity), who was 2-for-4.
The Rox scored five runs in both the second and fifth innings of game two for the 10-run, five-inning victory, the first time this season that Vermont has lost by the mercy rule (have three wins). Anderson was 2-for-2 with an RBI single in the nightcap, giving him three hits on the day and raising his average to .375 (18-for-48) in 15 games this season.
Vermont (29-20) returns to Centennial Field for a four-game homestand starting Tuesday 7:05pm vs. Nashua with 25-cent hot dogs for sale all night at the ballpark as part of "Hot Dog Hysteria".