Vermont 9-1 Victory Over New Britain Friday
Lake Monsters win for 21st time in last 23 games (all in July)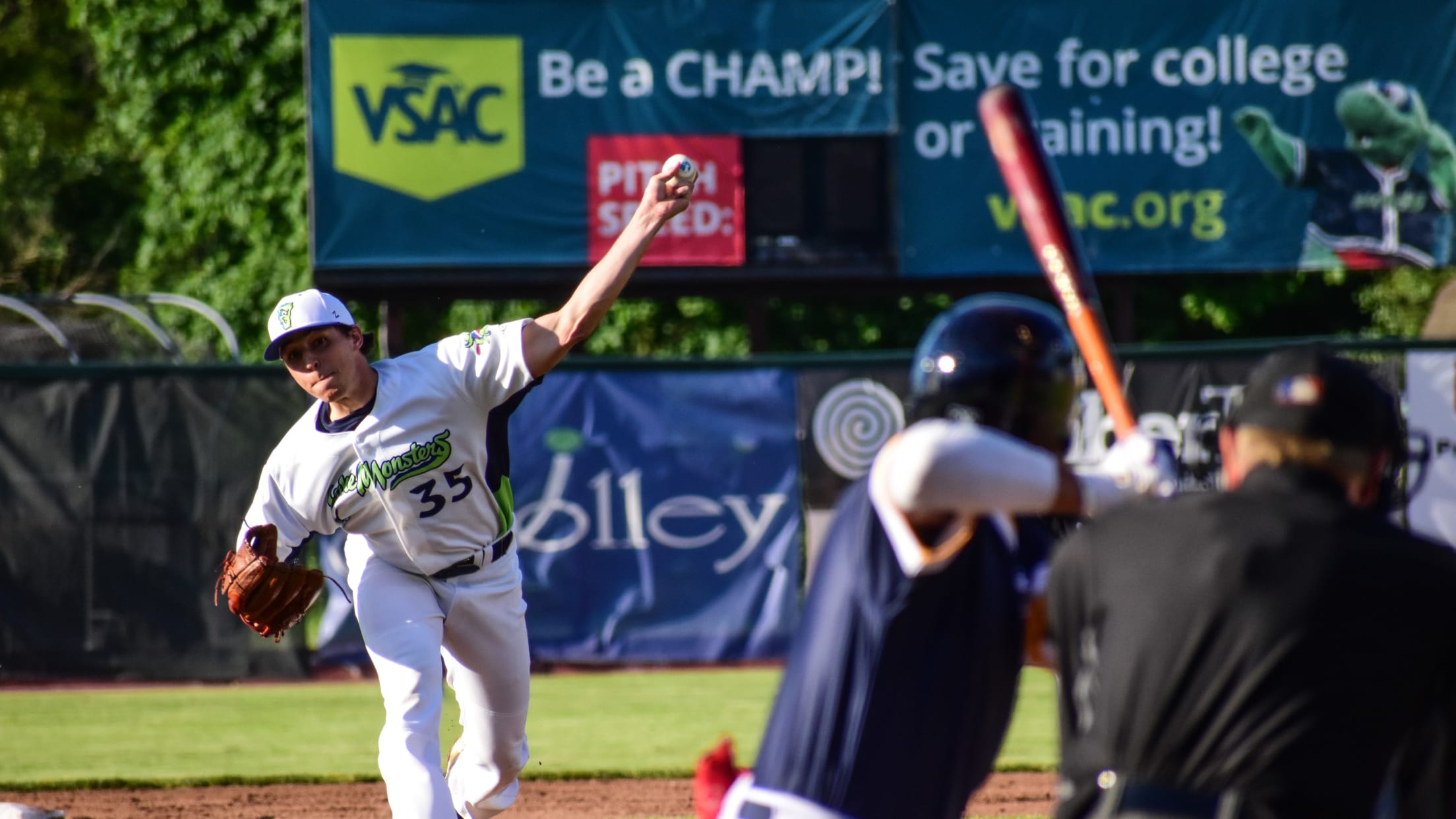 Brett Hansen allowed 1 run on 3 hits with 8 strikeouts in Lake Monsters 9-1 win on Friday. (Greg Bessette, Lake Monsters Photographer)
boxscore BURLINGTON, VT --- The Vermont Lake Monsters closed out a 4-0 homestand and finished with a 17-1 July record at Centennial Field with a 9-1 victory over the New Britain Bees in Futures League action Friday night. Starter Brett Hansen (Vanderbilt) issued a two-out walk and back-to-back singles in
BURLINGTON, VT --- The Vermont Lake Monsters closed out a 4-0 homestand and finished with a 17-1 July record at Centennial Field with a 9-1 victory over the New Britain Bees in Futures League action Friday night.
Starter Brett Hansen (Vanderbilt) issued a two-out walk and back-to-back singles in the top of the first, but then retired 13 of the next 15 batters faced to finish off his five innings with one run on three hits, two walks and eight strikeouts to improve his record to 4-0 on the season.
Bees starter John Mikosz kept Vermont in check over the first four innings, allowing just a pair of lead singles in the first and fourth innings before the Lake Monsters scored four runs (two earned) off Mikosz in the fifth.
Jimmy Evans (Tufts) was hit by a pitch to leadoff the fifth and scored on a Chris Brown (UConn) one-out RBI triple tying the game 1-1. After Brown scored on a wild pitch, Vermont got a pair of unearned runs on a Misokz throwing error of an Anthony Stephan (Virginia) bunt single.
The Lake Monsters added three runs in the seventh on a Brian Schuab (Trinity) RBI double and a pair of run-scoring wild pitches. Ethan Anderson (Virginia) capped off the scoring in the eighth with a two-run single to leftfield for his 18th and 19th RBI in just 20 games played.
Stephan, Anderson, Justin Rubin (Virginia) and M.J. Metz (Trinity) each had two of the Lake Monsters 12 hits in the game, while Rubin and Darren Hagan (Coppin State) both scored twice. The Vermont bullpen tossed another four scoreless innings with two hits, one walk and four strikeouts.
Vermont (33-20) has now won seven of its last eight and 21 of its last 23 games overall (all in July). The Lake Monsters will play a pair of games at New Britain on Saturday, starting with a nine-inning contest at 12 noon which will be televised on NESN (the teams will also play a seven-inning game starting at 6:30pm).