Bullpen Holds Strong in Nail-Biting Win
Rawhide Club Six Doubles, Eveld Strands Tying Run at Third in Ninth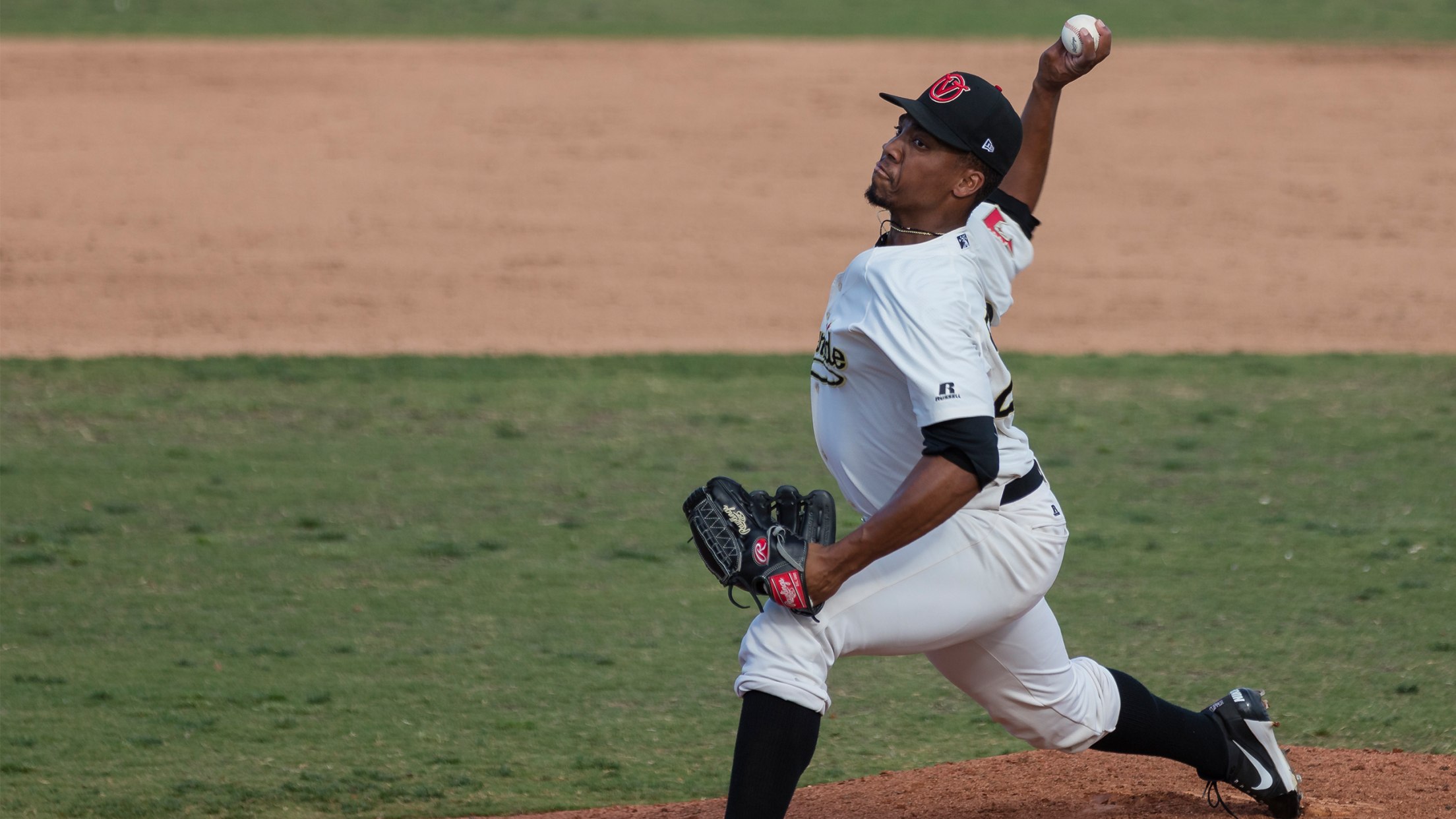 (Aaron Provencio)
VISALIA, CA - It took just one batter into the ninth inning for Lake Elsinore to put the tying run on base after Tommy Eveld walked Brad Zunica to open the frame. A wild pitch and a second walk later, the Storm had two runners on and nobody out. Then
VISALIA, CA - It took just one batter into the ninth inning for Lake Elsinore to put the tying run on base after Tommy Eveld walked Brad Zunica to open the frame. A wild pitch and a second walk later, the Storm had two runners on and nobody out.
Then Eveld bore down.
He got Nate Easley to fly out to right. Chris Baker, who had come into the game as a pinch runner for Zunica, moved to third on a bang-bang play, placing the tying run at ninety feet away in a 4-3 game.
The Cal League's leading hitter, Buddy Reed, represented the last hope for the Storm. But Eveld, who had fallen behind every other batter in the inning, jumped out to a two-strike advantage. On the next pitch Eveld (SV, 8) reached back and blew a fastball by Reed to end the game.
Visalia (39-34/2-1) had led 4-3 since the sixth, when Hudson Potts hit a two-run homer off of Matt Peacock. Tyler Mark was summoned for the seventh and picked up where he left in the first half: delivering two shutout innings while striking out three.
Despite putting the tying run on third twice in the final three innings, Lake Elsinore (35-38/1-2) never found the clutch hit. The Storm were held to just one hit in ten at bats with runners in scoring position.
Peacock (W, 1-0) was staked to a lead early in his Rawhide debut when Visalia doubled down on Pedro Avila in the second inning. Drew Ellis led off the frame with a single and then the Rawhide brought out a parade of doubles: Adam Walton doubled Ellis to third, David Sopilka hit a two-bagger to right-center to score a pair, and Luis Silverio hit a gap-shot to plate Sopilka.
Storm right-hander Pedro Avila (L, 3-5) retired one hitter in the fifth before he ran into trouble for the second time. Mark Karaviotis hit a double into right field and then Ellis followed by hitting a lined shot down the line to put the Rawhide on top 4-1.
Peacock delivered a Quality Start by going six innings while allowing three runs on six hits. He struck out five and walked just one. Drew Ellis, Luis Silverio, and David Sopilka all put up multi-hit efforts for Visalia and were responsible for all four runs driven in.
Six of the ten Rawhide hits were doubles, and all four Visalia runs came in on two-baggers. Mark has now gone 6 straight appearances without allowing a run and has pitched in 12 games since allowing his last earned run.
The Rawhide will look for the series win tomorrow and will send RHP Riley Smith (3-3, 3.70) against All-Star RHP Reggie Lawson (5-2, 2.61) First pitch is at 6:00 and tickets are still available on Rawhidebaseball.com.
The Visalia Rawhide are a professional baseball team in the Class A Advanced California League and are the only professional sports team in Tulare and Kings counties. The team has been an affiliate of the Arizona Diamondbacks since 2007 and is entering their 72nd year of play in 2018. The Rawhide renovated their home at Recreation Ballpark in 2009 and have since become the largest gathering of individuals in Tulare County, having set an attendance record for the seventh time in the past eight seasons in 2017. In 2018, the Rawhide look to continue their reputation for hosting competitive baseball while providing affordable family entertainment. To be a part of the 2018 Visalia Rawhide season, please contact the Visalia Rawhide Ticket Office at 559.732.4433, visit us online at rawhidebaseball.com, or follow us on Facebook (TheRawhide), Instagram (@VisaliaRawhide), and Twitter (@VisaliaRawhide).