Anchia's grand slam completes comeback win
Jake Anchia unloads the bases with an eighth-inning grand slam to vault West Virginia in front for good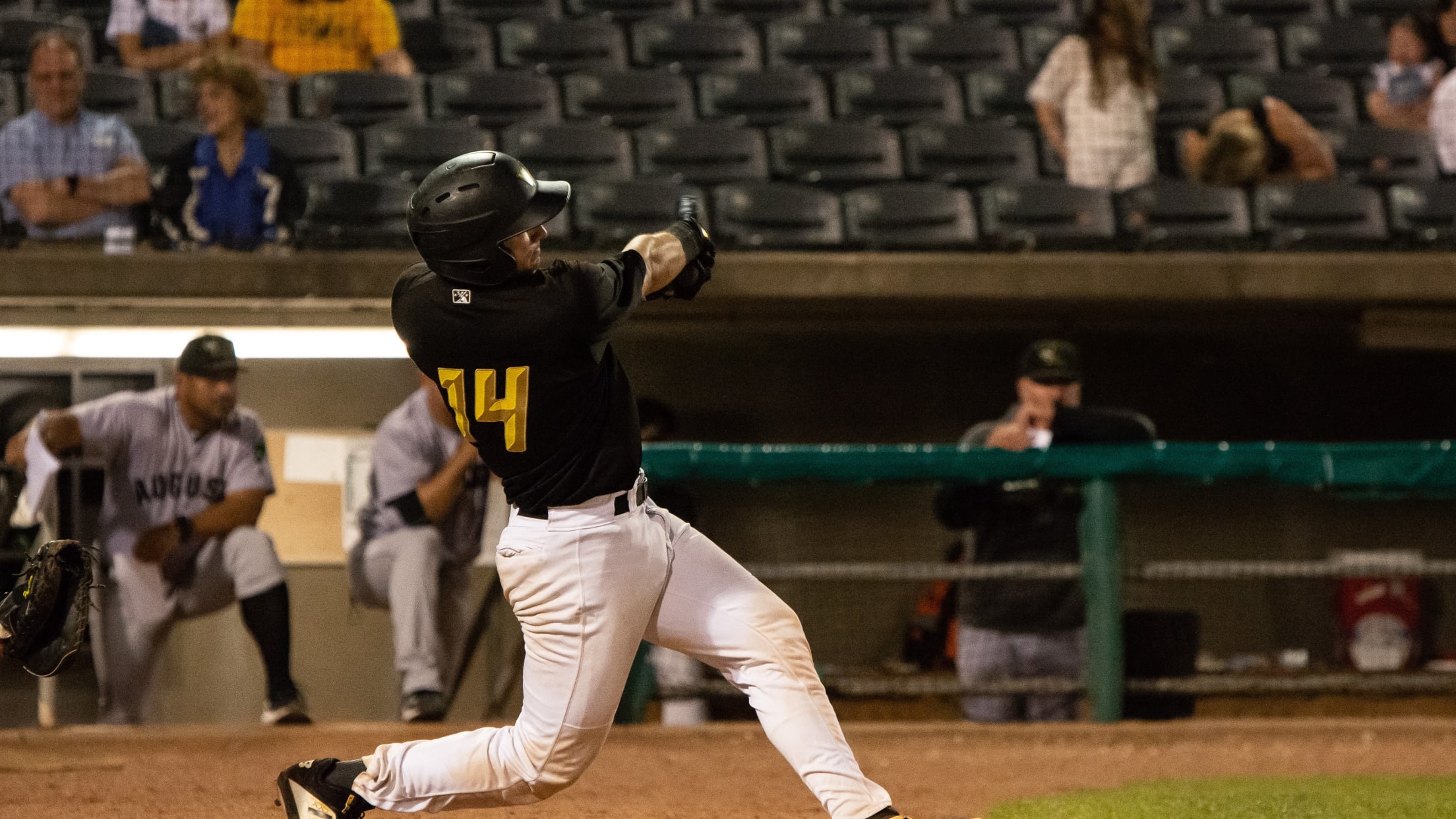 Jake Anchia smashed an eighth-inning grand slam to lead West Virginia to a 5-4 win Monday night. (Joe Williams)
CHARLESTON, W. Va. (June 10, 2019) - Jake Anchia launched a go-ahead eighth-inning grand slam, capping a four-run comeback to lead West Virginia to a 5-4 win over the Delmarva Shorebirds Monday night at Appalachian Power Park.Down 4-1 in the bottom of the eighth, Bobby Honeyman and Onil Pena stroked a
CHARLESTON, W. Va. (June 10, 2019) - Jake Anchia launched a go-ahead eighth-inning grand slam, capping a four-run comeback to lead West Virginia to a 5-4 win over the Delmarva Shorebirds Monday night at Appalachian Power Park.
Down 4-1 in the bottom of the eighth, Bobby Honeyman and Onil Pena stroked a pair of singles to start the inning against Matthew Hammonds. After a walk to Charlie McConnell that loaded the bases, the Shorebirds elected to go to their closer, Tim Naughton (3-3), to face Anchia. Anchia stepped to the plate and crushed a 2-0 fastball 437 feet onto Smith Street at 105 mph off the bat, unloading the bases and thrusting the Power (31-33) out in front, 5-4.
Now working with the lead, David Ellingson (S,4) entered in the ninth and spun a 1-2-3 inning to earn the save and close out the comeback win. Sal Biasi (4-1) picked up the win after twirling three scoreless frames in relief to keep West Virginia within reach.
Delmarva (46-17) got on the board with a solo homer from the leadoff hitter, Robbie Thorburn, on the third pitch of the ballgame to take a 1-0 lead. Ryne Inman settled down after the homer and didn't surrender a run again until the fourth inning, when the Shorebirds cracked back-to-back doubles from Seamus Curran and Nick Horvath to increase their lead to 2-0. The Delmarva padded their advantage with back-to-back homers from Cadyn Grenier and J.C. Encarnacion in the fifth to snag a 4-0 edge.
Grayson Rodriguez and Hammonds held West Virginia scoreless through the first six frames, only ceding one hit. McConnell snapped the drought by leading off the sixth with a solo blast off the right-field foul pole to bring the Power within three.
West Virginia continues their three-game series with the Delmarva Shorebirds Tuesday evening at Appalachian Power Park, with first pitch set for 7:05 p.m. RHP Damon Casetta-Stubbs (2-5, 8.22 ERA) toes the slab for the Power, while the Shorebirds counter with LHP Drew Rom (4-0, 1.63 ERA). Pregame coverage begins at 6:45 p.m. on The Jock 1300 and 1340 AM, as well as online at wvpower.com and via the TuneIn Radio App and MiLB First Pitch App.
It's another Two-for-Tuesday, presented by Rock 105! Enjoy two-for-one concession specials, while fans can also purchase two tickets for the price of one only at the Power Box Office. For tickets and more information, call the Power at 304-344-2287 or visit www.wvpower.com.