Farris tabbed as Power manager in 2020
Eric Farris becomes the second former player to return to Charleston as the team's manager since 1987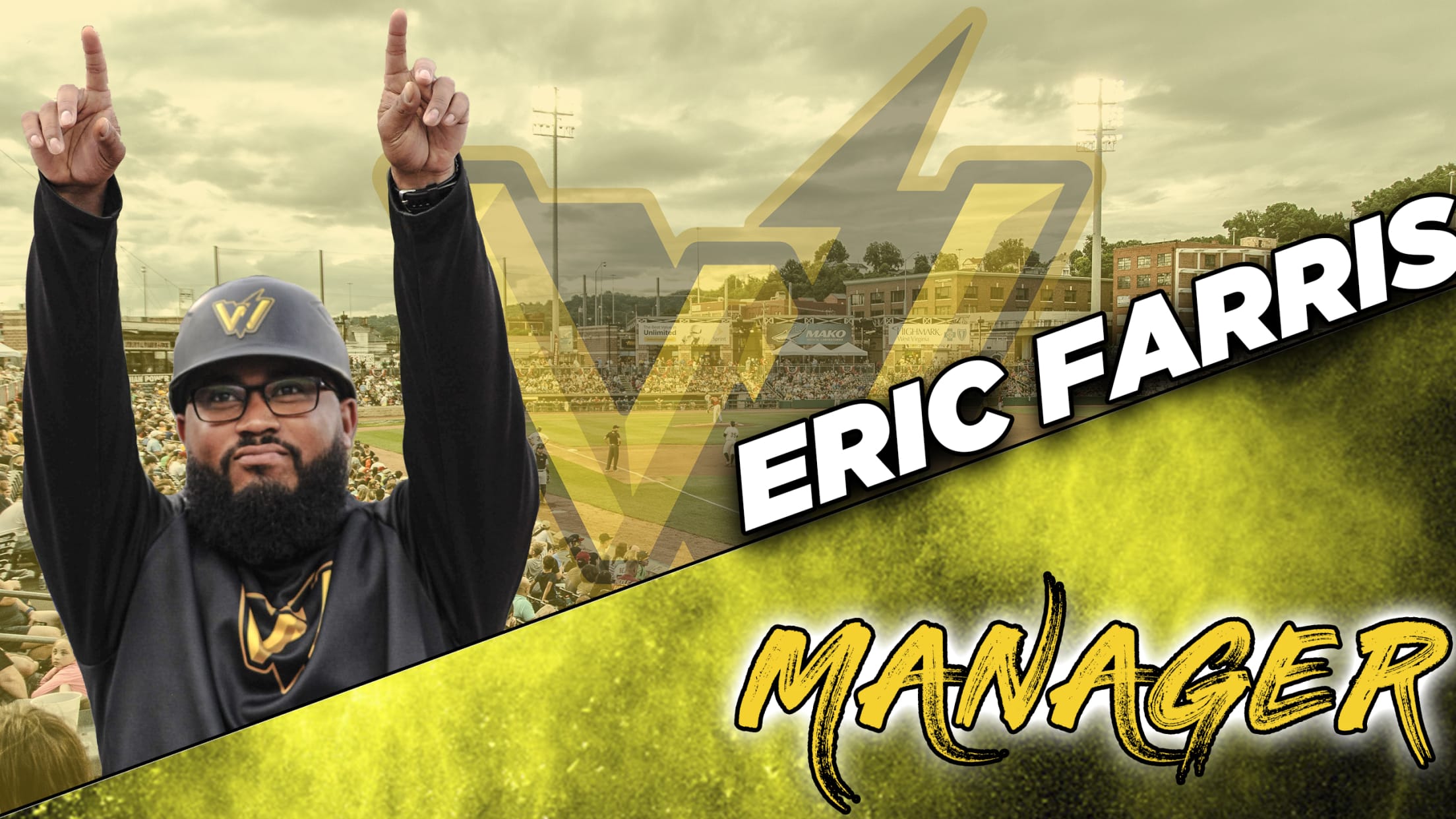 Eric Farris has been named the Power's manager for the 2020 season.
CHARLESTON, W.Va. (January 21, 2020) - In conjunction with the Seattle Mariners, the West Virginia Power is thrilled to announce their coaching staff for the 2020 season, led by 2019 hitting coach Eric Farris, who will return as the team's manager this year. Farris is joined by four newcomers to
CHARLESTON, W.Va. (January 21, 2020) - In conjunction with the Seattle Mariners, the West Virginia Power is thrilled to announce their coaching staff for the 2020 season, led by 2019 hitting coach Eric Farris, who will return as the team's manager this year. Farris is joined by four newcomers to Charleston: pitching coach Nathan Bannister, hitting coach Rob Benjamin, Athletic Trainer Dan LaBerry and Performance Specialist Joe Murray.
With Farris' elevation to the helm of the Power, the California native becomes the second former player in Charleston, WV, to return to manage the team, along with Greg Mahlberg, who suited up for the 1980 Charleston Charlies before taking the reigns of the 1989 Charleston Wheelers. In Farris' inaugural season with West Virginia, his sluggers posted a .231 average while clubbing 103 homers, third-most in the league. Individually, Farris guided Bobby Honeyman to the fifth-most hits in the SAL and the league's second-best second-half average (.319), as well as led eight hitters to promotions during the year.
The 34-year-old is in his fourth year in the Mariners organization, spending the 2018 season with Everett as their hitting coach and the 2017 campaign within the Mariners' Player Development department. Under Farris' tutelage in 2018, the AquaSox posted the third-best average (.253) and home runs (56) in the Northwest League, as well as totaling the fourth-most runs, hits, doubles and RBI. The 2020 season marks Farris' first run as a MiLB manager.
A fourth-round choice by the Milwaukee Brewers in the 2007 draft, the infielder spent six years with the Brewers, including making his MLB debut on July 28, 2011, after Rickie Weeks suffered a sprained left ankle. Farris played in 14 MLB games with Milwaukee between 2011 and 2012 before signing a minor league deal with the Minnesota Twins just prior to the 2013 season. After three years in Minnesota, he played one year with the independent Somerset Patriots in 2016 before announcing his retirement and joining the coaching ranks.
The Hamilton High School alumnus posted a career .281 average across 962 MiLB games, 103 of which he spent with the Power in 2008. Farris hit .293 for West Virginia that season, smacking three home runs and bringing in 54 runs while swiping 32 bases in 42 tries. He is the 21st former Power player to make his MLB debut, and the fourth from the 2008 squad (Jonathan Lucroy, Zach Braddock and Eric Fryer). Farris attended college at Loyola Marymount (CA) after declining a 42nd-round selection by the Atlanta Braves in 2004.
Bannister replaces Alon Leichman as the team's pitching coach, with Leichman joining 2019 manager David Berg with the Double-A Arkansas Travelers. Fresh off a playing career that concluded just before the 2019 season, Bannister makes his full-season coaching debut after spending the 2019 campaign in the Dominican Republic.
Drafted in the 28th round of the 2016 draft by the Mariners out of the University of Arizona, Bannister began his professional career in 2017 after being shut down for the remainder of the 2016 campaign due to Tommy John surgery. The 26-year-old made his pro debut with High-A Modesto, going 8-7 with a 4.33 ERA in 23 starts, striking out 99 batters over 120.2 innings. Bannister also had a cup of coffee with Triple-A Tacoma, appearing in four games and hurling two quality starts while picking up his first career Triple-A win August 11 after hurling seven shutout innings against the Reno Aces. The righty compiled the third-most strikeouts (116) and fourth-most wins (9) among Mariners farmhands in his rookie season.
The Phoenix, Ariz., native elevated to Double-A Arkansas for the 2018 campaign, earning his lone Midseason All-Star nod, but did not pitch in the All-Star game. Bannister also twirled his only career complete game shutout in May, ceding just four hits to the Springfield Cardinals over 103 pitches on May 13. Though his numbers ballooned in 2018 (7-9 with a 6.07 ERA), Bannister still spun the third-most innings (138.0) and was among the top 20 strikeout leaders in the Texas League. Following his second invitation to big league Spring Training in 2019, the Liberty High School product was released by the Mariners at the end of March and joined the coaching ranks.
Bannister was a four-year letterwinner at the University of Arizona, going 19-7 over 61 total appearances (27 starts) with a 3.22 ERA over 245.2 innings with 191 strikeouts. After serving solely as a bullpen body for his first two years, the right-hander made seven starts in 2015 before becoming a primary member of the rotation during the Wildcats' run to a College World Series runner-up showing in 2016. That year was by far Bannister's best in college, as he went 12-2 with a 2.59 ERA, tossed three complete games (one shutout) and racked up 114 strikeouts over 142.1 innings. He also spent two summers playing baseball, joining the Alaska Goldpanners of the Alaskan Baseball League in 2013 before heading northeast to the Cape Cod League and Orleans Firebirds in 2014.
Benjamin fills the vacated hitting coach role with Farris' promotion to manager, also coming with Bannister from the Dominican Republic. The New York product worked with the DSL sluggers last season, helping Mariners' prospect Noelvi Marte garner Baseball America DSL Player of the Year honors.
Since 2013, Benjamin has been running the RIOT Hitting Academy, an organization that he founded with the focus of giving hitters accurate and precise information to advance their skills to an elite level. Prior to joining the Mariners' staff, Benjamin was a volunteer hitting and pitching coach at Division III Baruch College in New York from 2002-2005, as well as a hitting coach at CCNY from 2005-2007 and St. John's College in Brooklyn in 2010.
Besides his collegiate pedigree, the former Bearcat was a hitting instructor and travel coach at the Baseball Center in NYC from 2010-2013 and the NYC Bulldogs Ball Club from 2013-2017. He also led the GoWags Baseball team in 2017 before becoming the Managing Director at 108 Performance Academy in California, one of the top Baseball Performance Training and Research Development facilities in the nation.
Benjamin's collegiate playing career began at Tallahassee Community College before he transferred to Baruch, guiding the Bearcats to their first-ever conference championship in 2001. Benjamin also took home Rookie of the Year, Player of the Year and NCAA DIII Honorable Mention accolades that season. Following his college tenure, he signed a pro contract to play with the Washington Wild Things during their first year in the Frontier League.
LaBerry and Murray round out the 2020 coaching staff, with LaBerry replacing Josh Gallagher as the team's Athletic Trainer and Murray stepping in for Kevin Childs as the team's Performance Specialist. Childs has taken a similar role in the Chicago White Sox organization.
LaBerry enters his first year with the Mariners organization as an athletic trainer. Prior to joining the Mariners, LaBerry was a graduate assistant athletic trainer at Valparaiso University in Valparaiso, Ind., primarily working with the Men's Soccer and Men's and Women's Track & Field programs. In the summer of 2019, he was also a MLB intern with the Atlanta Braves. Before transitioning to his position at Valparaiso, LaBerry completed his undergrad work at North Central College in Naperville, Ill., graduating in 2018 with his B.S. in athletic training while also playing baseball and lacrosse. In 2017, he took on an internship with Northwestern University's football program that had a 10-win season and won the Music City Bowl in Nashville. LaBerry is currently completing his M.S. in Sports Administration at Valparaiso.
Murray is also in his first year with the Mariners organization as a strength and conditioning coach. Before coming on board with the Mariners, Murray interned with the strength staff at Texas Christian University in Fort Worth, working mostly with TCU's baseball, football, basketball and tennis teams. Previously, he also spent a season as a graduate assistant coach with the University of Washington baseball team, where he was tasked with developing hitters and infielders, analyzing video and producing scouting reports. Additionally, Murray interned at Capital Strength and Performance in Sacramento, California, where he led general population group training and worked with professional MMA athletes fighting out of Urijah Faber's Team Alpha Male. Murray earned his undergraduate degree at Loyola Marymount University (CA), where he played four years of baseball and earned West Coast Conference All-Academic honors as well as a degree in Political Science. He is currently working towards an M.S. in Exercise Science through California University of Pennsylvania.
Season tickets and mini plans for the 16th season of West Virginia Power baseball are available online now. For more information on the 2020 season at Appalachian Power Park, call the Power at 304-344-2287 or visit www.wvpower.com.