Jersey Auction Raises $2435 for CAMC Foundation
All proceeds from the jersey auction donated to the CAMC Employee Emergency Fund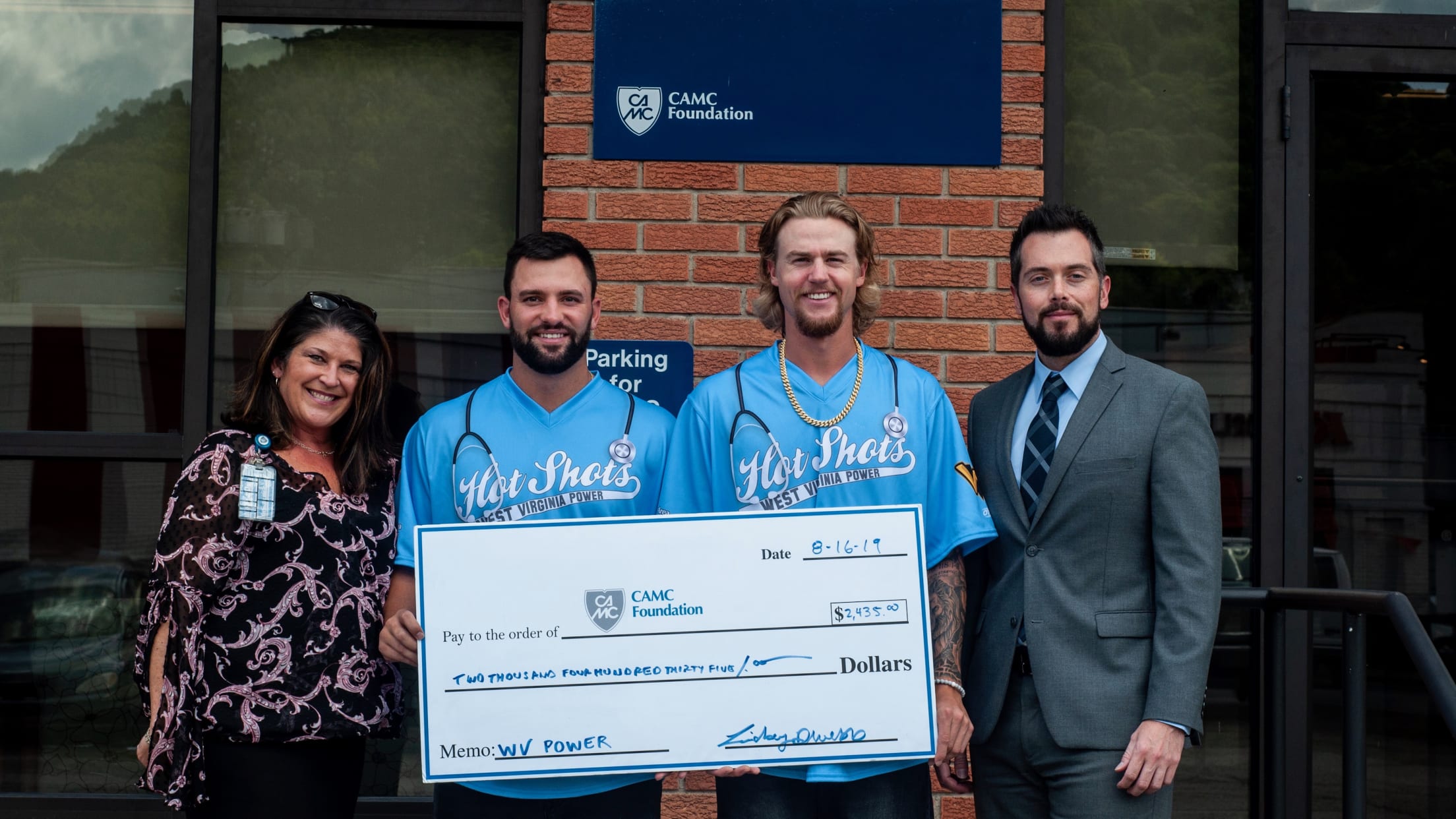 CHARLESTON, W. Va. (August 20, 2019) - Thanks to an overwhelming amount of support and donations from the community of Charleston, W.Va., the West Virginia Power was able to donate $2,435 to the CAMC Foundation from their recent 'Hot Shot' jersey auction held on CAMC Night, August 2, at Appalachian
CHARLESTON, W. Va. (August 20, 2019) - Thanks to an overwhelming amount of support and donations from the community of Charleston, W.Va., the West Virginia Power was able to donate $2,435 to the CAMC Foundation from their recent 'Hot Shot' jersey auction held on CAMC Night, August 2, at Appalachian Power Park.
During the Power's game against the Greensboro Grasshoppers on Friday, August 2, the team sported special baby blue jerseys with 'Hot Shots' embroidered across the front and a stethoscope snaking around the jersey top. The CAMC Foundation logo was displayed on the sleeve as well. Throughout the game, these jerseys were auctioned off on the LiveSource app, with fans bidding on them via their smartphones all across the country. The $2,435 raised during the event pushed the Power's charitable donation total above $12,000 for the season.
"At the CAMC Foundation, our motto is 'Giving you the power to change lives'. No truer words could be spoken about our partnership with the Power," said Bryan Cummings, Senior Development Officer at CAMC. "Their players, administrators, and, most importantly, fans, have helped maximize the impact of charity and philanthropy in our community by connecting passionate donors to causes they care deeply about. Our shared investment in West Virginia creates an opportunity to share and increase knowledge, improve health care and pursue opportunities for positive change. It's a home run in our eyes."
The CAMC Employee Emergency Fund, where the money from this auction went towards, is a relief fund set up to assist fellow CAMC employees when something unexpected occurs, such as a sudden financial or medical expense. Over the 19 years that this program has been in existence, the CAMC Foundation has permitted more than 1,500 grants and upwards of $1,000,000 in grant money to employees who have dealt with natural disasters, unsafe living conditions, loss of family members, etc.
Most of the money circulated into this program comes from fellow CAMC employees, who donate anywhere from $2.00 to $15.00 per paycheck to help protect their co-workers when times get tough. According to the CAMC, "If every CAMC employee gave just $2.00 per paycheck, it would raise more than $350,000 a year!"
If you would like to make a donation to the CAMC Foundation, please send your gift/pledge to: CAMC Foundation, 3414 Staunton Ave., Charleston, WV 25304 or visit www.camcfoundation.org.