Kickin' It With The Kids! "Kicks" Off All-Star Week
The Power and the Salvation Army Boys & Girls Club of Charleston are teaming up for a fun kickball game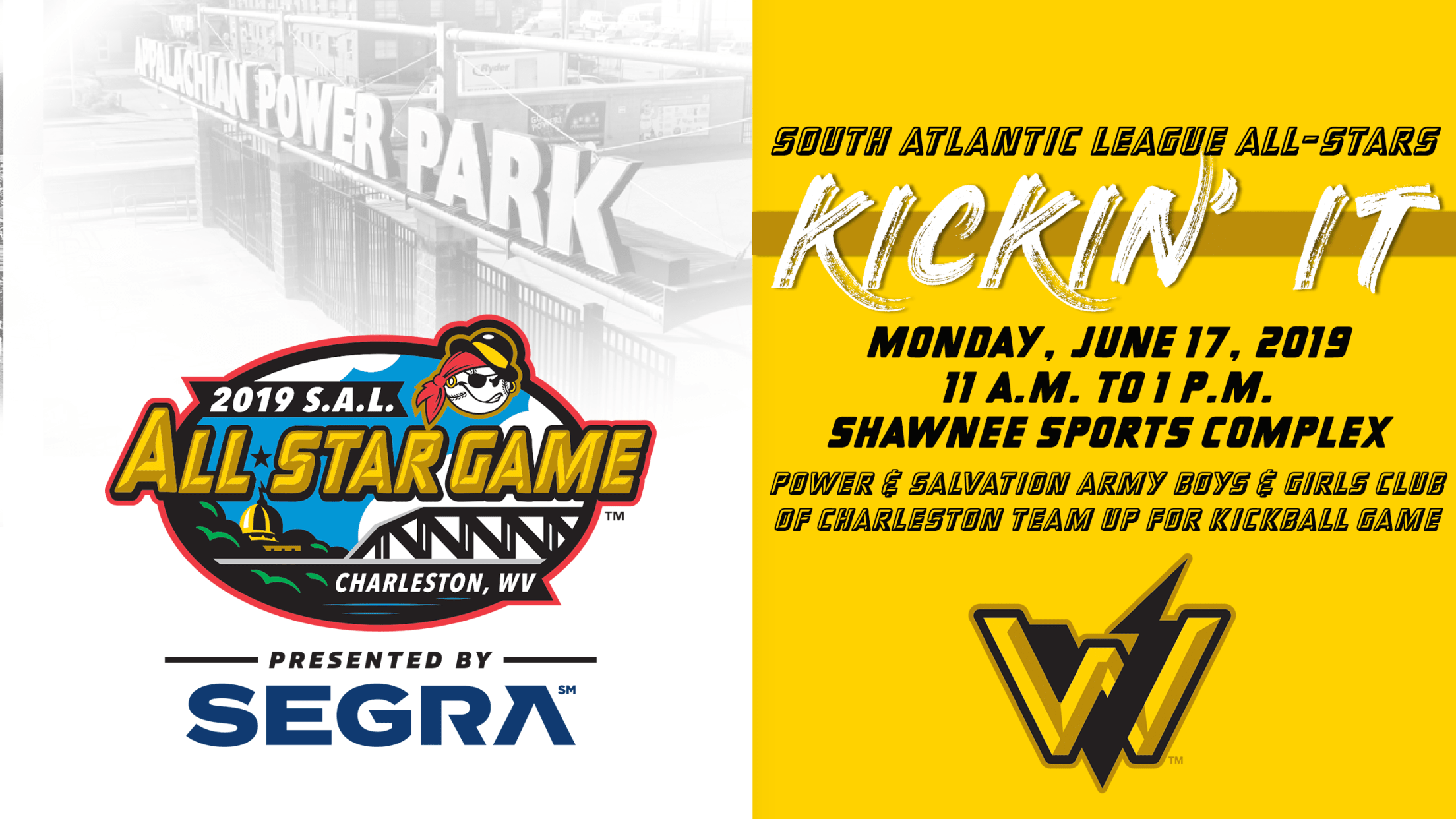 CHARLESTON, W. Va. (June 10, 2019) - The 2019 South Atlantic League All-Star Week festivities will get started Monday, June 17, with a kickball game. The South Atlantic League All-Stars, along with various front office staff members and executives from around the league, will join the Salvation Army Boys & Girls
CHARLESTON, W. Va. (June 10, 2019) - The 2019 South Atlantic League All-Star Week festivities will get started Monday, June 17, with a kickball game. The South Atlantic League All-Stars, along with various front office staff members and executives from around the league, will join the Salvation Army Boys & Girls Club of Charleston for a fun-filled community event.
The event will last from 11 a.m. to 1 p.m. and will be held at Shawnee Sports Complex at 519 King Street in Dunbar, West Virginia. The game itself will be played on a field that will soon be named after the West Virginia Power.
"We are so excited to work with the West Virginia Power as they host the South Atlantic League All-Stars and Salvation Army Boys & Girls Club of Charleston for a friendly kickball game at Shawnee Sports Complex," Shawnee Sports Complex Director Katie Arthur said. "It will be an exciting day at Shawnee with the US Youth Soccer Presidents Cup in full swing along with the Power's All-Star Community Event. We are thrilled to be a part of two phenomenal events."
Registration for the kickball event is free and only open to members of the South Atlantic League. Members of the local and national media are welcome and encouraged to cover the event as well.
"This kickball game is a great way for us to show the South Atlantic League how much we care about our surrounding community in Charleston," Power Community Outreach Manager Hannah Frenchick said. "We cannot think of a better way to kick off the 2019 All-Star Week festivities than by teaming up with the Salvation Army Boys & Girls Club of Charleston and Shawnee Sports Complex for some lighthearted competition."
The 60th annual South Atlantic League All-Star Game, presented by Segra, is set for a 7:35 p.m. first pitch at Appalachian Power Park. Gates will open at 5 p.m. for the WOWK Tailgate Party, and the first 1,000 fans through the gates will receive an All-Star Game-branded tumbler, courtesy of Segra. The Home Run Derby commences at 6 p.m.
Catch all the action of the 2019 SAL Midsummer Classic on The Jock 1300 and 1340 AM, as well as online at wvpower.com and via the TuneIn Radio App by searching "West Virginia Power Baseball Network" and the MiLB First Pitch App. Pregame coverage begins at 7:15 p.m. EST, with David Kahn and Kyle Youmans on the call.
For tickets and more information on the 2019 South Atlantic League All-Star Game, presented by Segra, call the Power at 304-344-2287 or visit www.wvpower.com.
About the Salvation Army Boys & Girls Club of Charleston
Based in Charleston and Saint Albans, W.Va., the Salvation Army Boys & Girls Club of Charleston offers a positive and welcoming environment for young people from every background and ethnicity. The organization demonstrates proper Christian principles and encourages their participants to ingratiate these values and skills into their daily lives through different programs and services. The goal of the Salvation Army Boys & Girls Club is to help those in need, and their families, achieve their goals and grow into positive, productive members of their respective communities. For more information, go to https://salvationarmycharlestonwv.org.
About Shawnee Sports Complex
The Shawnee Sports Complex is part of a redevelopment project of 127 acres at Shawnee Park into a facility that can entertain local to national-level tournaments and special events. Shawnee Park is focused on giving the children of Dunbar a safe and encouraging environment to grow and develop as athletes and people. The complex has six collegiate-sized artificial turf multi-sport fields, four collegiate-sized turf baseball and softball fields with adjustable mounds and fencing and 27 acres of grass fields along the banks of the Kanawha River.