Pena homers as Power falls in front of 6,027 fans
Onil Pena smacked his third home run of the season in Monday's loss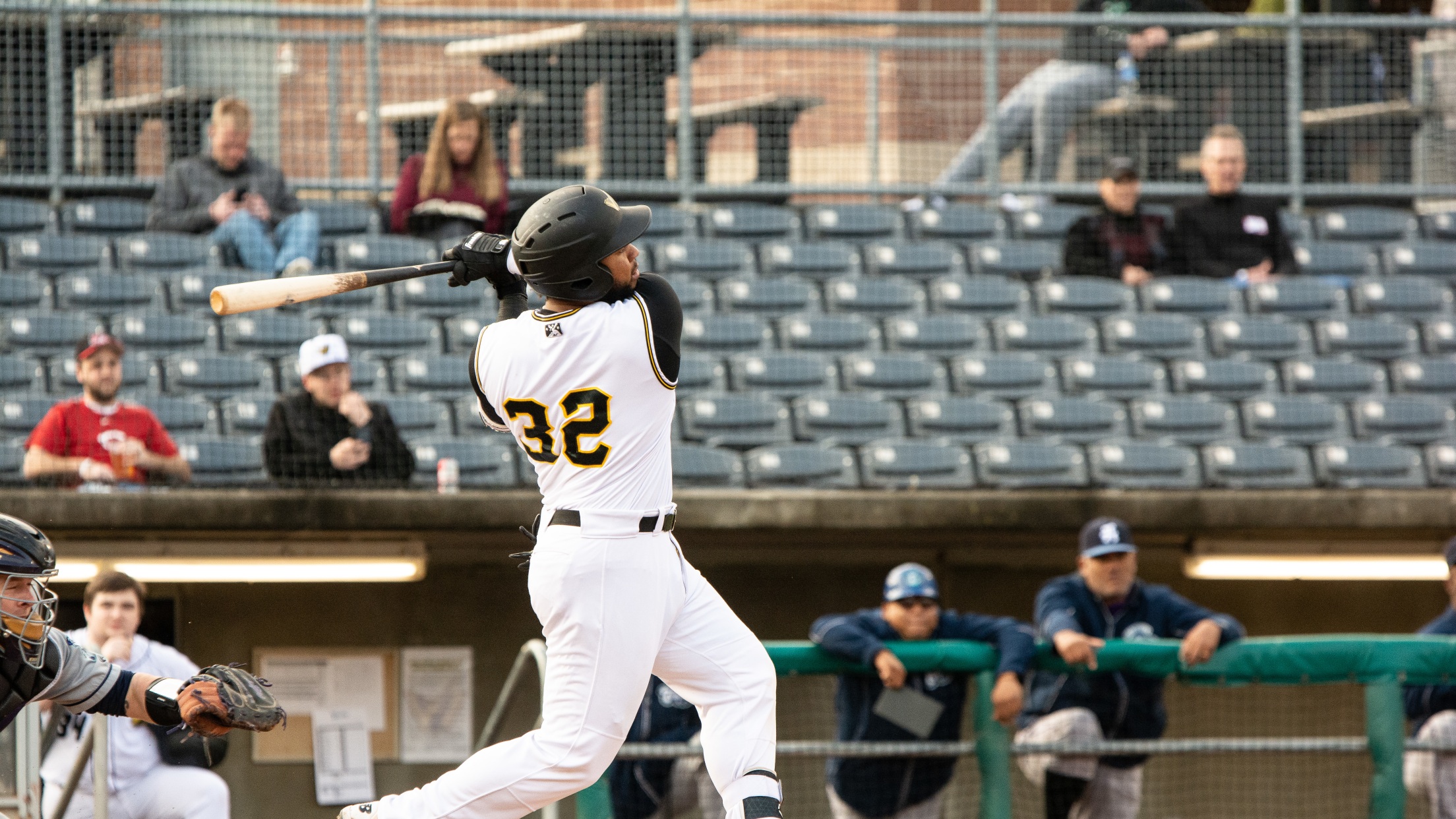 Onil Pena rocked his third homer of the season in the 6-2 loss to Kannapolis on Monday. (Joe Williams)
CHARLESTON, W.Va. (May 13, 2019) - Onil Pena slugged a homer and a double, but a late-inning Kannapolis grand slam doomed the Power in a 6-2 loss in front of 6,027 fans Monday afternoon at Appalachian Power Park.The attendance of 6,027 marked the biggest crowd at Appalachian Power Park since the
CHARLESTON, W.Va. (May 13, 2019) - Onil Pena slugged a homer and a double, but a late-inning Kannapolis grand slam doomed the Power in a 6-2 loss in front of 6,027 fans Monday afternoon at Appalachian Power Park.
The attendance of 6,027 marked the biggest crowd at Appalachian Power Park since the 2017 season.
Pena hit his home run to lead off the fourth inning, giving the Power (20-16) a short-lived 2-1 lead. The first baseman notched his third long ball of the season, lofting one 350 feet that just cleared the right-center field fence.
Josias De Los Santos made his second home start of the season and struck out the side in order, all looking, in the top of the first. However, in the second, Kannapolis (17-18) struck with a sacrifice fly to take a 1-0 lead. West Virginia did not waste any time getting that run back, as Bobby Honeyman singled and Pena smacked an RBI double to tie the game at one.
In the top of the fifth, the Intimidators answered Pena's dinger with an Amado Nunez solo homer of their own to knot the game at two. Both Deivy Florido and Matthew Willrodt (0-1) threw a scoreless inning each out of the bullpen, but Kannapolis got to Willrodt in the bottom of the eighth. After Willrodt retired the first two batters of the frame on strikeouts, the Intimidators were able to load the bases for Luis Curbelo, who drilled a grand slam to give Kannapolis a 6-2 lead.
Victor Arobio (2-1) shut the door in the eighth and ninth innings to secure the 6-2 victory and sweep for Kannapolis. It is the first time this season that the Power have been swept at home, and their 10th loss in a row to the Intimidators.
West Virginia now hits the road for a seven-game road swing, opening a three game series in Charleston, S.C., against the RiverDogs Tuesday night at Joseph P. Riley Jr. Park, with first pitch set for 7:05 p.m. RHP Clay Chandler (4-1, 0.84 ERA) takes the mound for the Power, while the RiverDogs have yet to name a starter. Pregame coverage begins at 6:45 p.m. on The Jock 1300 and 1340 AM, as well as online at wvpower.com and via the TuneIn Radio App and MiLB First Pitch App.
The Power will be back at home from May 21-28 for eight games, their longest homestand of 2019. West Virginia welcomes in the Greensboro Grasshoppers and the Lexington Legends, with the highlight of the homestand coming Saturday, May 25, with Redneck Night and an Austin Meadows bobblehead giveaway for the first 1,000 fans in the ballpark. For tickets and more information, call us at 304-344-2287 or visit wvpower.com.