Six-run fifth inning drowns Power Friday night
Joseph Rosa tallied three RBI, but West Virginia falls in game two against Lexington 11-7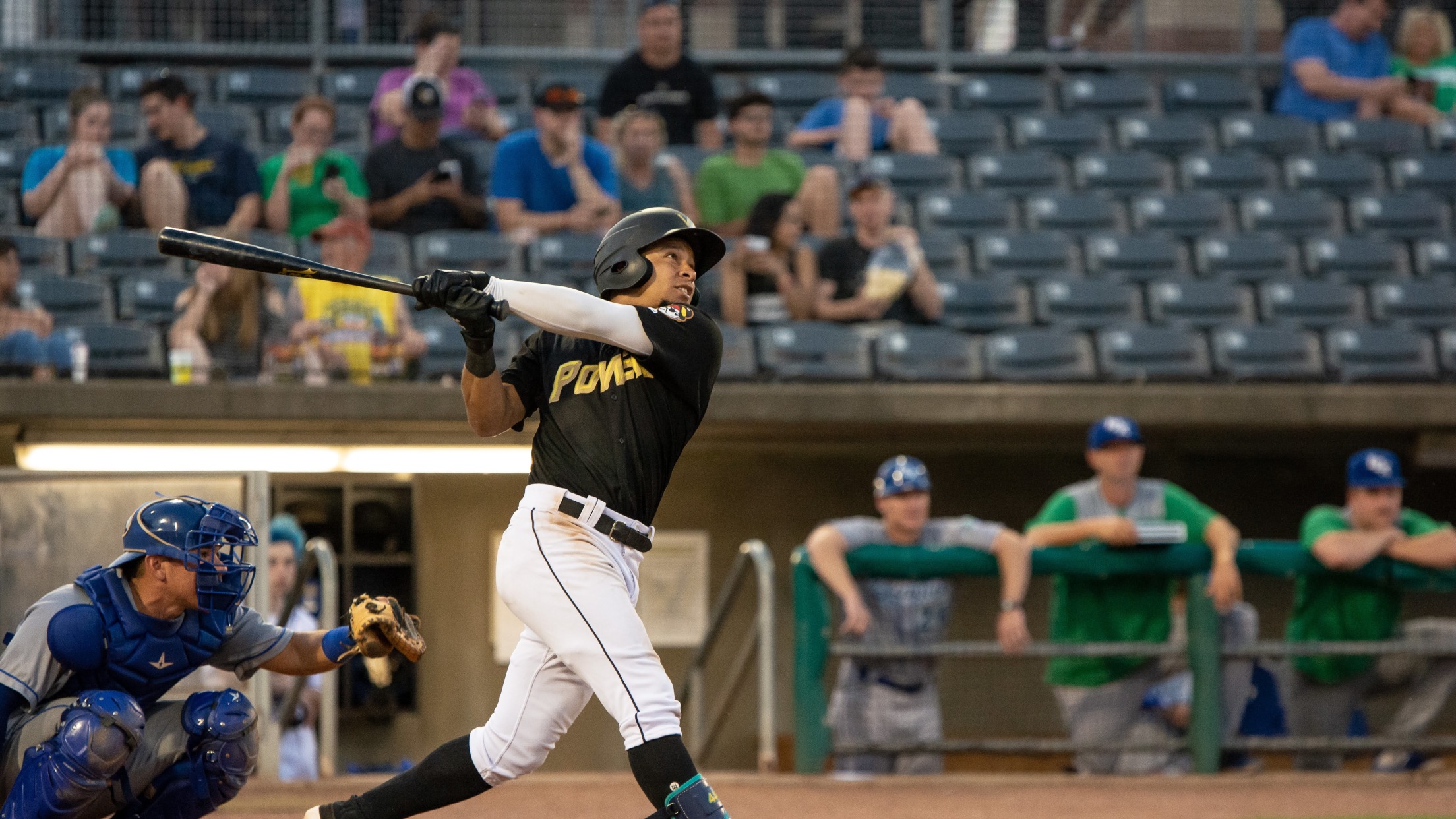 Joseph Rosa tallied three RBI in West Virginia's 11-7 loss to Lexington Friday night. (Joe Williams)
LEXINGTON, Ky. (July 5, 2019) - Joseph Rosa drove in three runs and tallied two hits, but the Power fell to the Lexington Legends, 11-7, Friday night at Whitaker Bank Ballpark.The scoring got underway in the third, as Rosa worked a leadoff walk and advanced to third on a Manny
LEXINGTON, Ky. (July 5, 2019) - Joseph Rosa drove in three runs and tallied two hits, but the Power fell to the Lexington Legends, 11-7, Friday night at Whitaker Bank Ballpark.
The scoring got underway in the third, as Rosa worked a leadoff walk and advanced to third on a Manny Pazos double to right. With two outs and both runners in scoring position, Julio Rodriguez and Jake Anchia delivered back-to-back RBI singles off Evan Steele (3-2) to thrust West Virginia (8-8, 45-41) ahead 2-0.
The Power's lead was short-lived, as Lexington (5-11, 42-43) answered with a Rubendy Jaquez solo homer in the third and an RBI double from Chase Vallot in the fourth to tie the game at two. Ryne Inman (7-6) ran into more trouble in the fifth, walking the first batter he faced, allowing a single and then walking the bases loaded with no one out. Lexington took advantage with a two-run double by Reed Rohlman to jump out to a 4-2 lead.
The inning continued after Matthew Willrodt entered out of the Power bullpen, and Lexington notched three more base hits and four runs in the frame to take a commanding 8-2 lead.
In the sixth, West Virginia responded with three runs of their own when Bobby Honeyman singled to drive in a run, Onil Pena roped an RBI base hit and Rosa brought in a run on a fielder's choice to cut the Lexington lead to three. However, the Legends plated another in the sixth on a no-doubt Freddy Fermin blast that stretched the lead to 9-5.
The Power continued to chip away late in the ballgame, with a pair of runs coming in the eighth on a two-run double from Rosa. However, Lexington added two insurance runs in the bottom of the inning on run-scoring knocks from Fermin and Rohlman that pushed the score to 11-7. Brandon Marklund fired a perfect ninth inning with two strikeouts to cap the 11-7 Legends win.
West Virginia continues its four-game series against the Lexington Legends Saturday evening at Whitaker Bank Ballpark, with first pitch set for 6:35 p.m. RHP Devin Sweet (3-4, 3.59 ERA) heads to the hill for the Power, while the Legends go with RHP Charlie Neuweiler (3-8, 5.20 ERA) to the bump. Pregame coverage begins at 6:15 p.m. on The Jock 1300 and 1340 AM, as well as online at wvpower.com and via the TuneIn Radio App and MiLB First Pitch App.
The Power returns to Appalachian Power Park on Tuesday, July 9, for another Two for Tuesday, presented by Rock 105, where fans can enjoy two-for-one concession specials and specialty items. Additionally, fans can purchase two tickets for the price of one only at the Power Box Office. For tickets and more information, call the Power at 304-344-2287 or visit www.wvpower.com.