Where Will They Be in 2020: The Infielders
Our best guesses at where the 13 Power infielders in 2019 will go in 2020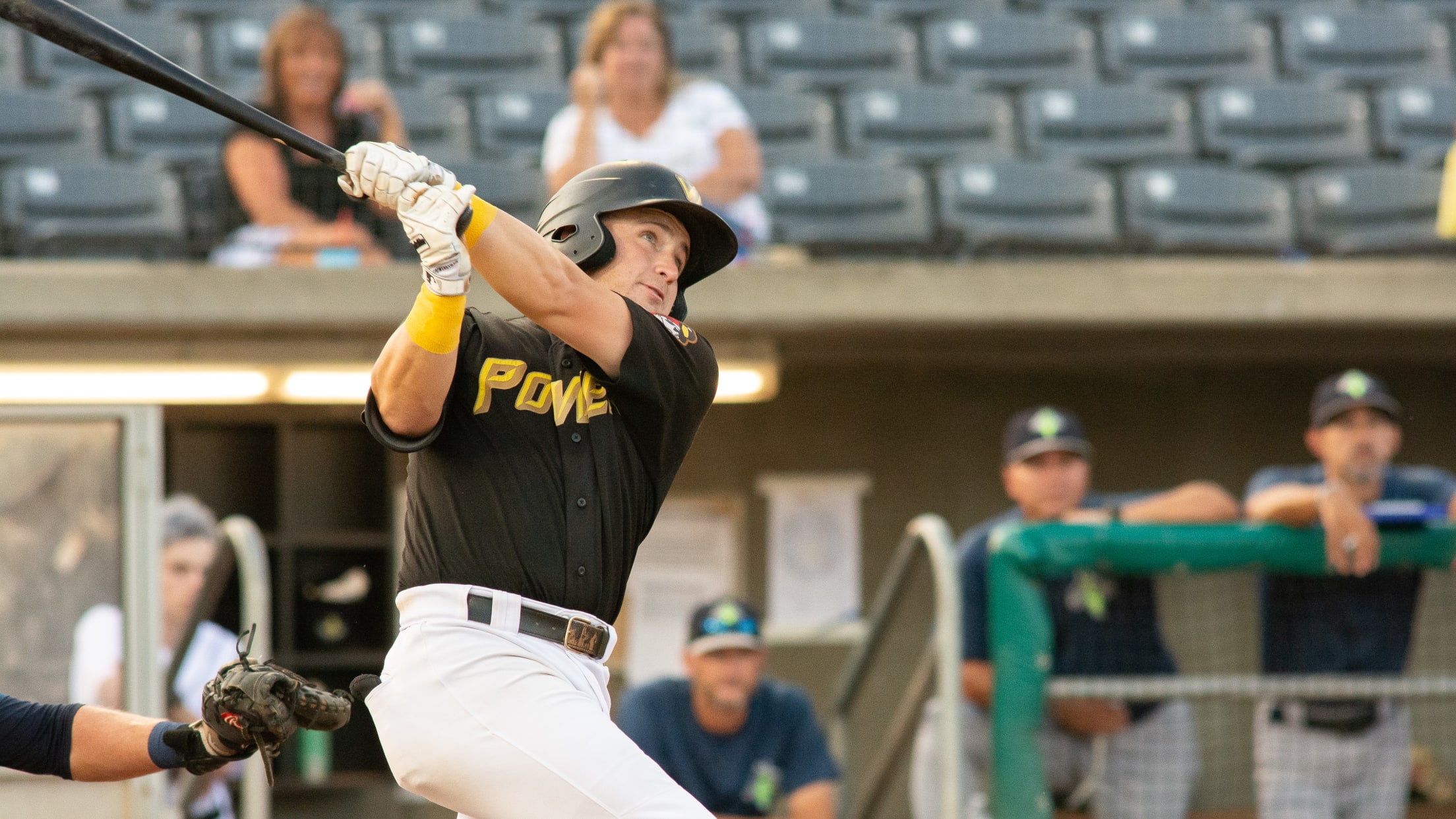 Bobby Honeyman took home SAL Year End All-Star honors at third base in 2019. (Joe Williams)
The 2019 Minor League season is more than two months behind us now, and with the Arizona Fall League wrapped up and Winter Leagues on the horizon, fans, media, players and staff members are shifting gears to 2020. The pressing question on a lot of their minds: Who will be
The 2019 Minor League season is more than two months behind us now, and with the Arizona Fall League wrapped up and Winter Leagues on the horizon, fans, media, players and staff members are shifting gears to 2020. The pressing question on a lot of their minds: Who will be where in 2020? Will players get an aggressive push to a new level? Will some be designated to repeat the station they were saddled with in 2019? The short answer is: We won't know for sure until April 2020, but that doesn't stop us from guessing.
Throughout the next few weeks, we'll be making our best predictions as to where every player on the 2019 Power roster will end up. This series will encompass all 59 Power players who donned a jersey and appeared in at least one game (sorry, J.T. Salter….). We'll go by position group. Last week, we started with the catchers, so now we move on to the infielders. Without further ado, here we go.
We had a plethora of infielders with the Power in 2019, a lucky 13 in total. Here's who manned the clay for us this past season: J.R. Davis, Bobby Honeyman, Connor Hoover, Cesar Izturis Jr., Utah Jones, Ryne Ogren, Onil Pena, Caleb Ricca, Nick Rodriguez, Joseph Rosa, Mike Salvatore, Matt Sanders and Austin Shenton.
A few of these will be easier to predict than others, and some, we may not know at all. Bear with us as we dive in.
2020 Prediction: Unsure
Prediction Strength: N/A
The simple fact is, we have no idea where Davis will end up in 2020. After spending two months with West Virginia last season and enduring a minor stint on the injured list, the Oklahoma State product was released by the Mariners in mid-July due to the influx of the 2019 draft class that trekked to The Capital City.
Though he had a decent performance with the team (14 RBI in 47 games), someone had to draw the short straw, and with the California native only having signed a free agent deal in May 2019, he was left on the outside looking in. Regardless, he's a serviceable utility man that can play everywhere in the infield and outfield, and can certainly be on a few team's radars come next spring.
2020 Prediction: High-A Modesto Nuts
Prediction Strength: STRONG (I'd bet my entire life savings on it)
If Honeyman is not in Modesto to start the season, it's either because he got traded or he retired. Seemingly, the Mariners like Honeyman, and he has absolutely no reason to even remotely consider retiring after the season he had in 2019, so he'll be in Modesto. Take that one to the bank.
The Stony Brook product was the team's lone Year End SAL All-Star in 2019, taking home the Power's first postseason honor at 3B since 2007. He led the team in average with a .280 stroke along with seven homers and 57 RBI, and struck out just 65 times in 460 at-bats (14%). He also tied Jarred Kelenic for the team's longest hitting streak of the season (18 games) and paced the league down the stretch, boasting a league-best .341 clip from July 3 to the end of the season. The 23-year-old hit safely in 38 of those final 47 games and headlined the squad with 33 multi-hit games. Oh, and he only made 11 errors at 3B, the fourth-lowest mark of SAL guys who played 110 games or more at the hot corner in 2019. He's long overdue for a promotion. It's happening.
2020 Prediction: West Virginia Power
Prediction Strength: MEDIUM
It's pretty remarkable (depending on how you interpret the following) to say this, but Hoover played at every stateside level of the Mariners system in 2019. Now yes, he only appeared in 15 games above Short-Season (six with the Power), but that's a feat in it of itself. It's seemingly become a trend for the Mariners that they will have their "universal fill" players who will go anywhere and play any spot when called upon, and that was the role Hoover was tasked with in 2019.
He's going to turn 24 in the 2020 season, so he's a bit past the Short-Season prime. There's a likely shot he starts in West Virginia in 2020, but then, with the journeymen, it's sometimes tough to tell.
2020 Prediction: West Virginia Power (Starting Shortstop)
Prediction Strength: STRONG
Izturis Jr. was given the opportunity to man the captain's spot in West Virginia in 2019, and had a bit of a rough adjustment to the Sally League, especially at the plate. However, that's not all that surprising, seeing as how he had played exactly seven games outside the AZL and then was vaulted to the SAL. He was pretty well-versed at shortstop, but his 35 strikeouts in 38 games to go along with a .215 stroke saw him revert to Short-Season Everett for the remainder of the season, where he put up more serviceable numbers.
Following his revamp with the AquaSox in 2019, expect Izturis Jr. to once again be donning the Power moniker in 2020.
2020 Prediction: Extended Spring Training (then Everett)
Prediction Strength: MEDIUM
Jones was the first of many 2019 draft picks to be assigned to West Virginia in 2019. Joining the Power at the tail-end of the first half directly after the draft, the 29th-round selection found himself a bit overmatched at the plate, averaging just .159 in 12 games. The Seattle native had a short stint in Double-A Arkansas before setting with Everett to finish the season, and with only 51 games under his Minor League belt, he could need a bit more seasoning before rejoining the full season ranks for good.
2020 Prediction: If we had to make a pick, we'd say High-A Frederick Keys
Prediction Strength: LOW (We aren't Baltimore, so we don't know)
Oh Ogren, we barely knew you. After starting the season as the Power's primary shortstop, the Elon product was dealt to the Baltimore Orioles in a trade for big league reliever Mike Wright on April 24. While we saw plenty more of Ogren during the Delmarva Shorebirds' trips to Appalachian Power Park last season, he only spent 13 games in the black and yellow. He seemed to enjoy the confines of Arthur W. Perdue Stadium more, however, as he averaged .253 in 92 games in Salisbury with three homers and 36 RBI. As for where he'll be in 2020, you'll have to ask the Orioles.
2020 Prediction: High-A Modesto Nuts
Prediction Strength: STRONG
Here's an obvious fact: Pena can straight up destroy a baseball. His issue at the plate is his inconsistency. While he did plow a team-high 15 baseballs out of the yard in 2019 and collect a team-best 60 RBI, he also struck out 159 teams, tied for second-most in the SAL, in 413 at-bats (38%). His .208 average reflects this disparity, but, he's spent a year and change at the Low-A level, has firmly adjusted first base from his original catcher position, and just turned 23 years old. Time to give him a shot at a more advanced level and see if he can form himself into a more all-around hitter. If he can, look out.
2020 Prediction: Extended Spring Training (then AZL Mariners)
Prediction Strength: MEDIUM-STRONG
The simple thing to note about Ricca is this: He needs more experience in Minor League Baseball before you can place an accurate read on him. He appeared in just 27 games between the AZL and West Virginia in 2019, and didn't really put up any crazy numbers, but took an aggressive bump when the Power needed him in late August.
A 23rd-round pick out of Northwestern State, the unfortunate truth for Ricca is that he was drafted into a system that has some very strong defenders, especially on the left side. Not too much to say other than we'll see what Ricca brings to the table in 2020.
2020 Prediction: Extended Spring Training (then Everett or West Virginia)
Prediction Strength: LOW
It's very difficult to accurately predict where N-Rod is going to end up in 2020. We all remember that incredible moment where he pitched a scoreless ninth inning and then homered in the bottom of the frame, becoming the "first SAL pitcher in league history to hit a home run". Of course, he's not really a pitcher, so there's an asterisk next to it, but whatever, technically it counts. Don't @ us.
Anyways, his 79 games with the Power left a lot to be desired, as the California native put up just a .186 stroke with four homers and 29 RBI along with 73 strikeouts in 79 games. He's already completed a full campaign in Everett, so it's hard to see him going back there, but I think it'll really depend on where he's needed most come the end of Extended Spring Training.
2020 Prediction: High-A Modesto Nuts
Prediction Strength: STRONG
The only thing holding Rosa back from an earlier promotion to Modesto was Rosa himself. From the beginning of the season it was very obvious that he could hit and play the field well, but he was committing too many errors to warrant a bump to the next level.
Eventually, Rosa turned up the gauge offensively, even earning a SAL Player of the Week award in early July, and shored up his defensive set, so he was elevated to Modesto with Clay Chandler, Steven Moyers and David Sheaffer. After two years of time at the Low-A level, it was time to test the 22-year-old anyways, and he'll a full taste of the California League come 2020. As long he keeps his glove in check, which he did following his promotion (just 5 errors with Modesto compared to 11 with West Virginia), he should continue to elevate through the system.
2020 Prediction: West Virginia Power (another option for starting SS)
Prediction Strength: STRONG
Unlike his fellow draft class shortstop Jones, Salvatore stuck with the Power after joining the team on July 1. The 10th-round selection also dealt with issues at the plate (.174 average in 42 games), but his glove and arm were stellar enough to keep him in the lineup most days. He faced a bit of wear and tear as the season wound down, but a full off-season and a good Spring Training should see the FSU star compete with Izturis Jr. for the starting job in Charleston come 2020.
2020 Prediction: High-A Modesto Nuts
Prediction Strength: MEDIUM
Sanders is an interesting case to crack. He started the year in Modesto, then came down to West Virginia when Rosa earned his bump. It was pretty apparent that he solved SAL pitching from the start, as he collected a .300 clip in 43 games with 20 RBI and 15 extra-base hits. He also proved to be a tough strikeout, fanning just 12% of the time during his tenure in "The League of Choice".
Sanders should find himself back in Modesto to start 2020, but he'll be competing for spots with Honeyman, Rosa, possibly Austin Shenton and others too.
2020 Prediction: West Virginia Power
Prediction Strength: MEDIUM
The only reason the strength of this prediction isn't strong is because there have been reports circulating that the Mariners want to be aggressive with Shenton and push him to High-A Modesto in 2020. However, he only played in 32 games with the Power before he got whacked in the face by a pitch and saw his season come to a close (don't worry, he's ok).
However, he did flex quite the propensity for power in Charleston, clubbing five homers and driving in 20 runs. The thing that could keep him in West Virginia for at least a portion of 2020 is his defense. He was drafted as a third baseman out of FIU, but the fifth-rounder did see some time in the outfield for the Power as well. A shortened stint spent in the SAL to start 2020 could be in store for him and he fine tunes his tool kit at both third base and left field to see which one more naturally fits him come 2020. He'll only be 22 when the 2020 season commences, so the SAL seems fitting for his age group, but, he is a prospect with a lot of potential, so the Mariners could test him next year. Only time will tell.
The infield group is an intriguing classification of players. There's a few guarantees, like Honeyman, Pena and Rosa, who will most certainly never see West Virginia again. They've proven themselves worthy of that. After that, it becomes a bit murky, with several of the Mariners' 2019 draft class splashing the surface of full-season ball last year and a few other journeymen hanging around. Unlike the catching core, this 13-man assembly has a lot of shifting pieces to be placed, and the puzzle won't be complete until the rosters are released come April 2020.
Check back next week for our breakdown of the 2019 Power outfielders!