Where Will They Be in 2020: The Outfielders
Our best guesses at where the nine Power outfielders in 2019 will go in 2020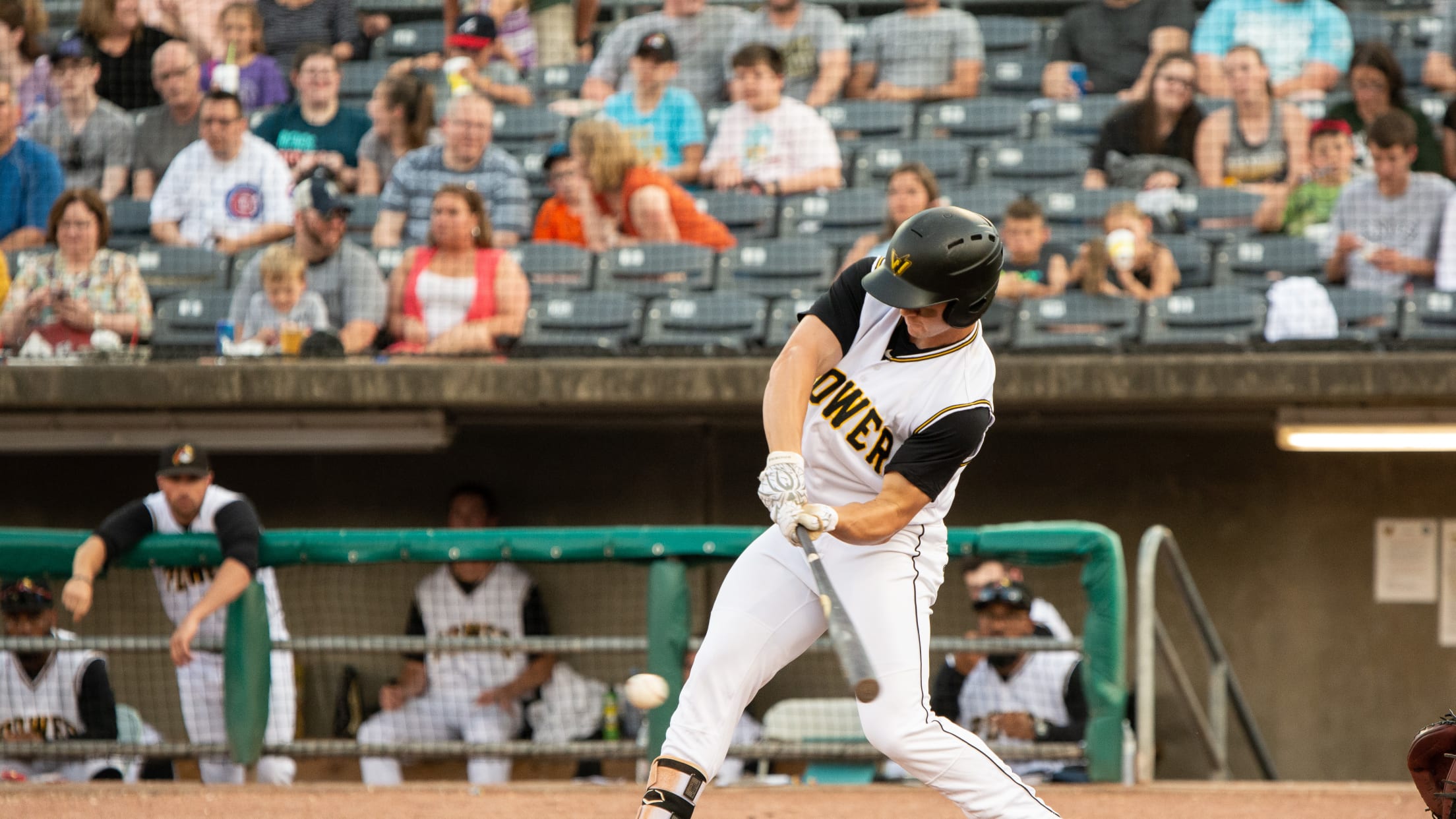 Jarred Kelenic was the Seattle Mariners' 2019 Ken Griffey Jr. Minor League Hitter of the Year. (Joe Williams)
The 2019 Minor League season is more than two months behind us now, and with the Arizona Fall League wrapped up and Winter Leagues on the horizon, fans, media, players and staff members are shifting gears to 2020. The pressing question on a lot of their minds: Who will be
The 2019 Minor League season is more than two months behind us now, and with the Arizona Fall League wrapped up and Winter Leagues on the horizon, fans, media, players and staff members are shifting gears to 2020. The pressing question on a lot of their minds: Who will be where in 2020? Will players get an aggressive push to a new level? Will some be designated to repeat the station they were saddled with in 2019? The short answer is: We won't know for sure until April 2020, but that doesn't stop us from guessing.
Throughout the next few weeks, we'll be making our best predictions as to where every player on the 2019 Power roster will end up. This series will encompass all 59 Power players who donned a jersey and appeared in at least one game (sorry, J.T. Salter….). We'll go by position group. First, we started with the catchers, and last week we moved on to the infielders, so now we shift to the outfielders. Without further ado, here we go.
There were nine men guarding the expansive turf of Appalachian Power Park throughout the 2019 season, including some very notable top prospects. All in all, here's the outfielder group from this past year: Billy Cooke, Jarred Kelenic, Charlie McConnell, Keegan McGovern, DeAires Moses, Ryan Ramiz, Julio Rodriguez, Johnny Slater and Cesar Trejo.
A small foreshadowing to our upcoming predictions: Some of these guys may make it to Seattle in 2020 (you know who we are talking about).
2020 Prediction: Extended Spring Training (then High-A Modesto)
Prediction Strength: LOW
Yes, there is a reason why Billy Cooke is predicted to start the year in Extended Spring Training. Will it be right? Probably not, but here's the reasoning:
We are all aware that this season will be Cooke's fourth in Minor League Baseball since getting drafted from that Coastal Carolina squad that won the College World Series in 2016. However, although it's his fourth year, he's now had three separate stints at the Low-A level, and none have been very successful. In fact, his most fruitful try was this year, when he averaged .231 in 12 games after posting a .175 clip in 95 contests with Clinton last year. Now, some of these diminished numbers could be to blame on travel, because Cooke became best friends with the airport this season, incurring 11 transactions (with 5 coming in 11 days in August) before settling down in West Virginia. It's hard to find your game when you're being shuttled around so much.
But, that exact reason leads to the prediction: the Mariners will want Cooke to get his feet under him in the 2020 season, and then stick him in one affiliate for the rest of the season so he can get the development he needs. If we had to throw out a guess, we'd say Modesto, but that's too soon to tell.
2020 Prediction: Double-A Arkansas (Seattle by year's end)
Prediction Strength: STRONG
The meteoric rise of Kelenic has been well-documented. The Mariners effectively won the trade for Robinson Canó by acquiring this dynamic athlete alone, though Justin Dunn and others have proved to be viable pieces too. Anyways, Kelenic is a beast, and there will be no surprised faces in the crowd if he's patrolling the confines of T-Mobile Park at some point in the 2020 campaign.
To review Kelenic's sensational 2019 season: He started with West Virginia, went 2-for-25 in his first few games and scared a few folks, but then got on track and ripped his way through the South Atlantic League. By the time he left on May 29, the Wisconsin native had compiled a .309 average with 11 homers and 29 RBI in just 50 games and was a sure bet for the Home Run Derby and All-Star Game, except instead he garnered a ticket to the High-A Modesto Nuts. Eventually, he wormed his way to Arkansas and a Texas League playoff appearance, and came up with some end of season hardware, as he was tabbed as a Baseball America Minor League All-Star and Seattle's Ken Griffey, Jr. Minor League Hitter of the Year. The outfielder also appeared in the SiriusXM All-Star Futures Game and had a small stint in the Arizona Fall League after getting his wisdom teeth out. All in all, this season put Kelenic on the fast track to Seattle, and Mariners fans can start foaming at the mouth with the thought of this man making highlight reel plays and mashing baseballs to Puget Sound very soon.
2020 Prediction: West Virginia
Prediction Strength: MEDIUM
It hurts on a personal level to predict that McConnell will come back to West Virginia because he is one of the nicest guys from the 2019 team and we wish only the best and continued success for him, but based on numbers, it's reasonable to assume that he could be back in The Capital City.
Defensively, the Northeastern product is above this level. He did not make an error in the last 82 games of the season after becoming a mainstay in center field with Kelenic's elevation; however, at the plate he really struggled. In 113 games, McConnell played jump rope with the Mendoza Line, ultimately settling in with an even .200 stroke, and compiled 127 strikeouts in 395 at-bats (32%). If the outfielder can perk up his stuff at the plate (he was making a ton of swing adjustments throughout the season), he will be on the next flight to California. From all of us in West Virginia, we hope if he starts here, it's not for long (and we don't think it will be).
2020 Prediction: High-A Modesto Nuts (for a short time)
Prediction Strength: MEDIUM-STRONG
McGovern's climb up Seattle's organization ladder was derailed by an injury this year, which is the lone reason he spent time with West Virginia for 10 games. A part of the #BeefBoys tandem with catching prospect Cal Raleigh, McGovern has RIDICULOUS power and he flexed it, especially in Modesto, where he blasted 10 dingers in 65 games. He could compete with Kelenic and Julio Rodriguez for the "Best Power" award if we were giving out season superlatives, and he might win. His homers are called "Zinger Dingers" (due to the brand of bat he uses), and that's phenomenal.
Anyways, McGovern will be jammed in Modesto to start the year, but once Kelenic and others elevate to Triple-A, he'll be with Arkansas for probably a majority of the season. Remember, McGovern only played 75 games last season and wasn't fully healthy, so reflect back to his 2018 numbers to see his potential (.271 AVG/15 HR/46 RBI in just 69 games).
2020 Prediction: Extended Spring Training (then Short-Season Everett)
Prediction Strength: STRONG
Moses finally got his shot out of the AZL this year after spending three seasons in rookie ball. While he flashed remarkable speed (we timed him running around the bases, and it was a ridiculous 10 to 11-second burst or something like that), that's all he really possessed. His bat didn't play up to the Northwest and South Atlantic League levels of pitching, as he mustered just a .180 clip in 49 games. So, give him a bit more seasoning in Extended and with the AquaSox to adjust as a hitter, and then turn him loose into the prototypical leadoff man/outfield speedster we all think he can be.
2020 Prediction: High-A Modesto Nuts
Prediction Strength: STRONG
Ramiz had a back-and-forth season, at times looking like a very well-put together hitter with plus-outfield tools, and at times his bat would let him down and you'd see the confidence drop. He hardly ever wavered in the outfield and can play everywhere, though he prefers the corners (and really left field), so that's a nice asset to have. In the hitter-friendly California League in 2020, Ramiz can gain that consistent confidence at the plate that could turn him from a good player into a great player, as well as catapult him to Double-A and beyond.
2020 Prediction: Double-A Arkansas
Prediction Strength: STRONG
We are forever going to be STANS of the J-Rod Show. My goodness, he was fun to watch in West Virginia. Barring that wrist injury that pulled him away from the field for two months in the first half, Julio's numbers may have reached the stratosphere in 2019, and he most certainly would've earned All-Star honors in the South Atlantic League. He was too good for the SAL when he started, and he showed that many times, where it was a home run rob or blasting 450-plus foot bombs over video boards. Plus, his infectious smile made him a fan favorite in West Virginia and beyond, so it was hard not to root for his success.
Despite being dinged up, J-Rod posted a .326 average with 12 homers and 69 RBI in 84 games, proving Seattle's double-jump of this top prospect this past year was not only smart, but needed, and even then, Julio didn't seem challenged. He'll get the final test of whether he's ready for the big leagues when he faces Double-A pitching and their devastating breaking balls in 2020, and if he passes that exam with flying colors, he's off to Seattle with his best friend Kelenic to live out the dreams of Mariners fans everywhere. #JULIOOOOOOOOOOOOOOOOOOOO
2020 Prediction: None (Voluntarily Retired List)
Prediction Strength: N/A
Johnny Slater retired on July 15 of this year after being relegated to the AZL, so there's not much to predict here. He's at peace with his decision and we certainly respect that, though, from this writer's perspective, I wish Slater would've gone through the conversion to be a pitcher, because his arm is awesome, and he showed a 91-93 fastball plus a breaking ball when he did pitch for the Power once. However, we wish Slater luck with his future endeavors.
2020 Prediction: Extended Spring Training (then Short-Season Everett)
Prediction Strength: MEDIUM-STRONG
Cesar Trejo was on the Power's 2019 Opening Day roster, but he had trouble finding his way into the starting lineup, until J-Rod got hurt, because McConnell and Ramiz garnered that playing time. After averaging just .179 in 24 games with West Virginia, Trejo was relegated to the AZL to finish the year. He flirted with some breakout games there and ultimately put up ok numbers, but his age (23 during the 2020 season, mostly) will put him with Short-Season Everett after firming up his skills in Extended ball.
Kelenic and J-Rod are destined for the big leagues sooner rather than later, while McGovern, McConnell and Ramiz will need to fine tune some things in 2020 before getting to the higher levels. For Cooke, Moses and Trejo, it's tough to say what's next for them, but they have a few tools that are intriguing enough to give them their opportunities. And, of course, we wish Slater all the best.
We'll be taking a break for the Thanksgiving Holidays next week, so come back in two weeks as we dive in to the starting pitchers!