Surge Fall in Friday Night Match to Naturals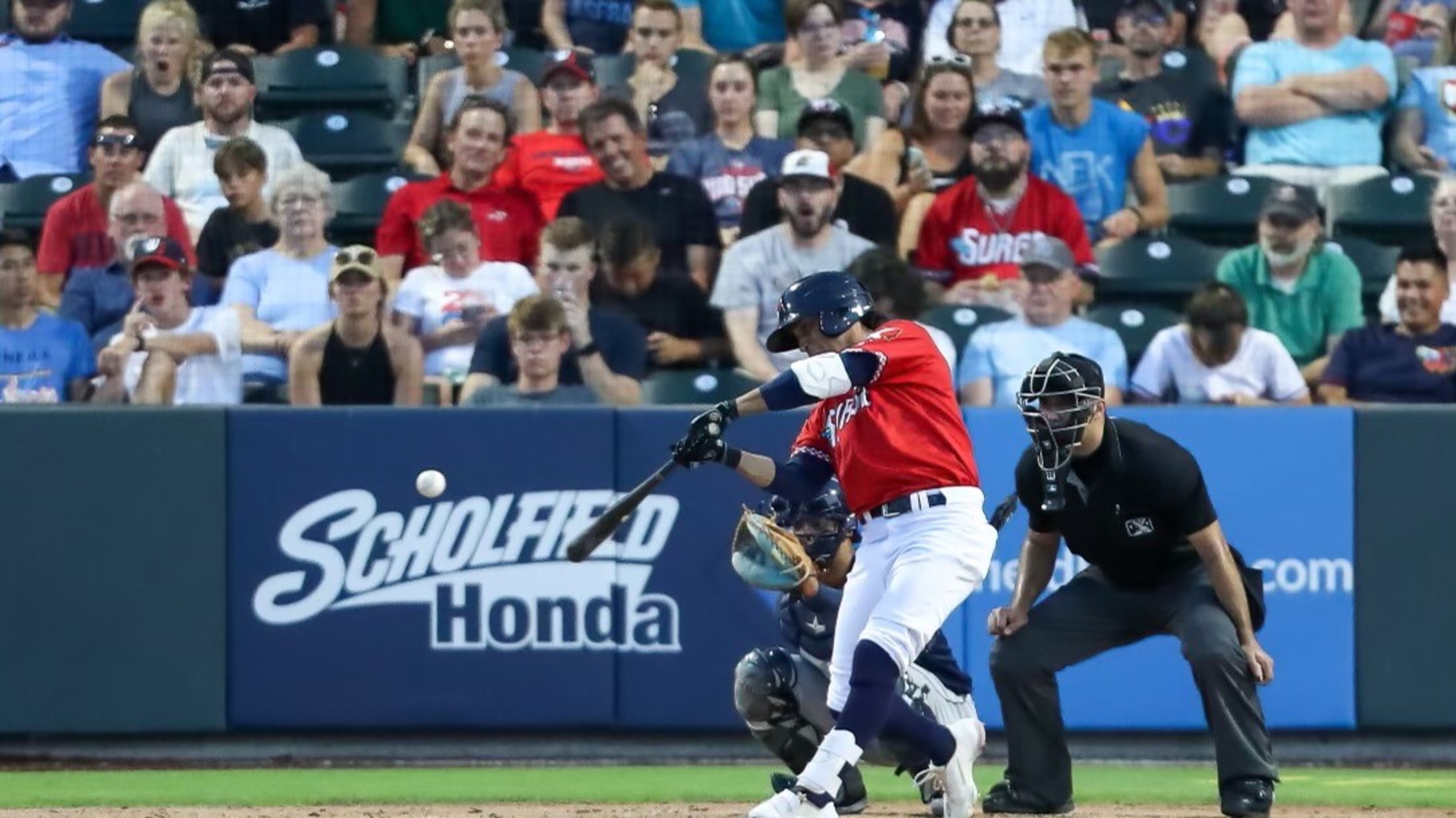 (Photo Credit: Ed Bailey)
NW Arkansas 10 Wichita 2 WICHITA, KS– The Surge dropped their fourth straight game to the Naturals on Friday night. Despite gaining an early lead, the Surge were not able to hold on very long as they suffered a 10-2 defeat. Jason Garcia got Wichita off to a great start
NW Arkansas 10
Wichita 2
WICHITA, KS– The Surge dropped their fourth straight game to the Naturals on Friday night. Despite gaining an early lead, the Surge were not able to hold on very long as they suffered a 10-2 defeat.
Jason Garcia got Wichita off to a great start by keeping the Naturals off the board the first time through the lineup, something they were not able to do the first three games. The Wind Surge put up the first runs in tonight's game in the bottom of the second inning. With runners on second and third, Leobaldo Cabrera blasted a 94 miles per hour ball off the center field wall for a two-RBI double. Cabrera's second double of the year not only placed Wichita ahead 2-0 but gave them their first lead of the series.
Leoooo 🙌 pic.twitter.com/hzwpVPHvXe

— Wichita Wind Surge (@WindSurgeICT) July 10, 2021
The lead did not last long as the Naturals took a commanding 10-2 lead three innings later. Northwest Arkansas scored nine runs in the fourth, led by a two-run triple from Nick Pratto, and one run in the fifth off a Clay Dungan RBI groundout. Pratto had a finished the night at the plate going 3-4 with 2 RBIs.
Jason Garcia's fifth start of the season was cut short due to injury. Garcia left after 3.1 innings allowing three earned runs on two hits and striking out three on the night. Adam Lau had a great relief outing pitching a scoreless 3.2 innings. Lau surrendered just two hits and struck out three.
NOTES: The Surge have lost four consecutive games, matching their season high. Wichita allowed a nine run fourth inning, most in a game this season. The four errors also match a season high.
COMING UP: Wichita will play game five against the Northwest Arkansas Naturals tomorrow night (7/10). First pitch is set for 6:05 pm from Riverfront Stadium. Wichita will start RHP Jordan Balazovic (1-1, 4.44 ERA) against Northwest Arkansas LHP Drew Parrish (1-2, 5.85 ERA). RADIO/TV: KGSO 1410 AM and 93.9 FM, MiLB.TV and Windsurge.com.