A Tale of Two Seasons & 2019 by the Numbers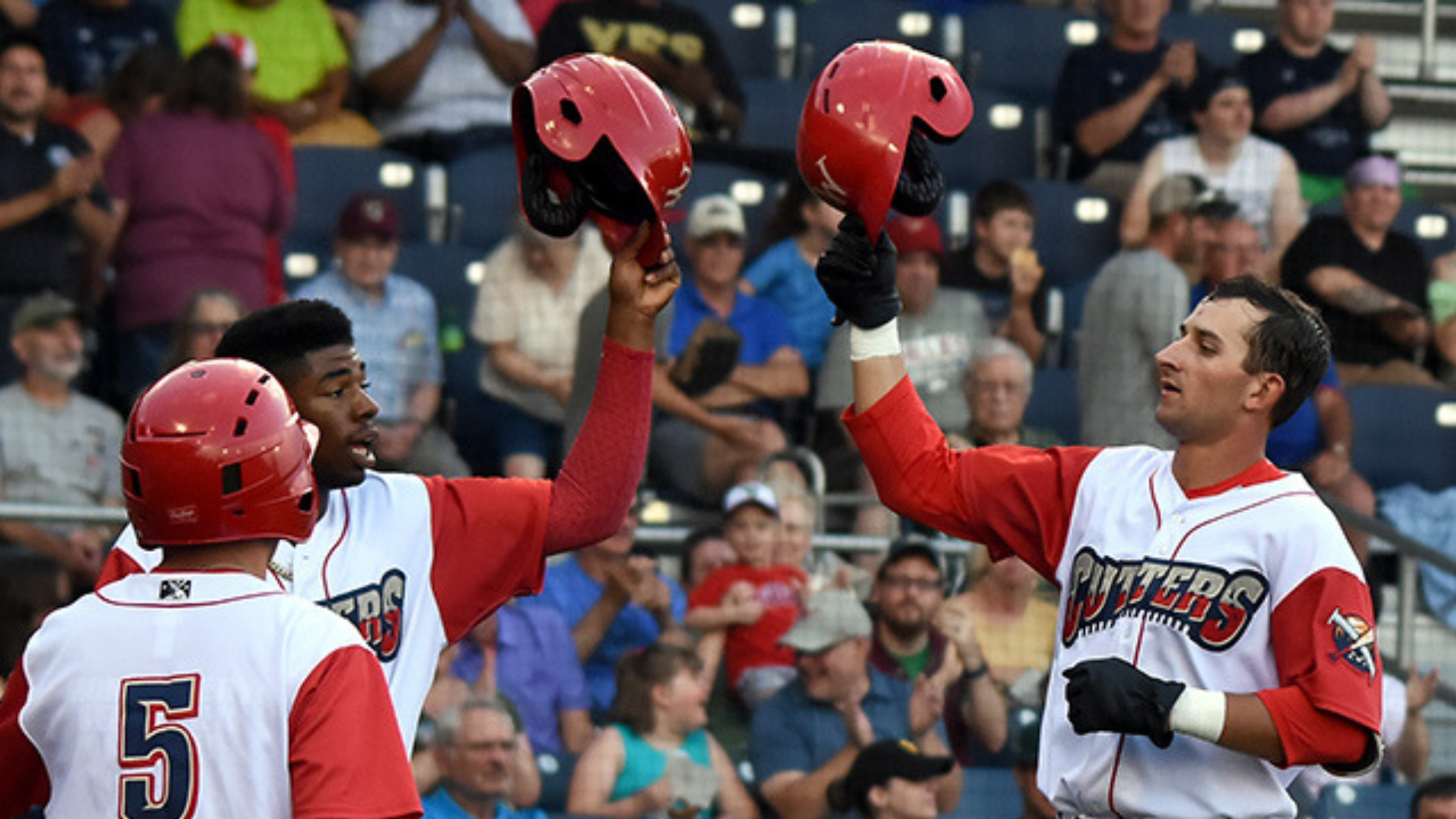 The Williamsport Crosscutters 21st season ended on September 2nd with what might be described as a microcosm of the Cutters 2019 campaign. With the Cutters hosting the State College Spikes on the final day of the season, there was really nothing on the line. With both teams eliminated it simply
The Williamsport Crosscutters 21st season ended on September 2nd with what might be described as a microcosm of the Cutters 2019 campaign.
With the Cutters hosting the State College Spikes on the final day of the season, there was really nothing on the line. With both teams eliminated it simply meant a final game for fans to enjoy while saying goodbye to another summer at BB&T Ballpark.
After 8 ½ innings of play on a sunny Labor Day afternoon, with the score tied 3-3, the skies opened up to drop yet more rain on one of the wettest seasons in recent memory. After 30 minutes, the umpires called off the rest of the contest, leaving the Cutters no chance of a walk-off win on the season's final day. Just like that the season ends. Not with a walk-off victory or even a 9th inning rally that falls short, but with a slow 30 minute wait for the inevitable. Officially it's a suspended game that will not be completed and all the stats counting in the official records.
The Cutters stumbled mightily out of the gate in '19, losing 13 of their first 18 games including a franchise worst 9-game losing streak from June 18-27. Luckily, 2019 draft picks would soon begin to make their way to Williamsport helping stabilize the squad, including 2019 first-round pick SS Bryson Stott out of UNLV. Stott homered in his first Cutters at-bat on his way to a .274 average with 5 homers and 24 RBI's.
In many ways, the season turned into a race for respectability by fifth year manager Pat Borders and the coaching staff. With fresh new draft picks on the roster and some players turning around their seasons over the last half, it could be argued that the Cutters accomplished that goal despite a less than stellar record of 32-43.
With a 10-27 record in the season's first half, the Cutters rebounded to go 22-16 in the second half, which tied for the BEST record in the 14-team New York-Penn League (matched by the playoff-bound Hudson Valley Renegades & Brooklyn Cyclones).
The Crosscutters pitching staff finished 3rd in the league with a 3.07 ERA, fourth best in team history. On the offensive side, Logan Simmons finished the season with 12 home runs, tied for 2nd in the league and tied for third most in Cutters history. In the season's final month, INF Jake Holmes was 26 for 76 (.342) in the to raise his average 104 points, 1B Rudy Rott raised his average 96 points and C Logan O'Hoppe boosted his by 89 points.
As Rott said after the season finale, "The way we finished says something about every guy in this locker room and everyone in this organization as a whole because nobody gave up on us. They were pushing us to stay positive and to be better because they knew we were better than how the season started."
A tale of two seasons indeed.
CUTTERS 2019 AWARD WINNERS
UPMC Susquehanna Crosscutters Most Valuable Player (voted by fellow players & coaches) - INF Kendall Simmons
The Rankin Johnson Pitcher of the Year (voted by fellow players & coaches) - RHP Rafael Carvajal
Max & Alta Border Good Guy Award for Community Service (voted by Crosscutters front office staff) -
C Logan O'Hoppe
Most Popular Player Award (voted on by members of the Crosscutters Booster Club) - C Logan O'Hoppe
Here's our annual season in review, by the numbers …
.520- League-leading slugging percentage by Kendall Simmons. This marks the 3rd time in the last 4 seasons that a Williamsport player has led the league in that category (Derrick Hall-2016, Jhailyn Ortiz-2017).
186- Number of Cutters career victories by manager Pat Borders (2015-2019), the most by a Cutters manager
113- Number of Community Service hours performed by Cutters players during the 2019 season
56- Number of players to appear in a Cutters uniform this season
32- Wins by the Cutters in 2019, the same amount as 2018
30- Stolen bases by OF Corbin Williams, tops in the league and tied for 3rd all-time in Cutters history
16 - Number of home wins in 2019, which was the same as the number of road wins
12- Players promoted to long-season A Lakewood in 2019
11- Number of different pitchers who recorded saves for Williamsport
6- Number of triples by Cutters OF Johan Rojas to lead the league
5- Number of home rainouts
2- Phillies Top 30 Prospects on the roster. SS Bryson Stott (#3 & LHP Erik Miller. Each played for the Cutters in 2019 and were ranked by MLB Pipeline as Top 30 Prospects in the Phillies organization
Thanks to all Cutters fans who helped make 2019 memorable and successful. We look forward with great anticipation to our 2020 home opener on June 19.
Go Cutters!