Errors And Missed Chances Costly To Cutters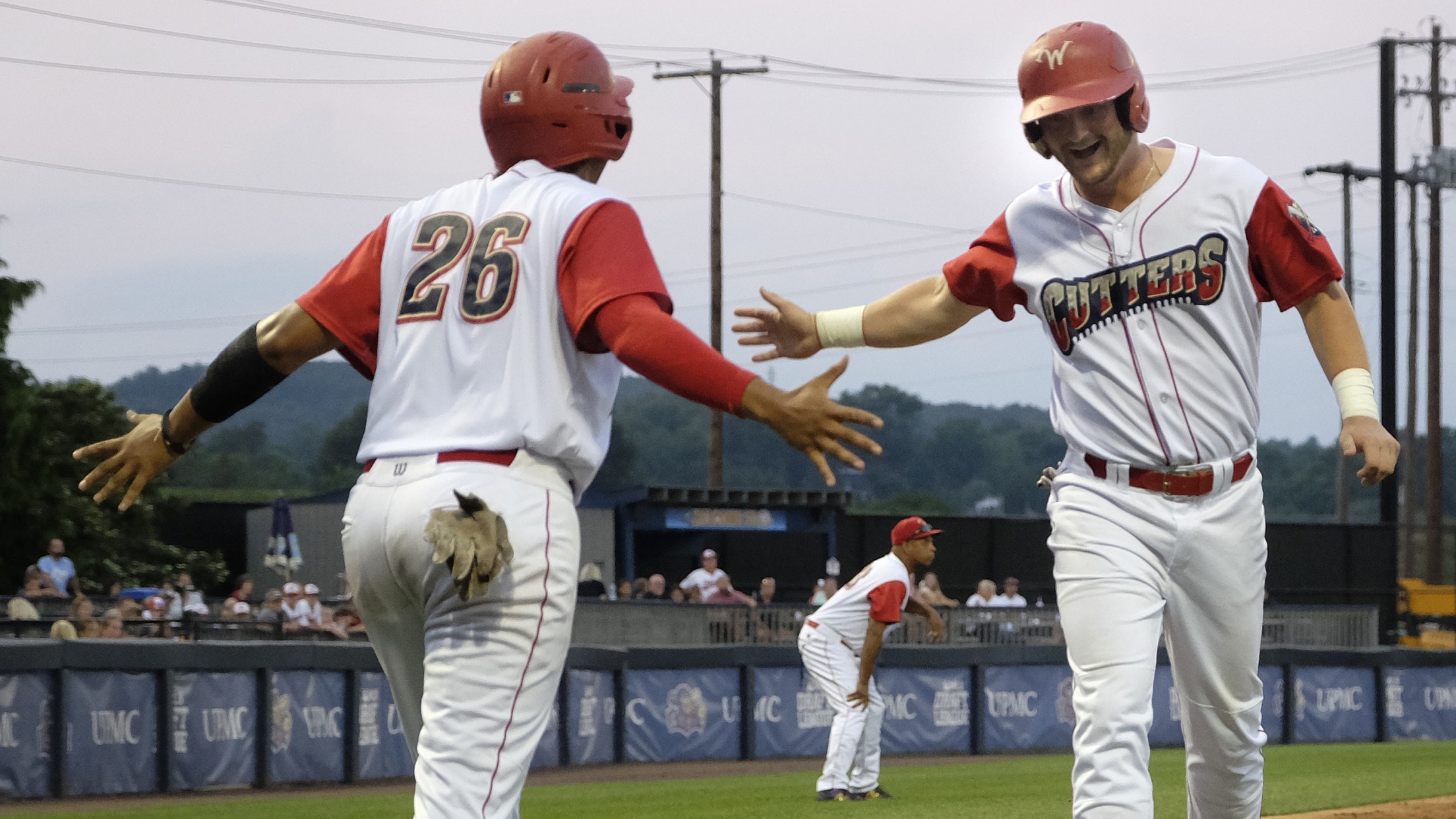 Williamsport, P.A.- The Crosscutters committed four errors and left 11 runners on base, as they fell 9-6 to the State College Spikes in the opener of the final home stand. Troy Taylor made his 10th start of the season, and the State College Spikes wasted no time getting on the
Williamsport, P.A.- The Crosscutters committed four errors and left 11 runners on base, as they fell 9-6 to the State College Spikes in the opener of the final home stand.
Troy Taylor made his 10th start of the season, and the State College Spikes wasted no time getting on the board against the right-hander, plating a 1st inning run to take a 1-0 advantage. Taylor bounced back in the top of the 2nd inning, striking out the side.
The Cutters used that momentum in the bottom of the 2nd inning, capitalizing on a lead off single from Jaxon Shirley. Shirley scored on a double steal, that saw Noah Hemphill swipe 2nd base and Shirley cross to tie the game at 1-1.
State College answered right back in the top of the 3rd against Taylor, plating two more runs to take a 3-1 lead. Taylor would calm down, and work scoreless frames in the 4th and 5th to exit in a 3-3 game. Taylor finished the outing with a season-high seven strikeouts.
Williamsport backed up Taylor in the bottom of the 3rd inning, using a check swing, two-run single off the bat of Alec Burns that scored Tito Fuentes III and Trey Steffler, with two outs, to tie the game at 3-3. The ball left Burns bat with a 56 MPH exit velocity.
After Taylor induced an inning-ending double play in the top of the 5th inning, the Crosscutters bats gave their starter his first led of the night, plating two runs in the bottom of the inning. Jaxon Shirley plated Isaac Nunez and then Dakota Kotowski scored Shirley to give Williamsport a 5-3 advantage.
Will Lopez entered in the top of the 6th inning and his defense unraveled behind him, committing three errors in the inning, helping the Spikes score six runs in the frame, taking a 9-5 lead. Lopez couldn't make it out of the inning, surrendering six runs (four earned) on two hits and three walks.
Hunter Kloke recorded the final out of the 6th inning, and that would be all he would pitch, allowing one walk and a strikeout over a third of an inning.
Isaac Nunez made his pitching debut for the Crosscutters, working a scoreless inning in the top of the 9th, using a pair of strikeouts to work around a walk.
Williamsport attempted a comeback in the bottom of the 9th inning, getting a lead off single from Burns, who was plated by a double from Kotowski to draw the Cutters within three at 9-6. The Cutters would move Kotowski to 3rd and bring the tying run to the plate, but failed tp plate any more runs in the loss.
The Crosscutters will play their final home game of the season tomorrow night as they wrap up the two-game series with State College. First pitch is scheduled for 7:05 p.m. at Muncy Bank Ballpark.
Cutter Carvings -The Cutters pounded out 13 hits, their second-most hits in a game this season, the most in a losing effort… Four different Crosscutters (Steffler, Shirley, Burns & Kotowski) recorded three hits in the game… Williamsport falls to 14-14-1 at home with the loss with one more home game remaining…