Blue Rocks Championship Celebration Set For September 24
Celebrate the team's first Mills Cup in 20 years at Wilmington Brew Works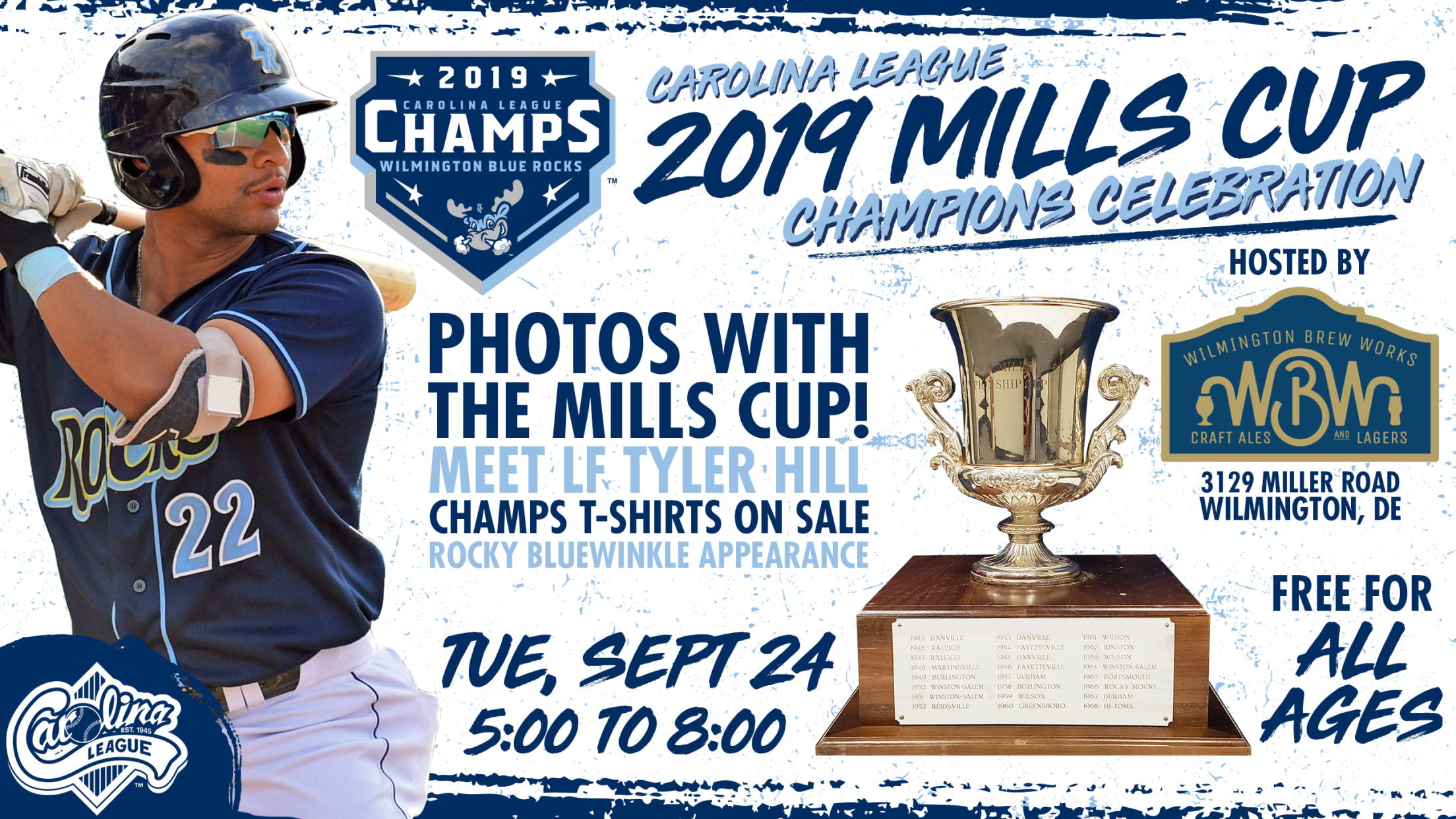 Wilmington, DE- The Wilmington Blue Rocks are inviting fans to come celebrate the organization's first Carolina League championship in two decades on Tuesday, September 24. The team will bring its Mills Cup to Wilmington Brew Works in Wilmington, where fans can pose for pictures with the trophy and meet Blue
Wilmington, DE- The Wilmington Blue Rocks are inviting fans to come celebrate the organization's first Carolina League championship in two decades on Tuesday, September 24. The team will bring its Mills Cup to Wilmington Brew Works in Wilmington, where fans can pose for pictures with the trophy and meet Blue Rocks outfielder and First State native Tyler Hill from 5-8 p.m. The event is free & open to fans of all ages.
Blue Crew mascot Rocky Bluewinkle will also be on hand for the festivities. Plus, the team will bring its prize wheel with giveaways for its loyal fans in attendance. Fans will be able to purchase the official 2019 Carolina League Champions t-shirts at the event, as well ($22, cash only).
Wilmington Brew Works, a proud partner of the Wilmington Blue Rocks, is the first production brewery in Delaware's largest city since 1955. Housed in a 100-year-old former laboratory in the old 9th ward, they keep the spirit of the building's origins alive with new and innovative ales, lagers, sours and ciders. Their family-friendly taproom has plenty of indoor and outdoor seating to enjoy a drink with friends old & new. Their address is 3129 Miller Road, Wilmington, DE 19802.
The Wilmington Blue Rocks are the Advanced-A affiliate of the Kansas City Royals and the 2019 Carolina League champions. For information about the team, visit BlueRocks.com.