Frosty Microbrews: 2017 Stretch Run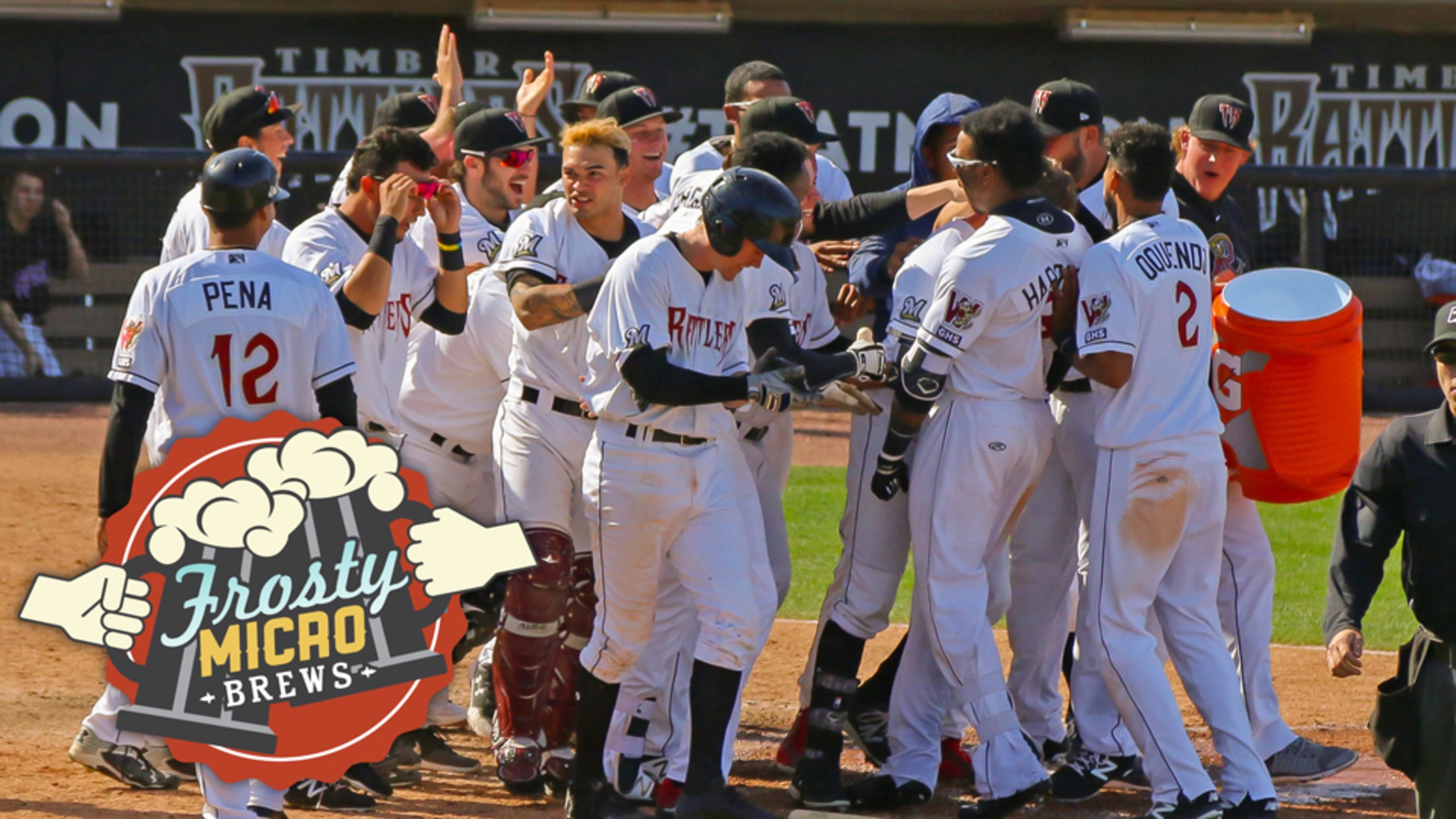 The Timber Rattlers returned home on Friday with just 17 games remaining on their 2017 schedule. As a team the primary goal is, of course, to finish strong and work their way back into the Midwest League's playoff picture. Individually, many members of this team also have specific goals for
The Timber Rattlers returned home on Friday with just 17 games remaining on their 2017 schedule. As a team the primary goal is, of course, to finish strong and work their way back into the Midwest League's playoff picture. Individually, many members of this team also have specific goals for the stretch run.
Several Timber Rattlers pitchers have seen their performances trending upward as the season progresses: Zack Brown, Cameron Roegner and Thomas Jankins all recovered from slow starts to provide consistent positive efforts for Wisconsin in the second half. Jankins was the Timber Rattlers' Pitcher of the Month for July and credited his success to trusting the process laid out by his coaches and organization.
"I've just been staying with it, keeping with the program. I've been trying to stay consistent through the whole year. I knew there were going to be a lot of ups and downs through the whole year. Just trying to stick with the program that they gave us and trying to work as hard as I can to improve," Jankins said.
Timber Rattlers pitching coach Steve Cline praised his players for working hard to put many of the lessons learned this season into use in games.
"It's a credit to the kids, because they've put forward the effort through the whole year to apply themselves, to try to implement some of the things that we've worked on through the course of the year and I think it's paying dividends right now with our starting pitchers," Cline said.
In past years the Timber Rattlers have had to slow pitchers' workloads down the stretch to avoid risk of injury via overuse. This year Cline said he doesn't anticipate having that issue but acknowledged perhaps needing to proceed with caution with Jankins: In his first full professional season he leads all Timber Rattlers pitchers by a wide margin with 121 2/3 innings pitched, which as of Wednesday was the second-highest total in the Midwest League (trailing only Cedar Rapids righthander Clark Beeker).
Meanwhile, it's also been a long season for some of the Timber Rattlers' first-year position players. Ronnie Gideon appeared in 97 of the team's first 119 games and overcame a slow start, batting .263 with a .349 on-base percentage and .522 slugging in the 63 games including and following his first Midwest League home run on May 26.
Gideon was the Timber Rattlers' designated hitter a fair amount early in the season but has played nearly exclusively at first base since July 17. He acknowledged that a long year has taken a toll on him physically, but said he has a plan for the stretch run.
"My body's wearing down but you've got to play through it. That's our job now, to come to the field and prepare. That's what we do, we prepare to get ourselves as ready as we can," Gideon said. "If you're not feeling good, get here early, get yourself feeling good."
"Get yourself feeling good" has also been a theme for several Timber Rattlers pitchers recovering from injury. Drake Owenby, Braden Webb and Josh Pennington have all spent much of the second half building back up after missing significant time earlier in the season. Pennington was able to pitch five innings in a game on August 11 for the first time in almost a year, and cited more extended outings as one of his goals for the season's final weeks.
"Longer outings, get that pitch count up there and just stay consistent," Pennington said. "Keep the team in it to win every time I pitch and hopefully we can end the season on a good run."
Webb returned to the active roster in early August after spending nearly a month on the disabled list. He described his return to the active roster as "a blessing" and cited postseason play as one of his goals for the stretch run.
"I hope to be successful and to help the best I can to push this team towards the playoffs. We've got a lot of competitive guys, we've got a lot of innings to fill and I hope I can contribute," Webb said.
Cline and the other members of the Timber Rattlers coaching staff have the sometimes challenging task of trying to keep newly-healthy pitchers from trying to do too much too fast when they finally get an opportunity to pitch in games again.
"They put forward the effort to get themselves healthy and to get themselves back to this level, so our number one job is to keep them healthy the rest of the summer," Cline said. "So if we go a touch slow for them, I know they're chomping at the bit to get more innings and throw more pitches and that kind of thing, but the number one thing is that they're healthy and let's keep them healthy through the end of the summer."
Many of those pitchers may get a chance to pitch to a catcher that fans will remember from the 2016 team: Mitch Ghelfi rejoined Wisconsin on Thursday as the latest step in his recovery from thumb surgery that interrupted what had been a strong offensive season with the Carolina Mudcats. Ghelfi hit .326 with a .387 on-base percentage and .439 slugging and was a Midwest League All Star for Wisconsin in 2016 and was batting .304, .361 and .429 in the same three categories for Carolina in 2017 before getting injured in May. Ghelfi grew up in Wisconsin and went to college at UW-Milwaukee, so returning to the Midwest League gave him another chance to play close to home.
"It feels good to be back. I always loved playing in this stadium with these fans and being back home in Wisconsin. So it felt good to be back at this field in front of our home fans," Ghelfi said.
Ghelfi was sidelined from May until August with a thumb injury, so his goal for the stretch run is to get back on track.
"Mainly just trying to get back to where I was to start the season. Get back to feeling comfortable catching and hitting, and not having anything hold me back health-wise. I feel like I'm at that point, so I'm excited to be back on the field," Ghelfi said.
Over the last month the Timber Rattlers have seen the first players from the Brewers' 2017 draft reach the Midwest League as infielders Keston Hiura, Devin Hairston and Dallas Carroll have joined the roster. For both Hiura and Carroll Wisconsin is their third team since June: Hiura played collegiate baseball for UC-Irvine and made his professional debut with the Arizona Summer League Brewers before joining the Timber Rattlers, and Carroll played his senior season at Utah before appearing in the Pioneer League with Helena and eventually getting promoted to Wisconsin.
"It's been fun," Carroll said. "Kind of a roller coaster, kind of all over the place. I kind of went into it not really knowing what's going to happen. But it's the same game, I just try to do my stuff and have fun out there and hopefully everything else takes care of itself."
Finally, the stretch run offers one more opportunity for players who haven't had the season they might have liked to make a strong final impression. Infielder Trever Morrison's season got off to a slow start, but through his first 14 games in August he had reached base 17 times.
"I didn't play a lot in the first half, so I'm hungry. I want to play a little more," Morrison said.
Pitcher Andrew Vernon's first full professional season has also seen some ups and downs, as he was demoted back to Rookie-level Helena in June. He righted the ship at that level, however, earning his way back to the Midwest League with 8 1/3 shutout innings over four Pioneer League appearances.
"It hasn't been the year I wanted to have so far. I know I can pitch better than I have, and I just really want to finish strong and continue to do what I did today, continue to attack hitters and let them get themselves out," Vernon said after throwing two scoreless innings on August 6.
Similarly, reliever Colton Cross is working to recover from a tough start to the season. The Brewers promoted Cross aggressively to start the season, having him open the year with Carolina despite never having pitched above the rookie level. Cross struggled to find his way at that advanced level and was eventually sent to the Timber Rattlers where he's made 15 relief appearances and, after some initial struggles, has a 3.37 ERA over his last 18 2/3 innings. He was recently reactivated from the disabled list and has clear goals for the remainder of the season:
"Stay consistent, throw strikes, get ahead of hitters, and make sure my slider's working. That's about it," Cross said.
With 16 games on the calendar for the season's final 17 days, the 2017 Wisconsin Timber Rattlers still have a lot left to play for.