Hiura, Cain, and Piña Headline Timber Rattlers Bobblehead Slate for 2020 Season
April games are FREE with purchase of this package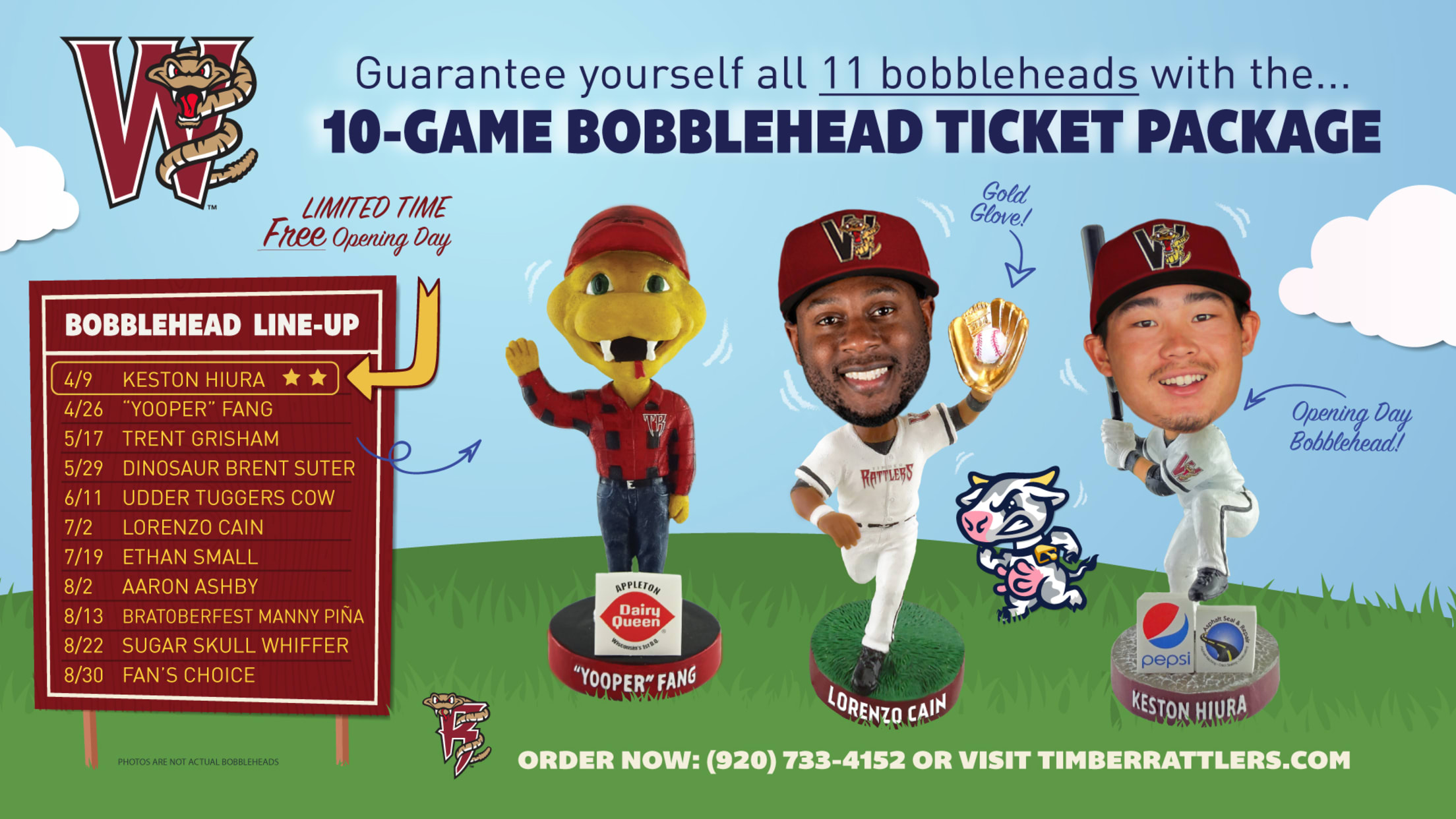 GRAND CHUTE, WI - It's time! The Wisconsin Timber Rattlers have made their choices and are ready to announce their 2020 Bobbleheads and the accompanying ticket package. Fans who purchase this package will also receive non-bobblehead games in April for FREE!The 2020 bobblehead ticket package is available now! The package
GRAND CHUTE, WI - It's time! The Wisconsin Timber Rattlers have made their choices and are ready to announce their 2020 Bobbleheads and the accompanying ticket package. Fans who purchase this package will also receive non-bobblehead games in April for FREE!
The 2020 bobblehead ticket package is available now! The package includes a free ticket to Opening Day and a free pass to all April home games if purchased by Friday, January 31 and may be purchased as a Box Seat option for $130 or a Reserved Bleacher Seat option for $100 online through timberrattlers.com, in person at the Timber Rattlers Box Office at Neuroscience Group Field at Fox Cities Stadium, or by calling (920) 733-4152.

Bobblehead Games for 2020 (Bobbleheads for the first 1,000 fans unless otherwise noted):
Thursday, April 9: Keston Hiura (HOME OPENER - ALL FAN GIVEAWAY) presented by Pepsi and Asphalt Seal & Repair - Hiura was the #1 pick of the Milwaukee Brewers in 2017 and joined the Timber Rattlers in the final two months of the season. He made his Major League debut with the Brewers in 2019 and was a big part of the playoff push with 19 home runs and 49 RBI in 84 big league games.
Sunday, April 26: Yooper Day Fang presented by Dairy Queen - Yooper Day is back for its third season and to celebrate, we are dressing a Fang T. Rattler bobblehead in traditional Yooper Day gear.
Sunday, May 17: Trent Grisham presented by Real Breaks - Grisham was the #1 pick of the Brewers in 2015 and played 59 games with the Rattlers in 2016. He made his MLB debut with the Brewers in 2019 and hit six homers with 24 RBI in 51 games after getting called up to Milwaukee and was the Robin Yount Performance Award winner as Milwaukee's Minor League Hitter of the Year in 2019.
Friday, May 29: Brent Suter presented by Engage Orthodontics - Suter recorded the final nine outs for the Rattlers in the game that clinched the 2012 Midwest League Championship. The Raptor has been an important part of the Brewers for the last few seasons and there was no better way to immortalize him as a Timber Rattler bobblehead than on our scheduled Dinosaur Day.
Thursday, June 11: Udder Tuggers Mascot - The Udder Tugger mascot took the world by storm in 2019. You have to get this package just to guarantee that you receive this first-ever Udder Tugger Mascot bobblehead as part of Udder Tugger Weekend!
Thursday, July 2: Lorenzo Cain - The Milwaukee Brewers outfielder was finally recognized as something we have known since he played for the Rattlers in 2009…a Gold Glove Award Winner! We celebrate this award with his bobblehead in our first game of the second half of the 2020 season.
Sunday, July 19: Ethan Small - Small was the #1 pick of the Brewers in 2019 out of Mississippi State. He was the Rattlers Friday Night Starter for the last five weeks of last season and he gets his own bobblehead for 2020.
Sunday, August 2: Aaron Ashby - Ashby was selected to represent the Timber Rattlers in the 2019 Midwest League All-Star game, but was promoted before the end of the first half. We decided to give this top pitching prospect in the Brewers organization a bobblehead. Ashby was the Robin Yount Performance Award winner as the Brewers Minor League Pitcher of the Year in 2019.
Thursday, August 13: Manny Piña Bratoberfest presented by Cher-Make - Milwaukee Brewers catcher Manny Piña was on a rehabilitation assignment with the Timber Rattlers for a Bratoberfest game and wore the Brats jersey in 2019. We plan to commemorate that moment with this bobblehead on our Bratoberfest game of 2020.
Saturday, August 22: Sugar Skull Whiffer presented by DiGiorno Pizza - Los Cascabeles take the field again and you will receive a Sugar Skull Whiffer bobblehead to go along with the Sugar Skull Fang Bobblehead from last year.
Sunday, August 30: Fans' Choice Bobblehead presented by Pick 'N Save - Fans vote on who gets to be the final bobblehead of the 2020 season.
By purchasing a bobblehead ticket package prior to January 31, fans will guarantee themselves all eleven bobbleheads. Fans who purchase a bobblehead ticket package after January 31 will not receive the Opening Day bobblehead as part of their package.

Ticket packages for 2020 are available from the Wisconsin Timber Rattlers ticket office by calling any of the new members of our team at (800) WI-TIMBER or (920) 733-4152, stopping at Neuroscience Group Field at Fox Cities Stadium, or online at timberrattlers.com. April games are free with the purchase any ticket package this year. The ticket office is open from 9:00am to 5:00pm Monday through Friday.