My Tiny Tour of Central Massachusetts, an Off-Season Story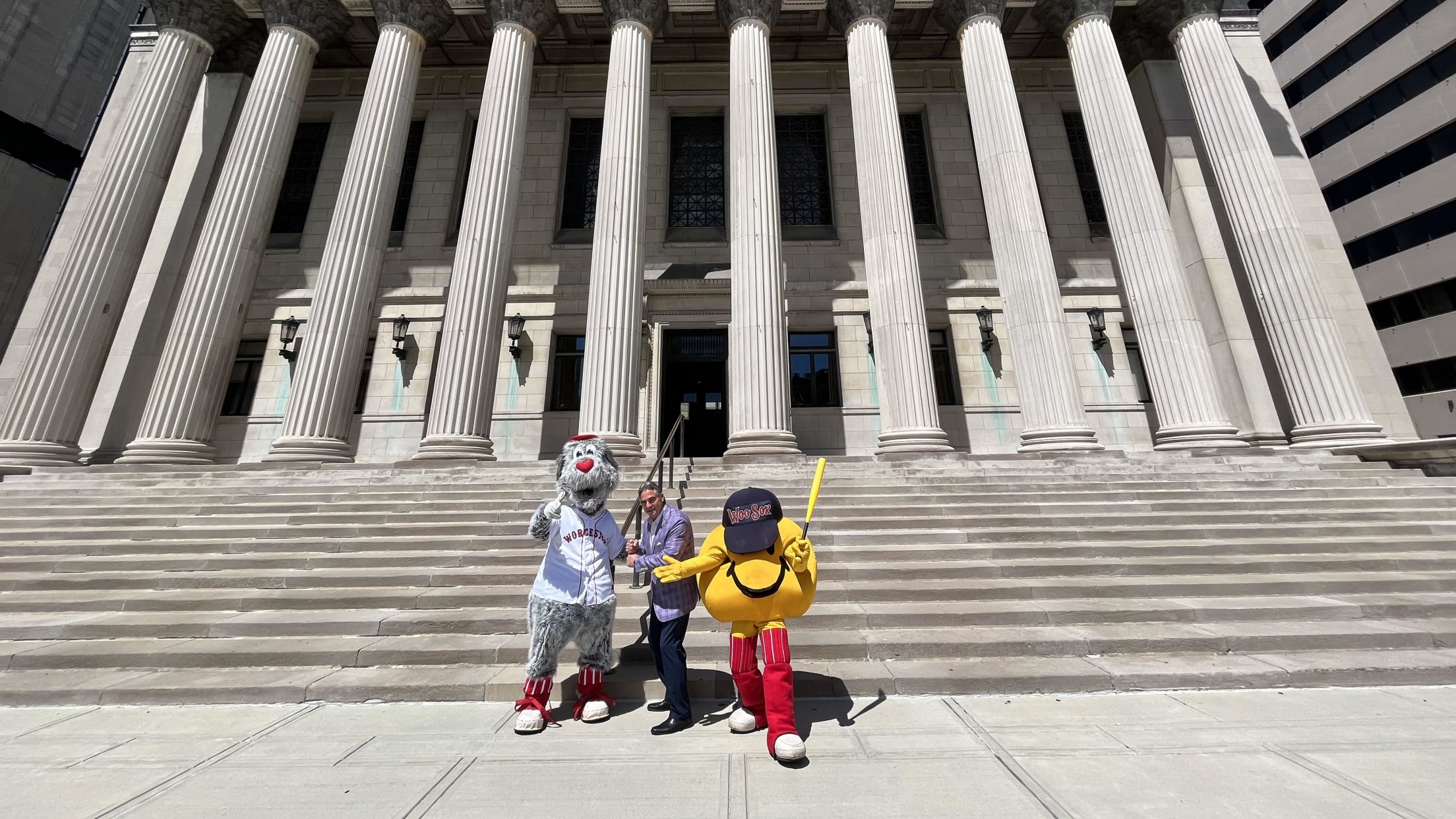 Smiley and Woofster pose with the mayor of Springfield, the honorable Domenic Sarno. (Katie Siegle)
When the Worcester Red Sox' season came to a close at the end of last summer, fans and staff members alike looked to the off-season and wondered what would be in store when baseball took its annual break. Schools were back in session, colder weather was on its way, and
When the Worcester Red Sox' season came to a close at the end of last summer, fans and staff members alike looked to the off-season and wondered what would be in store when baseball took its annual break. Schools were back in session, colder weather was on its way, and central Massachusetts started to settle in for the upcoming football season, but the WooSox had no intention of hibernating this winter.
As a member of the team's front office, I had the opportunity to branch out this off-season and visit towns and cities in Massachusetts that I had never been to before. I grew up in New Milford, CT, and went to college in Rhode Island, so other than visiting a friend in Oxford from time to time, my knowledge and experience in Central Mass was fairly limited. By the end of last year, I had gone on community outreach trips to seven different cities and towns, including one right here in Worcester.
One of my first chances to explore outside Polar Park came in the beginning of August when WooSox President Dr. Charles Steinberg, Vice President of Community and Player Relations Joe Bradlee, and Group Events Manager Joe Foley invited me to join them on a trip to Princeton. When we arrived at Princeton Town Hall, I watched as my coworkers chatted with the town administrators and brainstormed ideas for how the WooSox could benefit Princeton. We even had a brief tour of Princeton itself, a rather cute town near Mount Wachusett that prioritizes environmental conservation. By the time we left, plans were in motion for a Princeton Town Takeover before the season's end, and I enjoyed a fantastic sandwich from Princeton's Monti Farms & Deli, which I would highly recommend.
The very next day I was part of another journey, this time about two hours away to the city of Springfield. Smiley, Woofster, Chief Ambassador Rick Medeiros, a fellow intern, and I all packed into the WooSox Van and pulled up to Springfield City Hall, where we were greeted by none other than the mayor himself, the honorable Domenic Sarno. We snapped some photos, and then our group visited the Dr. Seuss Museum and the Naismith Memorial Basketball Hall of Fame. If anyone was wondering, my foot is nowhere near the same size as LeBron's, but Smiley's might have been close.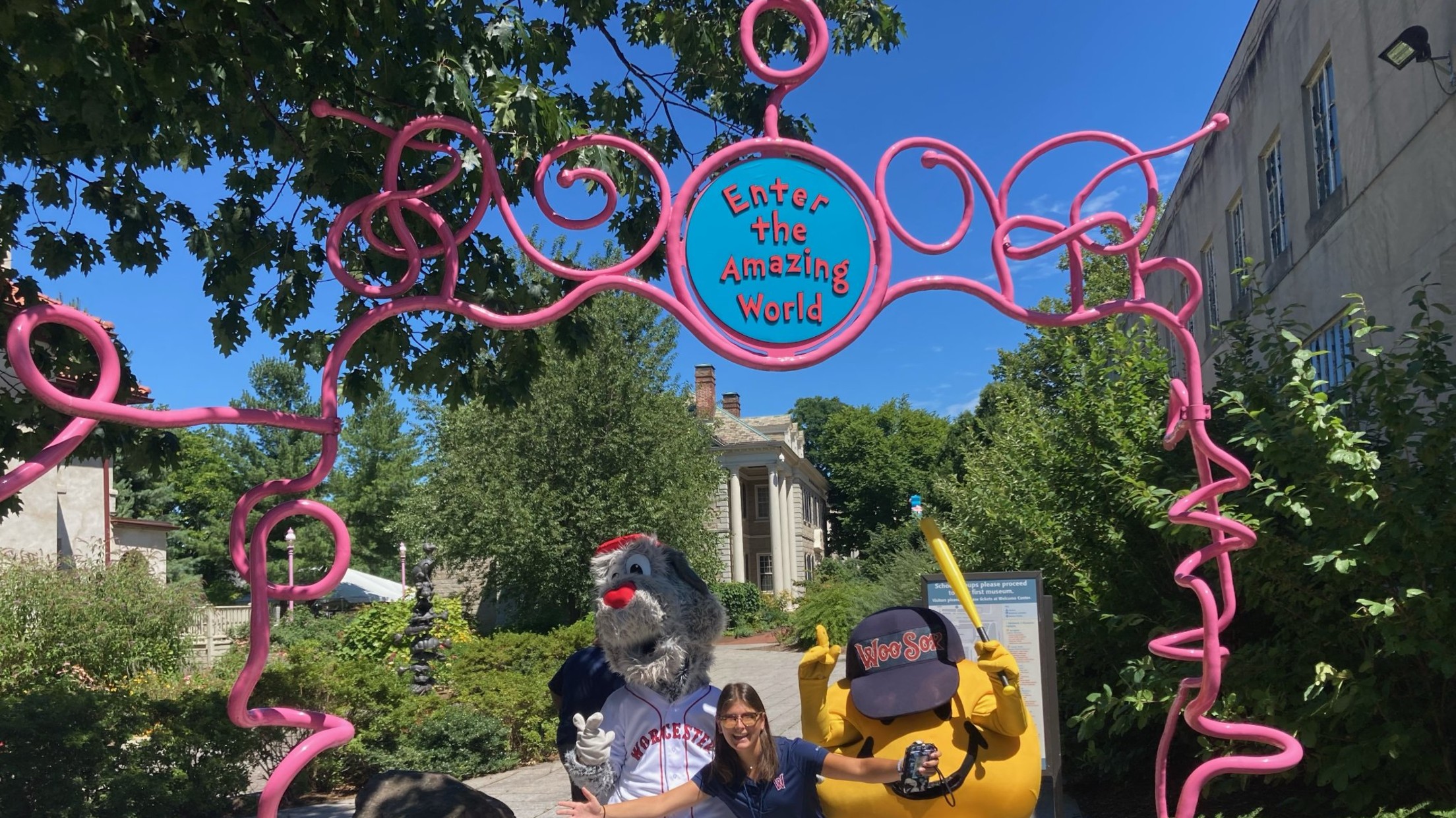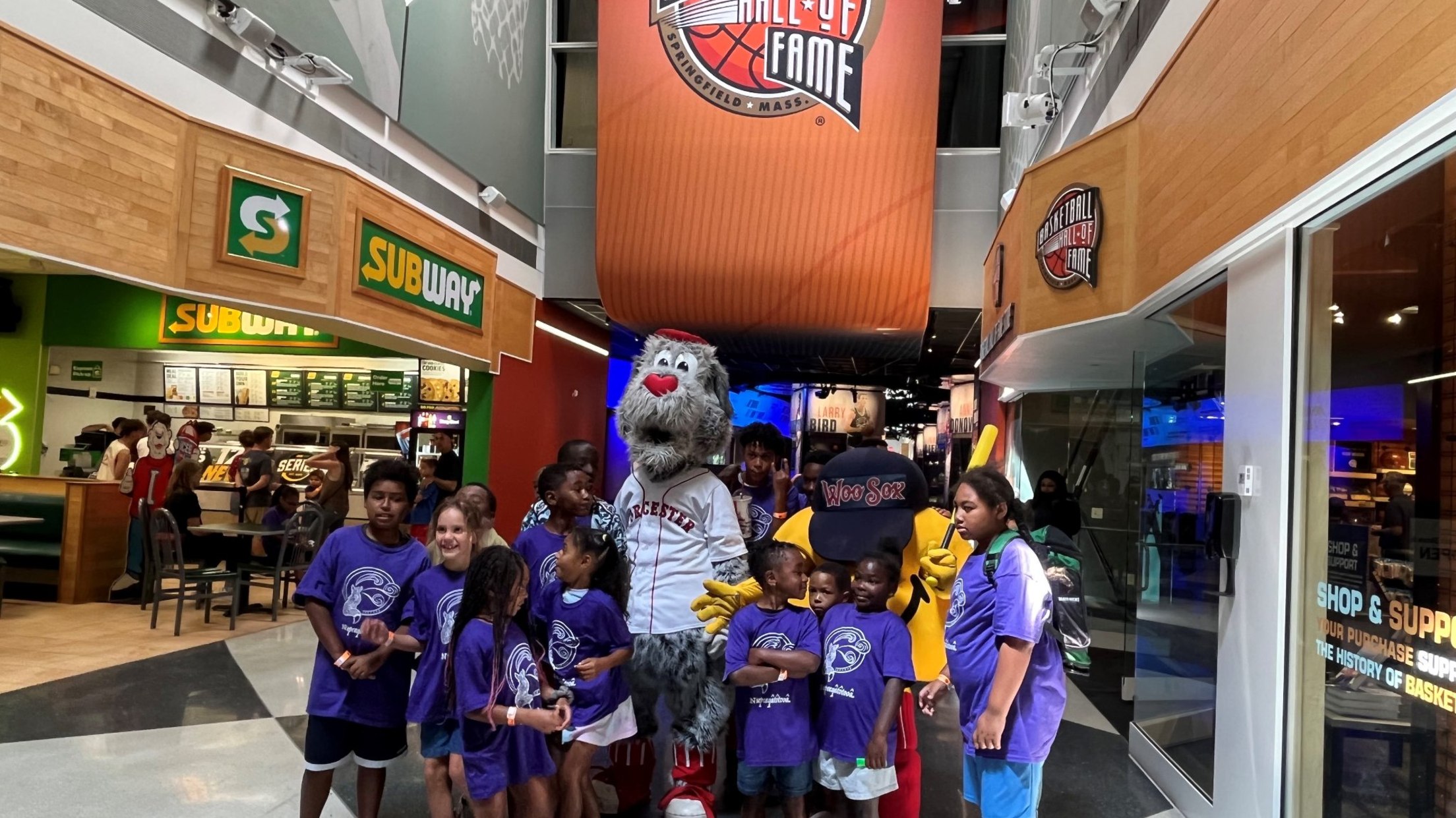 A month later, in early September, there was only one homestand left for the WooSox, and I joined a coworker on a voyage to The Big E in Springfield. The WooSox had a pop-up shop in the Massachusetts House, where attendees could stop by and purchase team store merchandise for the end of the season. Having never been to The Big E before, I was in awe of each state house and the variety of shops to browse. There was so much to see and do, so it made sense that the WooSox made an appearance in '22.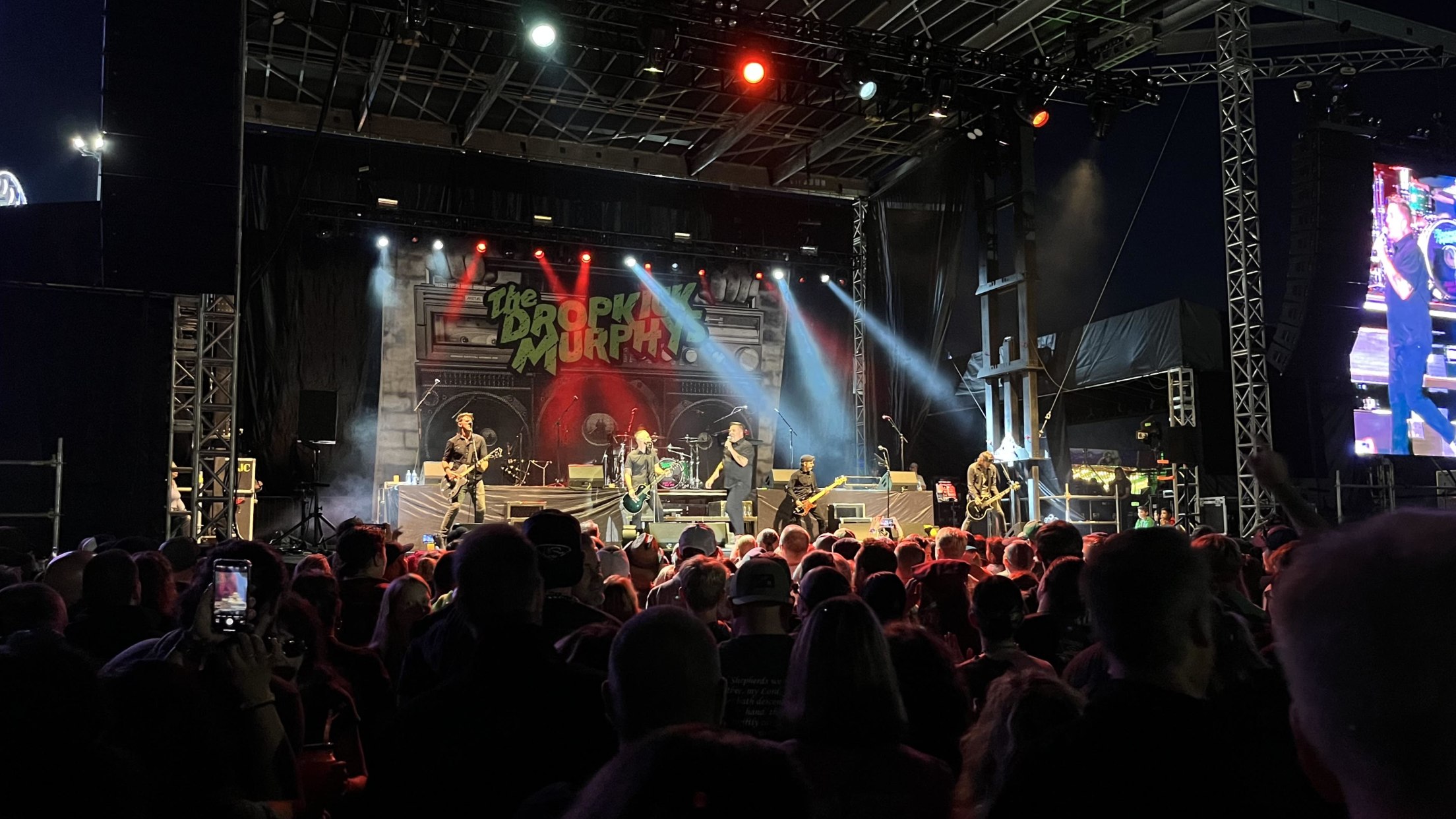 Fans from all over New England stopped by our shop to say that they loved the team, adored Polar Park, or missed McCoy Stadium—sometimes all of the above. The day ended with an electric performance by the Dropkick Murphys, who had received complimentary WooSox apparel earlier in the day. Now that I know the Dropkicks' history with the Boston Red Sox, I can look back and appreciate how cool it was to be in the crowd singing along with everyone else.
In October, the season had officially come to a close, and a bunch of the front office staff members and myself joined together with our partners at AbbVie to clean up a local Little League baseball field in Worcester. The field had once been a hot spot for Tris Speaker Little League teams, but over the years it had become ignored and suffered the consequences of time. Grass and weeds had grown over the dirt, the outfield resembled a small jungle, and it overall just lacked some serious care as time had gone on. The group of us gathered yard tools, pulled on our gardening gloves, and got to work. The field was unrecognizable when we left. It was a fulfilling experience to clean up such an important piece of Worcester history and get the ball rolling to bring an old city landmark back to life.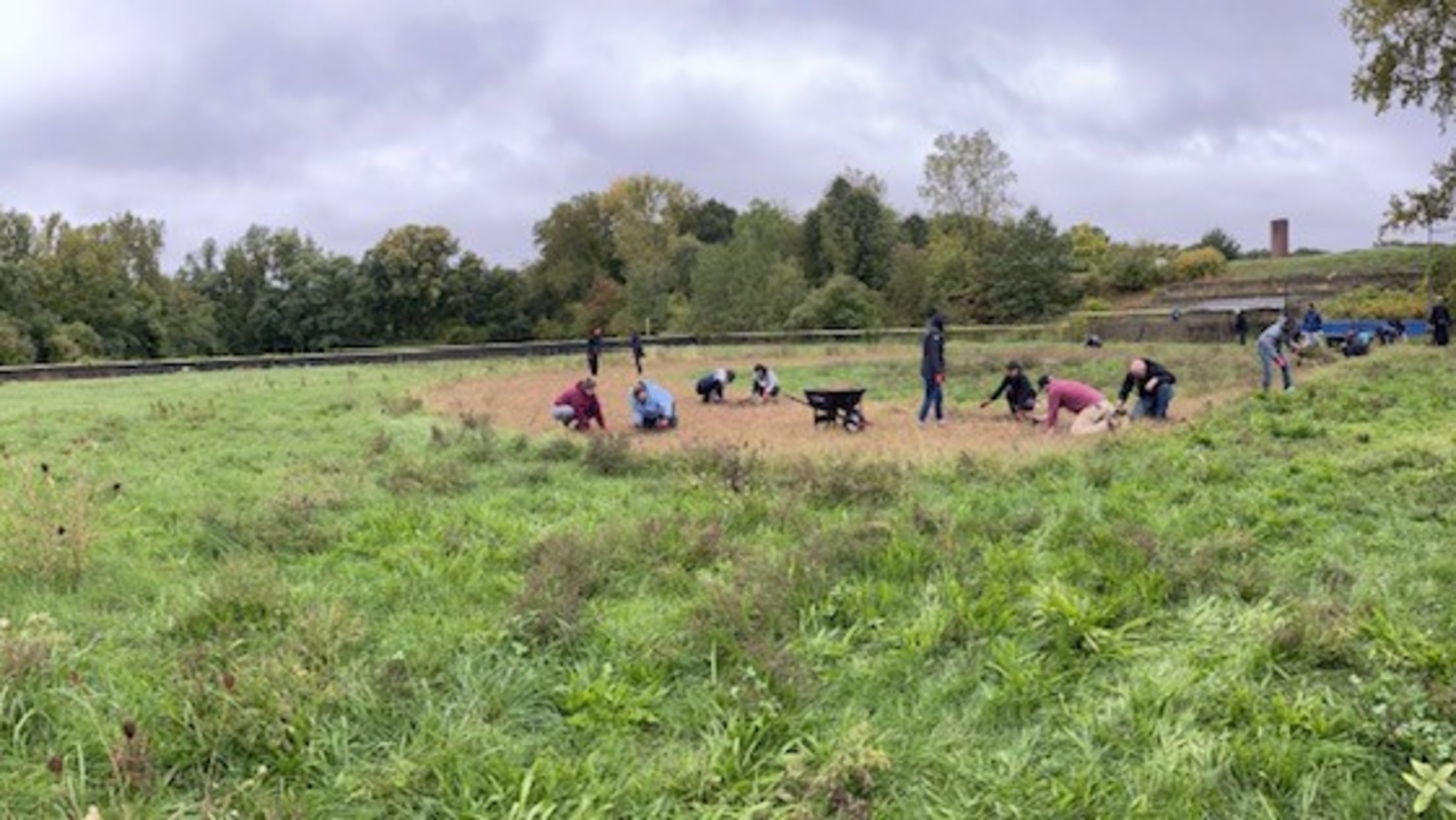 As October progressed, fall came upon us faster than we knew it. Soon it was nearly time for Halloween, and that meant it was also nearly time for the WooSox' 2nd Annual "Trick or Treat" event at Polar Park. The event—which consisted of trick-or-treating, a costume contest, and pumpkin decorating—required a large number of pumpkins, so a few staff members and I got together with Smiley and journeyed out to The Gardeners' Spot in Leominster. We became acquainted with the friendly people who ran the garden center, as well as Don the Donkey.
Halloween came and went and in came November, along with an autumn trip to Rutland. Some WooSox staff members and I visited the police and fire stations, and met one police officer who was kind enough to give us an escort around town. Like numerous other places I had visited last year, this one had the same quaint, small-town energy that made me feel like I had been there a hundred times. Following the officer, we came upon Milk Room Brewing Co. (an adorable brewery situated right in the Rutland countryside) and Lilac Hedge Farm (a local pasture-based farm that allowed us the opportunity to meet Joshua the camel). Our last stop in Rutland was a local preschool, where both students and teachers loved the chance to meet and dance with Smiley.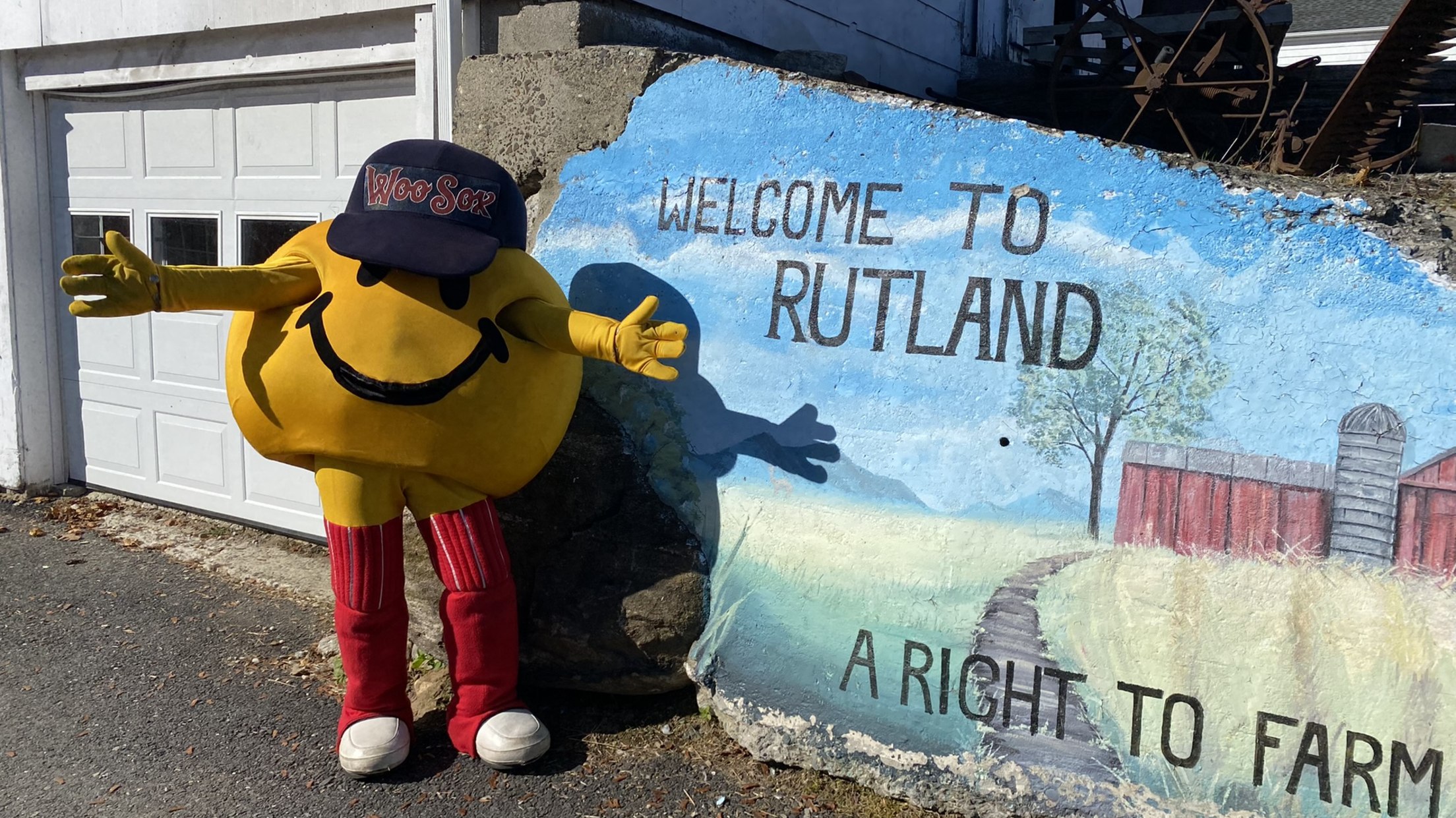 My last community voyage of the year was to Blackstone Valley 14 Cinema de Lux in Millbury for the Black Panther: Wakanda Forever premiere. A WooSox table was set up near the entrance, and Smiley and Woofster greeted fans throughout the lobby. Some movie-goers wore their signature Marvel Super Hero, Black Panther-inspired WooSox jerseys to the theater, whereas others had the chance to win their own by entering the raffle that we were offering that day.
Heading into the WooSox' offseason last year, I had the opportunity to tour central Massachusetts and learn more about the WooSox fans in the area. From the bustling city of Springfield to the rolling hills in Rutland, it was both enlightening and exciting to meet fans and bring attention to the WooSox' presence in the region. And for the fans I have yet to meet, there is even more to do and see in WooSox '23. We hope to see you there.
Read related stories here
"Trick or Treat at Polar Park": https://www.milb.com/worcester/news/trick-or-treat-polar-park
The Big E: https://www.milb.com/worcester/news/big-e?partnerID=web_article-share
Dropkick Murphys and the Red Sox: https://www.milb.com/worcester/news/dropkick-murphys?partnerID=web_article-share