Former KC Royals Owner David Glass Dies at 84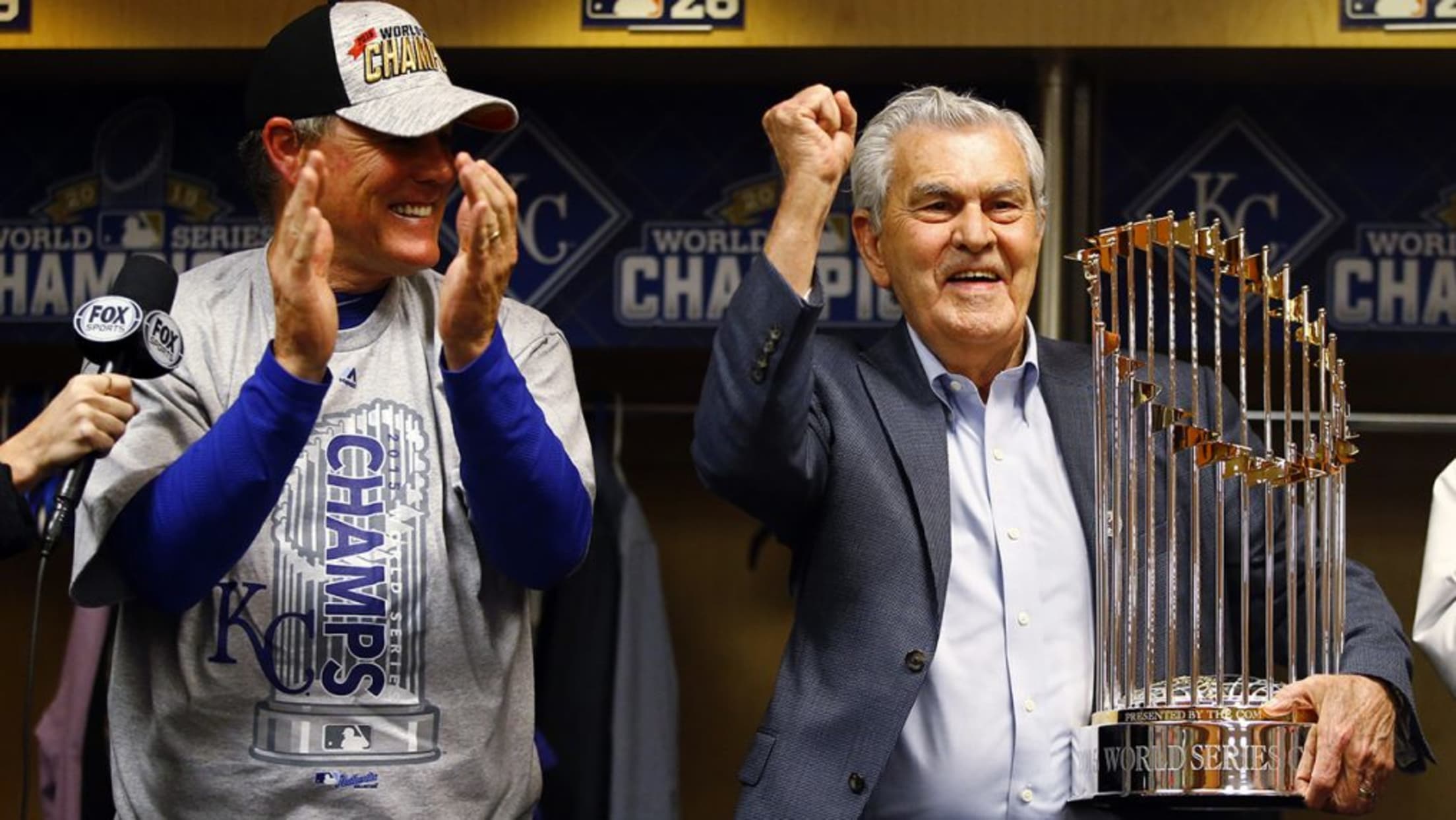 David Glass, the former owner of the Kansas City Royals, passed away on January 9th at the age of 84. Mr. Glass had a special love for the game of baseball unlike anyone else, and it showed during the two decades he owned the Kansas City Royals. Mr. Glass would go
David Glass, the former owner of the Kansas City Royals, passed away on January 9th at the age of 84. Mr. Glass had a special love for the game of baseball unlike anyone else, and it showed during the two decades he owned the Kansas City Royals.
Mr. Glass would go to college after serving two years in the U.S. Army in the mid-1950s, studying business and accounting. His Alma Mater is Missouri State University, where the College of Business was named after him, David D. Glass Hall, in October 1987.
"David Glass was the kind of leader I aspire to be - gentle, humble, generous and kind," said Missouri State President Clif Smart in a press release on Friday. "The moment I met him eight years ago, he treated me like a long-lost friend. He loved the University and attributed much of his success to the education he received here. We will all miss him, and we offer our deepest sympathies to Mr. Glass's family. His legacy will forever be a part of Missouri State University."
Mr. Glass joined the mega-company Walmart in 1976, where he served in multiple roles, including Executive Vice President of Finance, as well as vice-chairman and Chief Financial Officer.
In 1984, he was named the President and Walmart's Chief Operating Officer, then after 3 years, he served as the Chief Executive Officer until he stepped down in 2000. Mr. Glass was active in the company's growth from 123 stores in 1976 to its more than 4,000 nationally and internationally in 2005.
He was also named Retailer of the Year on two different occasions (1986 and 1991), and was inducted into the Retail Hall of Fame in August 2000. Forbes magazine ranked Glass in its 1999 "Corporate America's Most Powerful People" as number nine in retailing and 129 overall.
"Due to his authentic humility, we think David Glass may be the most under-appreciated CEO in the history of business," said Doug McMillon, the current president and CEO of Walmart. "The choices he made and the results of the company reflect his wisdom, dedication and servant leadership. We will miss him immensely and are eternally grateful.
After stepping down as CEO in 2000, the lifelong baseball fan did something no one would expect him to do in 'retirement'.
Mr. Glass became the sole owner of the Kansas City Royals on April 18th, 2000.
His father operated a feed mill and his mother managed a garment factory, according to a 1993 profile of Mr. Glass in the Kansas City Star.
He grew up on a farm in a small Missouri town, and for years worked at a desk, he is said to have been bought for $75 at a garage sale. His jobs growing up included shining shoes and working at a funeral home.
"I've never had much ego, and I'm not worried about things like that," he said, adding: "I like being part of a winning team. I don't have to be the winning team." Mr. Glass said in an interview in 2004 for Fortune magazine.
There are many stories out there about how if he ever had guests in his office, he would be the one to get their coffee order, not an assistant.
"When I sat down across the table from Mr. Glass, as he began to share his vision for the Kansas City Royals, it was all about wanting to create a model organization," Dayton Moore, Senior VP-Baseball Operations/General Manager of the Royals' said Friday on a conference call. "It was all about putting a competitive team on the field for our fans and our city. I came to understand he [owned] a baseball team for all the right reasons. It wasn't about him as an owner, it was about being a great steward of the franchise and preserving the great game he enjoyed as a little boy."
He grew up with modest means but became a force of his own, through leading Walmart from a successful regional business into a global power, in some ways, the 2015 Royals represented the greatest accomplishment of his life.
"I will never forget the thrill of seeing over 800,000 people of this community come together on one sunny November day to salute the newly crowned world champions. It's been a fantastic ride," Glass said upon announcing the sale of the franchise, "and I want to thank our great fans for supporting us through the years. But now it's time for someone else to oversee this franchise into its next championship."
Mr. Glass is survived by his wife of 63 years, Ruth Ann, along with three children, nine grandchildren, 12 great-grandchildren and a brother.
Alex Feuz is the broadcaster and reporter for the Burlington Royals. You can follow @alexfeuz on Twitter. This story was not subject to the approval of the National Association of Professional Baseball Leagues or its clubs.