Braves' cunning Smith learns on basepaths
Atlanta's No. 11 prospect nears Majors after leading Minors in steals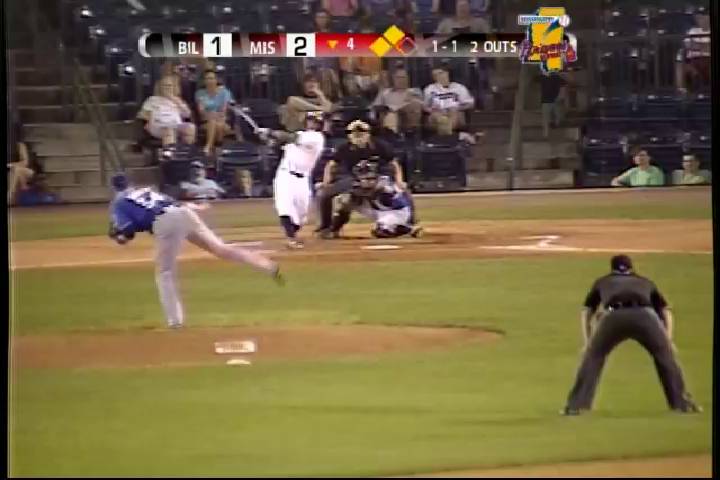 By Kelsie Heneghan / MiLB.com | March 8, 2016 10:00 AM
When Mallex Smith is between the bases, he tells himself two things.
"Get a good jump. Can't be scared," he repeats.
As Smith takes his first step away from the bag, the fear shifts to those with mitts.
"You see the other team start to panic a little bit," said John Moses, the Triple-A Gwinnett Braves hitting coach. "He created havoc when he got on the bases."
Given the green light all season last year, Smith got to decide for himself exactly when he would run.
"You're playing a reckless game between aggressive and crazy," Atlanta's No. 11 prospect said. "So with that said, you have to just be out there and you have to -- I feel myself wanting to get to the next base."
Eighty-one percent of the time last season, the speedster heard the umpire yell safe as he uncrossed his arms to signal the call.
"I want that to continue to feel like a regular call," Smith said. "I need it to stay that way."
Over the past three years, the center fielder has been called safe more times than any other Minor Leaguer. He had 209 stolen bases in 264 chances.
"Right now, he thinks that he can steal on anybody," Moses said. "He's fearless on the bases and you like that in a player."
Before Smith was on the verge of being the Major's first Mallex, his mother, Loretta got creative with a family tradition.
All the men in the Smith family have names beginning with "M," but his mom was inspired by a neighbor named Alex.
"She said that he was a genius. She tells me that he was one of the smartest kids she has ever met, and she wanted to name me after him," Smith said. "So she put an 'M' on top of that: Mallex."
One of four kids, Smith grew up in a family of track and football stars. While his speed briefly disappeared when his feet grew faster than his body, running has always been a part of him. As he gets older, the fifth-round pick in the 2012 Draft has found there's more to understand about it than just being fast.
"He still needs to work on getting good jumps and good reads off the pitcher and what counts to run on, what counts not to really run on," Moses said. "But it's a learning process for him."
Nothing made Smith realize this more than Opening Day last season. After being traded from the Padres in the Justin Upton deal, the Florida native found himself wanting to make a good first impression on his new club.
Smith reached base twice with a walk and a bunt single to begin his season with Double-A Mississippi on April 9, but in both cases, Tennessee hurler Corey Black picked him off.
"That guy actually had a really good move. I would be discrediting him not to say that," Smith said of the Cubs' No. 27 prospect. "At the same time, I just kind of was out there. It was a new place, I was excited to get my first hit and then he just caught me slipping. Twice."
As much as the pickoffs stung, Smith used it as fuel. The next day, he stole two bases in the first inning.
"The pickoffs? I think about them all the time. It happened more earlier in the season, I got picked off a few times and it sucked at the time, but it was great for me in my growth in baseball. I needed to go through that failure to figure out how to bounce back," he said. "I had never got picked off like that. It was something new to me.
"It kind of slowed me down in my aggressiveness of stealing bases because I was worried about not getting picked off. And when I overcame that, it helped me further grow in the season and now."
Long past the days he was called slow, Smith now stands in elite company with his speed. Out of the 900 ranked prospects (30 per team), the left-handed hitter is one of eight players with a 80-grade speed.
"Every ball to him is going to end up in his glove somehow. He's a special talent," said fellow Braves prospect and Smith's close friend Tyrell Jenkins. "You better be watching the play or you'll miss it. He's probably the fastest guy I've ever seen run. I think he might be the fastest guy in baseball."
Before Jenkins -- the club's No. 8 prospect -- enjoyed Smith patrolling center field behind him across two levels, he met the speedster at camp prior to last season. Since then, the two have earned top honors as Atlanta's Minor League Pitcher and Player of the Year and have gotten to know each other's families.
"He's calls my mom his mom and I call his mom my mom. So it's always good to have that kind of bond with someone that's from your team," the right-hander said. "It's just, not even baseball-wise, just him being the good friend he is. I can always count on him on or off the field."
Braves top pitching prospect Tyrell Jenkins is promoting CF Mallex Smith to Fredi. Gotta be talkin' about the speed. pic.twitter.com/JKhA3KeIjO

- Paul Byrd (@PaulByrd36) September 19, 2015
While Moses watched the players' relationship grow, he also noticed a sense of maturity.
"There's something about [Smith] that's a little bit different than last year. I think coming to a new team, he didn't really know how to act and some things were a little bit immature about him, but you expect that from a young player," the coach said. "And over the course of last year and over the wintertime and as of now, I see a really kind of a totally different attitude."
Since coming to camp, Moses has observed Smith working hard to improve all areas of his game, especially his defense, base running and bunting while soaking in advice from veteran outfielder Michael Bourn.
The results translated quickly during exhibition play as Smith collected a homer, two triples, a double, three RBIs and two runs scored in his first crack at the Braves' starting lineup on March 2.
"I did like one or two pushups this offseason, so I think it might of come from that," he quipped about the sudden power.
Smith's goal out of camp is to make the big league club, and while Moses acknowledges the decision is ultimately up to the front office, the coach believes the speedster could fill the team's biggest hole.
"I think that. in the near future. you'll see an exciting player and one player that's going to help us when he gets to the Major Leagues and performs at the top of the order," Moses said. "I know the 3-4-5 hitters are going to love him when he gets on base. He has that capability of scoring runs and that's truly what we look for when we have a leadoff hitter."
As Smith advanced through all five levels of the Minors in four years, he continued to learn between the bases, prompting the question of whether he has lived up to his namesake.
"Genius? No. I still have a lot to learn," he said. "But I feel like I've held my own."
Kelsie Heneghan is a contributor to MiLB.com. Follow her on Twitter @Kelsie_Heneghan. This story was not subject to the approval of the National Association of Professional Baseball Leagues or its clubs.
View More