MiLB teams kick off 'Hope At Bat' campaign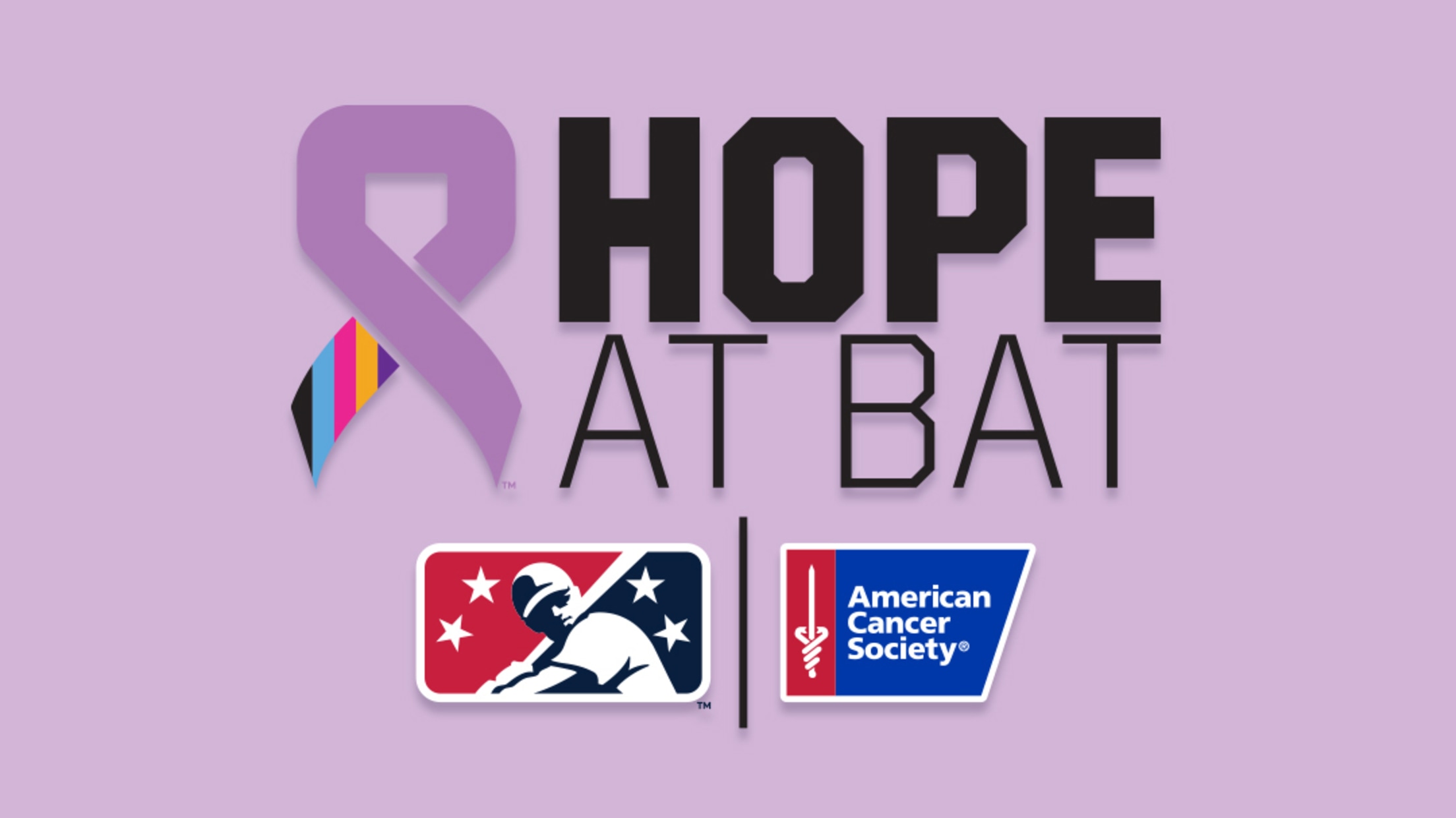 Minor League teams combined for 4,012 at-bats in 60 games on Thursday, generating a donation of $4,012 from Minor League Baseball to kick off the American Cancer Society's "Hope At Bat" campaign. The "Hope At Bat" campaign -- a fundraising and awareness effort to support cancer research -- officially launched
Minor League teams combined for 4,012 at-bats in 60 games on Thursday, generating a donation of $4,012 from Minor League Baseball to kick off the American Cancer Society's "Hope At Bat" campaign.
The "Hope At Bat" campaign -- a fundraising and awareness effort to support cancer research -- officially launched Thursday in support of National Cancer Survivors Month, and will continue through the remainder of the 2022 season in MiLB ballparks across the country.
"MiLB is proud to make this initial donation to the ACS as we officially launch the Hope At Bat campaign to raise funds and awareness for this tremendous organization as they continue to make a positive impact in our communities," said Kurt Hunzeker, MLB's Vice President of Minor League Business Operations.
Throughout the summer, Minor League Baseball teams and ACS will have cancer survivors and caregivers participate in ceremonial first pitch events, and fans and players will have the opportunity to create "I Go To Bat For…" cards as part of in-game tributes to those who are currently battling or have previously battled cancer. All teams will auction off two team autographed purple bats featuring the Hope At Bat logo with proceeds from one bat going to a local cancer-fighting organization and the other raising funds for ACS' national campaign.
"1 in 2 men and 1 in 3 women will be diagnosed with cancer in their lifetime, yet many people only think about cancer when it directly impacts them, which is why the work that the American Cancer Society does, and why partnerships like our Hope At Bat initiative with Minor League Baseball are so important," said J.W. Cannon, the American Cancer Society's Senior Director of Partnership Integration, Strategic Sports and Alliances. "Not only does provide needed funding to support our mission of ridding the world of cancer through groundbreaking research, supporting patients with free rides to treatment or free places to stay while getting treatment, but it serves as a very important vehicle for us to educate fans about how to assess their cancer risk."
Fans can bid on the purple team signed bats from each of the 120 Minor League Baseball teams throughout the summer by visiting the Hope At Bat auction page. New team signed bats will be posted each week throughout the season.
MiLB teams will hold a fundraiser on behalf of ACS to assist in their battle against cancer with local youth baseball and softball teams playing a part in the fundraising efforts. Any youth team that raises over $1,000 for ACS will receive a special ballpark trip and experience with their local MiLB team.
Future years of the program will feature players wearing purple-themed attire during games to help honor and celebrate those who have fought cancer or are currently battling cancer, as well as a digital cancer assessment tool that fans can use to understand their cancer risk.
About the American Cancer Society
The American Cancer Society is on a mission to free the world from cancer. We invest in lifesaving research, provide 24/7 information and support, and work to ensure that individuals in every community have access to cancer prevention, detection and treatment. For more information, visit cancer.org.