Carolina Forces Game 3 With 6-5 Victory in Ten
The final out of Thursday's series-tying game came on an appeal to third that erased the tying run for the Wood Ducks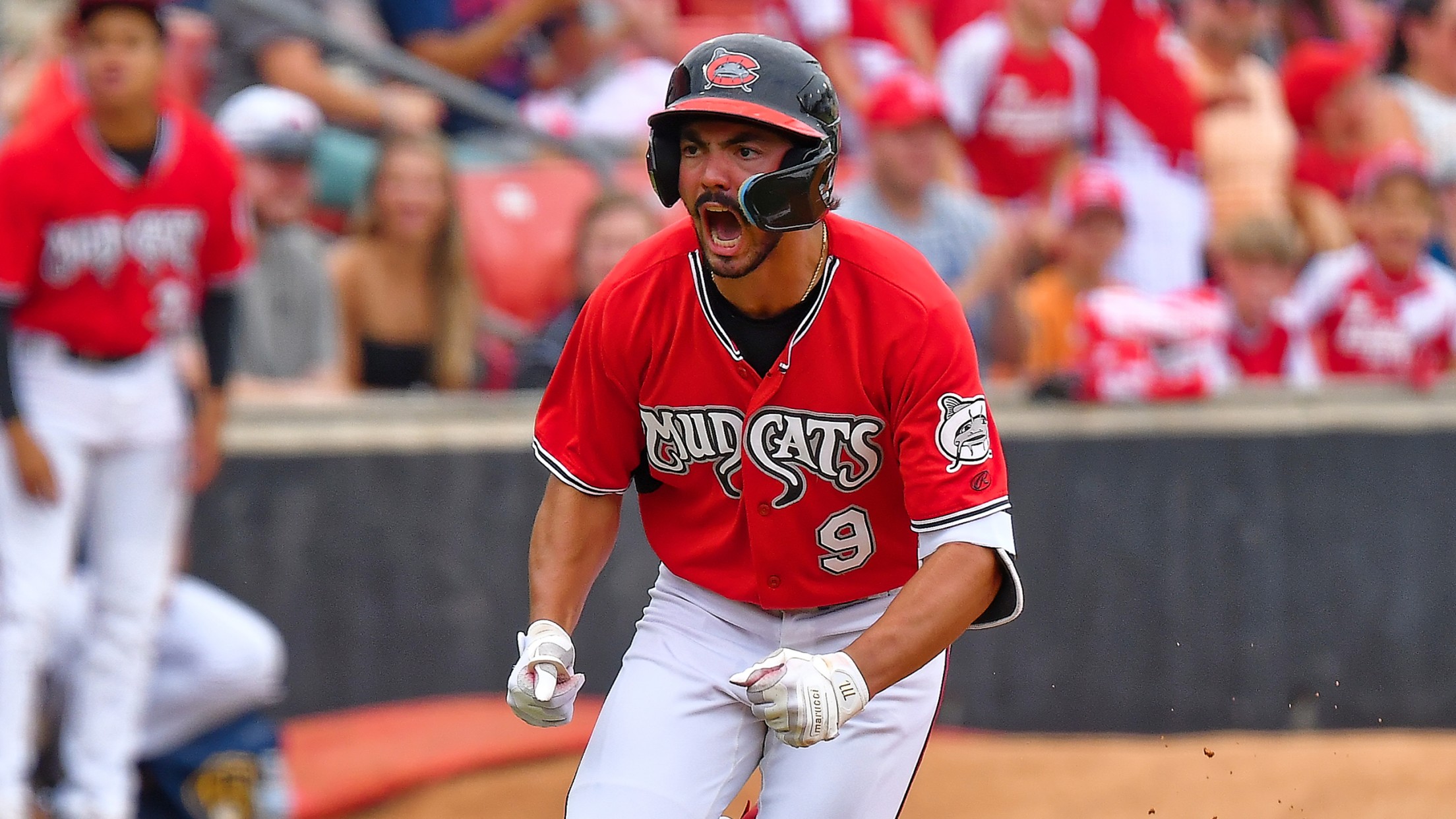 Jace Avina - Carolina Mudcats (Credit: Neal Hock)
Carolina Mudcats 6 @ Down East Wood Ducks 5 (10) September 14, 2023 | Venue: Grainger Stadium | First pitch: 7:03 PM | T: 3:06 | Att: 801 | Box Score CAR: 0 0 0 0 2 0 1 2 0 1 6 10 2 DE: 0 0 0 0
Carolina Mudcats 6 @ Down East Wood Ducks 5 (10)
September 14, 2023 | Venue: Grainger Stadium | First pitch: 7:03 PM | T: 3:06 | Att: 801 | Box Score
CAR: 0 0 0 0 2 0 1 2 0 1 6 10 2
DE: 0 0 0 0 0 0 0 4 1 0 5 9 0
WP: Bayden Root (1 - 0) LP: Paul Bonzagni (0 - 1) SV: Yujanyer Herrera (1)
KINSTON, N.C. – The Carolina Mudcats outlasted the Down East Wood Ducks and escaped with a series-tying 6-5 victory in ten innings on Thursday night at Grainger Stadium in Kinston. The final out of the game came on appeal made by the Mudcats after Down East baserunner Konnor Piotto was ruled to have left too soon from third on what would have been a game-tying sacrifice fly in the tenth.
The series is now tied at 1-1 with the finale of the best-of-3 series scheduled for Friday night at 7:00 p.m. at Grainger Stadium.
The Mudcats (1-1) originally broke a scoreless tie with two runs in the sixth and later added two more in the eighth while taking a commanding 5-0 lead late in the game.
Luis Castillo drove in the first run of the game with a RBI single and Dylan O'Rae drove in the second with a sac fly in the sixth. Jace Avina then doubled in two runs in the eighth while lifting the Mudcats to the five-run lead.
The Wood Ducks (1-1) rallied back with four runs in the eighth and one in the ninth to tie the game and force extras.
Down East scored three of its four eighth inning runs off reliever Jesus Rivero before adding one more against reliever Yerlin Rodriguez in the same inning. Rivero walked three batters and Rodriguez allowed two inherited runners to score in the eighth.
The Wood Ducks then scored the tying run in the ninth on a fielding error by Daniel Guilarte. That error came with two outs in the inning and scored pinch-runner Wady Mendez from third. The ninth came to an end with right fielder Reidy Mercado making a diving catch in right to leave two men on and to force extras.
Inserted runner Jadher Areinamo scored the go-ahead run from third on a Jesus Chirinos groundout to first in the tenth for the Mudcats. Chirinos pulled up with what appeared to be a leg injury on the groundout and left the game.
STOLEN BASES:
Carolina: Castillo (1, 3rd base off Rodriguez, A/Moller); O'Rae (1, 2nd base off Rodriguez, A/Moller).
TOP PERFORMERS - BATTERS:
Avina, LF (Carolina): 3-for-4, 1 2B,2 RBI,
Baez, J, 3B (Carolina): 2-for-4, 3 R, 1 BB
Adams, DH (Carolina): 2-for-5, 1 2B
Blackmon, CF (Down East): 2-for-4, 1 R, 1 BB
Moller, C (Down East): 2-for-5, 1 R, 1 RBI
Figuereo, 3B (Down East): 1-for-5, 2 RBI
Cueva, SS (Down East): 2-for-4
TOP PERFORMERS - PITCHERS:
Aquino (Carolina): 6 IP, 4 H, 0 R, 0 ER, 0 BB, 5 SO
Root (W, 1-0)(BS, 1) (Carolina): 1 IP, 3 H, 1 R, 0 ER, 0 BB, 0 SO
Herrera (S, 1) (Carolina): 1 IP, 0 H, 0 R, 0 ER, 0 BB, 0 SO
Rosado (Down East): 1.1 IP, 1 H, 0 R, 0 ER, 0 BB, 3 SO
Bonzagni (L, 0-1) (Down East): 1 IP, 1 H, 1 R, 1 ER, 0 BB, 1 SO
SCORING:
Mudcats 5th (Mudcats 2, Wood Ducks 0) -- Juan Baez singles to left-center field. Jace Avina strikes out swinging. Daniel Guilarte walks, Juan Baez to 2nd. Luis Castillo singles through the hole at shortstop, Juan Baez scores; Daniel Guilarte to 3rd. Pitcher Change: C.J. Widger replaces Joseph Montalvo. Dylan O'Rae out on a sacrifice fly to Miguel Villarroel, Daniel Guilarte scores. Jadher Areinamo flies out to Quincy Scott. (2 Runs, 2 Hits, 0 Errors, 1 LOB)
Mudcats 7th (Mudcats 3, Wood Ducks 0) -- Juan Baez walks. Jace Avina singles to left-center field, Juan Baez to 2nd. Daniel Guilarte flies out to JoJo Blackmon, Juan Baez to 3rd. Luis Castillo grounds into a force out, Devin Hurdle to Danyer Cueva, Juan Baez scores; Jace Avina out at 2nd. Dylan O'Rae singles through the hole at second base, Luis Castillo to 2nd. Pitcher Change: Adrian Rodriguez replaces David Davalillo. Luis Castillo steals 3rd base, Dylan O'Rae steals 2nd base. Jadher Areinamo strikes out swinging. (1 Runs, 2 Hits, 0 Errors, 2 LOB)
Mudcats 8th (Mudcats 5, Wood Ducks 0) -- Luke Adams strikes out swinging. Jesus Chirinos walks. Jose Sibrian walks, Jesus Chirinos to 2nd. Juan Baez singles to right field, Jesus Chirinos out at home on the throw, Quincy Scott to Anthony Calarco to Ian Moller, Jose Sibrian to 3rd; Juan Baez to 2nd. Pitcher Change: Eury Rosado replaces Adrian Rodriguez. Jace Avina doubles to left field, Jose Sibrian scores; Juan Baez scores. Wild pitch by Eury Rosado, Jace Avina to 3rd. Daniel Guilarte strikes out swinging, Ian Moller to Anthony Calarco. (2 Runs, 2 Hits, 0 Errors, 1 LOB)
Wood Ducks 8th (Mudcats 5, Wood Ducks 4) -- Quincy Scott walks. JoJo Blackmon walks, Quincy Scott to 2nd. Wild pitch by Jesus Rivero, Quincy Scott to 3rd; JoJo Blackmon to 2nd. Miguel Villarroel grounds out, Daniel Guilarte to Jesus Chirinos, Quincy Scott scores; JoJo Blackmon to 3rd. Konner Piotto walks. Pitcher Change: Yerlin Rodriguez replaces Jesus Rivero. Ian Moller singles to shallow right field, JoJo Blackmon scores; Konner Piotto to 2nd. Wild pitch by Yerlin Rodriguez, Konner Piotto to 3rd; Ian Moller to 2nd. Gleider Figuereo singles up the middle, Konner Piotto scores; Ian Moller scores. Offensive Substitution: Pinch hitter Tommy Specht replaces Anthony Calarco. Wild pitch by Yerlin Rodriguez, Gleider Figuereo to 2nd. Tommy Specht lines into double play, Jadher Areinamo to Daniel Guilarte, Gleider Figuereo out at 2nd. (4 Runs, 2 Hits, 0 Errors, 0 LOB)
Wood Ducks 9th (Mudcats 5, Wood Ducks 5) -- Pitcher Change: Bayden Root replaces Yerlin Rodriguez. Devin Hurdle singles up the middle. Danyer Cueva grounds into double play, Daniel Guilarte to Jesus Chirinos, Devin Hurdle out at 2nd, Danyer Cueva out at 1st. Quincy Scott singles to shallow right field. Offensive Substitution: Pinch runner Wady Mendez replaces Quincy Scott. JoJo Blackmon singles to right-center field, Wady Mendez to 3rd. Miguel Villarroel reaches on fielding error by Daniel Guilarte, Wady Mendez scores; JoJo Blackmon to 2nd. Konner Piotto flies out to Reidy Mercado. (1 Runs, 3 Hits, 1 Errors, 2 LOB)
Mudcats 10th (Mudcats 6, Wood Ducks 5) -- Wady Mendez remains in the game as the right fielder. Pitcher Change: Paul Bonzagni replaces Eury Rosado. Jadher Areinamo starts inning at 2nd base. Luke Adams singles to right-center field, Jadher Areinamo to 3rd. Jesus Chirinos grounds out, Paul Bonzagni to Miguel Villarroel, Jadher Areinamo scores; Luke Adams to 2nd. Jose Sibrian grounds out, Miguel Villarroel to Paul Bonzagni, Luke Adams to 3rd. Juan Baez strikes out swinging. (1 Runs, 1 Hits, 0 Errors, 1 LOB)