Carolina Wins Fourth Straight, 7-5 in Fayetteville
Jesus Chirinos celebrated his 21st birthday with a three hit and three run night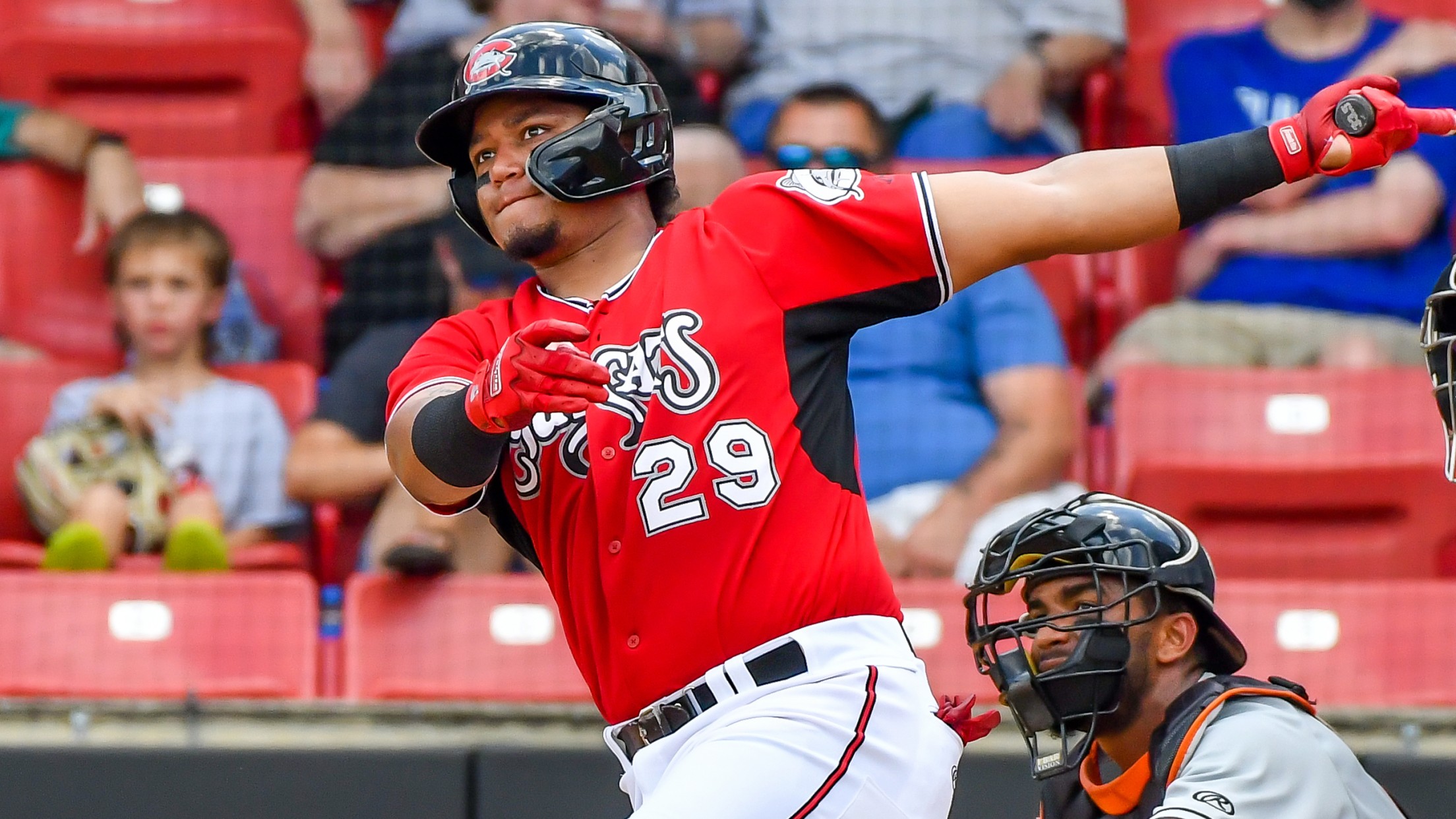 Jesus Chirinos - Carolina Mudcats (Neal Hock)
Carolina 7 @ Fayetteville 5 July 27, 2022 | Venue : SEGRA Stadium | First pitch : 7:09 PM | Att : 2,401 | T : 2:55 CAR: 0 0 3 1 0 2 1 0 0 7 7 1 FAY: 0 1 0 0 1 0 0 2 1
Carolina 7 @ Fayetteville 5
July 27, 2022 | Venue : SEGRA Stadium | First pitch : 7:09 PM | Att : 2,401 | T : 2:55
CAR: 0 0 3 1 0 2 1 0 0 7 7 1
FAY: 0 1 0 0 1 0 0 2 1 5 10 1
WP: Fernando Olguin (2 - 2) LP: Deylen Miley (2 - 6) SV: Jeferson Figueroa (1)
FAYETTEVILLE – Fernando Olguin pitched through five solid innings, Jeferson Figueroa picked up his first career save, Hendry Mendez extended his hitting streak to 15 consecutive games and Jesus Chirinos celebrated his 21st birthday with a 3-for-4 and three run night while leading the Carolina Mudcats to a 7-5 victory versus the Fayetteville Woodpeckers on Wednesday night at SEGRA Stadium.
Carolina (13-13, 47-45) was originally down 1-0 through the second, but then went on to rally for three runs and four hits in the third while taking a 3-1 lead. Chirinos started that rally with a single, Jheremy Vargas followed with a walk, and Mendez singled to load the bases. Eduarqui Fernandez then singled to bring in one, and Oswal Leones brought in the other two with a single to left-center. Carolina also loaded the bases in the fourth, but scored just once when Mendez worked a walk to bring in their fourth run of the game.
The Woodpeckers (7-18, 38-52) eventually came back with a Joey Loperfido home run off Olguin in the fifth, but the Mudcats answered with two more runs in the sixth on two wild pitches from reliever Nic Swanson. Swanson also lost a wild pitch that helped Fernandez score from second in the seventh. Fernandez started that inning with a double and scored on a errant throw to third by the catcher.
The Mudcats led 7-2 through the seventh thanks in part to Olguin's strong start and two scoreless innings of relief work from Jeferson Figueroa. Olguin went five full innings and allowed just two runs on four hits. He also walked three and struck out two. Figueroa originally worked a scoreless sixth and seventh, but later gave up a two-run home run in the eighth and an unearned run in the ninth before eventually finishing the game and earning his first career save. Figueroa pitched through four innings with six strikeouts and three runs (two earned) allowed on six hits.
The victory was Carolina's fourth straight overall and gave them a 2-0 lead in their current series in Fayetteville. The series will continue on Thursday night with RHP Stiven Cruz starting for the Mudcats.
HOME RUNS:
Fayetteville: Loperfido, J (7, 5th inning off Olguin, 0 on, 2 out); Whitaker (5, 8th inning off Figueroa, 1 on, 0 out).
TOP PERFORMERS - BATTERS:
Loperfido, J, 2B (Fayetteville): 1-for-3, 1 R, 0 2B, 0 3B, 1 HR, 1 RBI
Williams, J, 1B (Fayetteville): 2-for-5, 1 R, 0 2B, 0 3B, 0 HR, 0 RBI
Cerny, DH (Fayetteville): 2-for-5, 0 R, 1 2B, 0 3B, 0 HR, 0 RBI
Molina, SS (Fayetteville): 2-for-4, 0 R, 0 2B, 0 3B, 0 HR, 0 RBI
Mendez, RF (Carolina): 1-for-4, 1 R, 0 2B, 0 3B, 0 HR, 1 RBI
Fernandez, CF (Carolina): 2-for-5, 1 R, 1 2B, 0 3B, 0 HR, 1 RBI
Chirinos, 1B (Carolina): 3-for-4, 3 R, 1 2B, 0 3B, 0 HR, 0 RBI
TOP PERFORMERS - PITCHERS:
Olguin (W, 2-2) (Carolina): 5 IP, 4 H, 2 R, 2 ER, 3 BB, 2 SO
Figueroa (S, 1) (Carolina): 4 IP, 6 H, 3 R, 2 ER, 0 BB, 6 SO
Reina (Fayetteville): 0.1 IP, 0 H, 0 R, 0 ER, 0 BB, 1 SO
DeLabio (Fayetteville): 2.2 IP, 0 H, 0 R, 0 ER, 0 BB, 6 SO
SCORING:
Woodpeckers 2nd (Woodpeckers 1, Mudcats 0) -- Cody Orr hit by pitch. Leosdany Molina singles to center field, Cody Orr to 2nd. Rainier Rivas flies out to Hendry Mendez, Cody Orr to 3rd. Freddy Guilamo out on a sacrifice fly to Eduarqui Fernandez, Cody Orr scores. Leosdany Molina steals 2nd base. Jaxon Hallmark hit by pitch. Logan Cerny struck out looking.
(1 Runs, 1 Hits, 0 Errors, 2 LOB)
Mudcats 3rd (Mudcats 3, Woodpeckers 1) -- Jesus Chirinos singles to left field. Jheremy Vargas walks, Jesus Chirinos to 2nd. Jesus Garcia strikes out swinging. Hendry Mendez singles to left-center field, Jesus Chirinos to 3rd; Jheremy Vargas to 2nd. Eduarqui Fernandez singles to left-center field, Jesus Chirinos scores; Jheremy Vargas to 3rd; Hendry Mendez to 2nd. Oswal Leones singles through the hole at shortstop, Jheremy Vargas scores; Hendry Mendez scores; Eduarqui Fernandez to 2nd. Hedbert Perez struck out looking. Eduarqui Fernandez caught stealing 3rd base, Freddy Guilamo to Tyler Whitaker.
(3 Runs, 4 Hits, 0 Errors, 1 LOB)
Mudcats 4th (Mudcats 4, Woodpeckers 1) -- Eduardo Garcia lines out to Jaxon Hallmark. Zack Raabe walks. Jesus Chirinos singles to left-center field, Zack Raabe to 2nd. Jheremy Vargas grounds into a force out, Leosdany Molina to Tyler Whitaker, Zack Raabe out at 3rd, Jesus Chirinos to 2nd. Jesus Garcia walks, Jesus Chirinos to 3rd; Jheremy Vargas to 2nd. Hendry Mendez walks, Jesus Chirinos scores; Jheremy Vargas to 3rd; Jesus Garcia to 2nd. Pitcher Change: Fabricio Reina replaces Deylen Miley. Eduarqui Fernandez strikes out swinging.
(1 Runs, 1 Hits, 0 Errors, 3 LOB)
Woodpeckers 5th (Mudcats 4, Woodpeckers 2) -- Jaxon Hallmark hit by pitch. Logan Cerny grounds into double play, Eduardo Garcia to Zack Raabe to Jesus Chirinos, Jaxon Hallmark out at 2nd, Logan Cerny out at 1st. Joey Loperfido hits a home run to left-center field on a 1-0 pitch. Justin Williams struck out looking.
(1 Runs, 1 Hits, 0 Errors, 0 LOB)
Mudcats 6th (Mudcats 6, Woodpeckers 2) -- Zack Raabe walks. Jesus Chirinos doubles to left field, Zack Raabe to 3rd. Wild pitch by Nic Swanson, Zack Raabe scores; Jesus Chirinos to 3rd. Jheremy Vargas struck out looking. Jesus Garcia strikes out swinging. Wild pitch by Nic Swanson, Jesus Chirinos scores. Hendry Mendez flies out to Jaxon Hallmark.
(2 Runs, 1 Hits, 0 Errors, 0 LOB)
Mudcats 7th (Mudcats 7, Woodpeckers 2) -- Eduarqui Fernandez doubles to shallow center field. Wild pitch by Nic Swanson, Eduarqui Fernandez scores; throwing error by Freddy Guilamo. Oswal Leones walks. Wild pitch by Nic Swanson, Oswal Leones to 2nd. Hedbert Perez walks. Eduardo Garcia strikes out swinging. Zack Raabe walks, Oswal Leones to 3rd; Hedbert Perez to 2nd. Pitcher Change: Jacob DeLabio replaces Nic Swanson. Jesus Chirinos strikes out on foul tip. Jheremy Vargas strikes out on foul tip.
(1 Runs, 1 Hits, 1 Errors, 3 LOB)
Woodpeckers 8th (Mudcats 7, Woodpeckers 4) -- Justin Williams singles to right field. Tyler Whitaker hits a home run to center field on a 1-1 pitch, Justin Williams scores. Cody Orr strikes out swinging. Leosdany Molina flies out to Eduarqui Fernandez. Rainier Rivas grounds out to Jesus Chirinos.
(2 Runs, 2 Hits, 0 Errors, 0 LOB)
Woodpeckers 9th (Mudcats 7, Woodpeckers 5) -- Freddy Guilamo singles to left-center field. Jaxon Hallmark singles to left field, Freddy Guilamo to 2nd. Wild pitch by Jeferson Figueroa, Freddy Guilamo to 3rd; Jaxon Hallmark to 2nd. Logan Cerny strikes out swinging. Joey Loperfido strikes out swinging. Justin Williams reaches on throwing error by Jheremy Vargas, Freddy Guilamo scores; Jaxon Hallmark to 3rd. Tyler Whitaker struck out looking.
(1 Runs, 2 Hits, 1 Errors, 2 LOB)