Castillo Homers as Playoff-Bound Mudcats Win 7-1
The playoff-bound Mudcats won their second straight game in Salem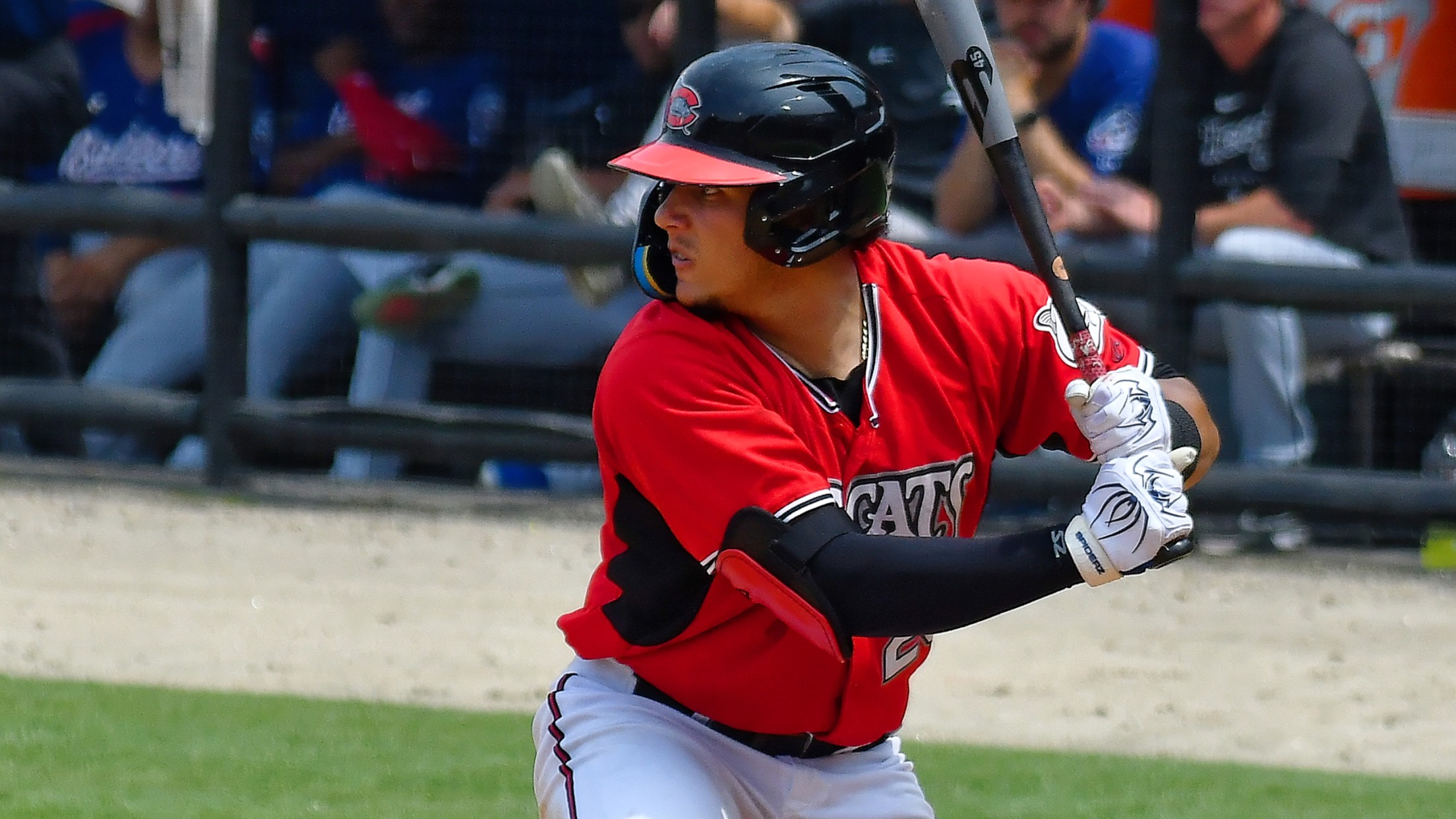 Luis Castillo - Carolina Mudcats (Credit: Neal Hock)
Carolina Mudcats 7 @ Salem Red Sox 1 September 08, 2023 | Venue: Carillion Clinic Field | First pitch: 7:06 PM | T: 2:46 | Att: 5,168 | Box Score CAR: 0 2 0 0 0 0 5 0 0 7 8 0 SAL: 0 1 0 0 0 0
Carolina Mudcats 7 @ Salem Red Sox 1
September 08, 2023 | Venue: Carillion Clinic Field | First pitch: 7:06 PM | T: 2:46 | Att: 5,168 | Box Score
CAR: 0 2 0 0 0 0 5 0 0 7 8 0
SAL: 0 1 0 0 0 0 0 0 0 1 9 3
WP: Patricio Aquino (5 - 3) LP: Zack Kelly (0 - 2)
SALEM, Va. – Kay-Lan Nicasia doubled in a run in the second and Luis Castillo capped a two-run fifth with a two-run home run as the playoff-bound Carolina Mudcats defeated the Salem Red Sox 7-1 on Friday night at Carillion Clinic Field in Salem, Va.
The Mudcats (39-25, 72-55) totaled a season-high eight stolen bases in the game and scored their seven runs in bunches with two in the second off rehabbing big leaguer Zack Kelly and five in the seventh off relievers Cristian Nunez and Luis De La Rosa. The Red Sox (25-39, 55-72) totaled nine hits in the game, but managed to score just one run.
Nicasia drove in the first run of the game with a double off Kelly (L, 0-2) in the second. He then scored later in the frame on a sac fly from Juan Baez. Baez also doubled in a run and scored a run of his own in the five-run seventh. Tayden Hall also had a RBI double and Castillo finished the rally with his third home run of the season.
Salem's lone run came in the second when Albertson Asigen connected on a solo home run off starter Will Rudy. That run, however, was all that Rudy and relievers Patricio Aquino, Jeferson Figueroa and Yerlin Rodriguez would allow in what was a nine-hit game for the Red Sox.
Rudy started and worked three innings with a run allowed on four hits. Aquino (W, 5-3) pitched the fourth and fifth and struck out three while earning the victory. Figueroa then gave Carolina three scoreless and Rodriguez worked the ninth while finishing the game.
The victory lifted the first-place Mudcats into a 3-1 series lead in the six game set in Salem. The series will continue on Saturday at 6:05 p.m. with RHP Will Childers starting for Carolina.
HOME RUNS:
Carolina: Castillo (3, 7th inning off De La Rosa, L, 1 on, 2 out).
Salem: Asigen (2, 2nd inning off Rudy, 0 on, 1 out).
STOLEN BASES:
Carolina: O'Rae (16, 2nd base off Kelly, Z/Lira); Diaz (1, 2nd base off Kelly, Z/Lira); Mercado (8, 3rd base off Nunez, C/Lira); Barrios 2 (32, 2nd base off Nunez, C/Lira, 2nd base off De La Rosa, L/Lira); Baez, J (2, 3rd base off De La Rosa, L/Lira); Nicasia 2 (27, 2nd base off De La Rosa, L/Lira, 3rd base off De La Rosa, L/Lira).
Salem: Tucker (1, 2nd base off Rudy/Diaz); Asigen (13, 2nd base off Aquino/Diaz).
TOP PERFORMERS - BATTERS:
Castillo, RF (Carolina): 1-for-4, 1 R, 1 HR, 3 RBI
O'Rae, DH (Carolina): 2-for-4, 1 R, 1 BB
Nicasia, CF (Carolina): 1-for-5, 2 R, 1 2B, 1 RBI
Asigen, CF (Salem): 2-for-4, 1 R, 1 HR, 1 RBI
TOP PERFORMERS - PITCHERS:
Rudy (Carolina): 3 IP, 4 H, 1 R, 1 ER, 1 BB, 1 SO
Aquino (W, 5-3) (Carolina): 2 IP, 3 H, 0 R, 0 ER, 0 BB, 3 SO
Figueroa (H, 2) (Carolina): 3 IP, 2 H, 0 R, 0 ER, 3 BB, 2 SO
Rodriguez (Carolina): 1 IP, 0 H, 0 R, 0 ER, 2 BB, 1 SO
Butler (Salem): 1.1 IP, 0 H, 0 R, 0 ER, 2 BB, 2 SO
Nunez, C (Salem): 3 IP, 2 H, 1 R, 1 ER, 0 BB, 3 SO
Brand (Salem): 1 IP, 1 H, 0 R, 0 ER, 0 BB, 1 SO
SCORING:
Mudcats 2nd (Mudcats 2, Red Sox 0) -- Pitcher Change: Zack Kelly replaces Elmer Rodriguez-Cruz. Dylan O'Rae singles through the hole at shortstop. Dylan O'Rae steals 2nd base. Kay-Lan Nicasia doubles to left field, Dylan O'Rae scores. Tayden Hall walks. Luis Castillo out on a sacrifice fly to Albertson Asigen, Kay-Lan Nicasia scores; Tayden Hall to 2nd. Wild pitch by Zack Kelly, Tayden Hall to 3rd. Blayberg Diaz walks. Blayberg Diaz steals 2nd base. Reidy Mercado strikes out swinging. Pitcher Change: Connor Butler replaces Zack Kelly. Daniel Guilarte walks. Juan Baez lines out to Albertson Asigen. (2 Runs, 2 Hits, 0 Errors, 3 LOB)
Red Sox 2nd (Mudcats 2, Red Sox 1) -- Albert Feliz lines out to Juan Baez. Albertson Asigen hits a home run to left field on a 1-1 pitch. Stanley Tucker walks. Claudio Simon strikes out swinging, Stanley Tucker steals 2nd base. Alexis Hernandez flies out to Kay-Lan Nicasia. (1 Runs, 1 Hits, 0 Errors, 1 LOB)
Mudcats 7th (Mudcats 7, Red Sox 1) -- Gregory Barrios hit by pitch. Pitcher Change: Luis De La Rosa replaces Cristian Nunez. Gregory Barrios steals 2nd base. Wild pitch by Luis De La Rosa, Gregory Barrios to 3rd. Juan Baez doubles to left-center field, Gregory Barrios scores. Luke Adams strikes out swinging. Juan Baez steals 3rd base. Dylan O'Rae flies out to Albert Feliz in foul territory. Kay-Lan Nicasia reaches on fielding error by Johnfrank Salazar, Juan Baez scores. Kay-Lan Nicasia steals 2nd base. Kay-Lan Nicasia steals 3rd base. Tayden Hall doubles to right field, Kay-Lan Nicasia scores. Luis Castillo hits a home run to right field on a 1-0 pitch, Tayden Hall scores. Blayberg Diaz strikes out swinging. (5 Runs, 3 Hits, 1 Errors, 0 LOB)