Mendez Collects Three Hits in 7-3 Victory
Hendry Mendez extended his hitting streak to 14 games while going 3-for-3 with two runs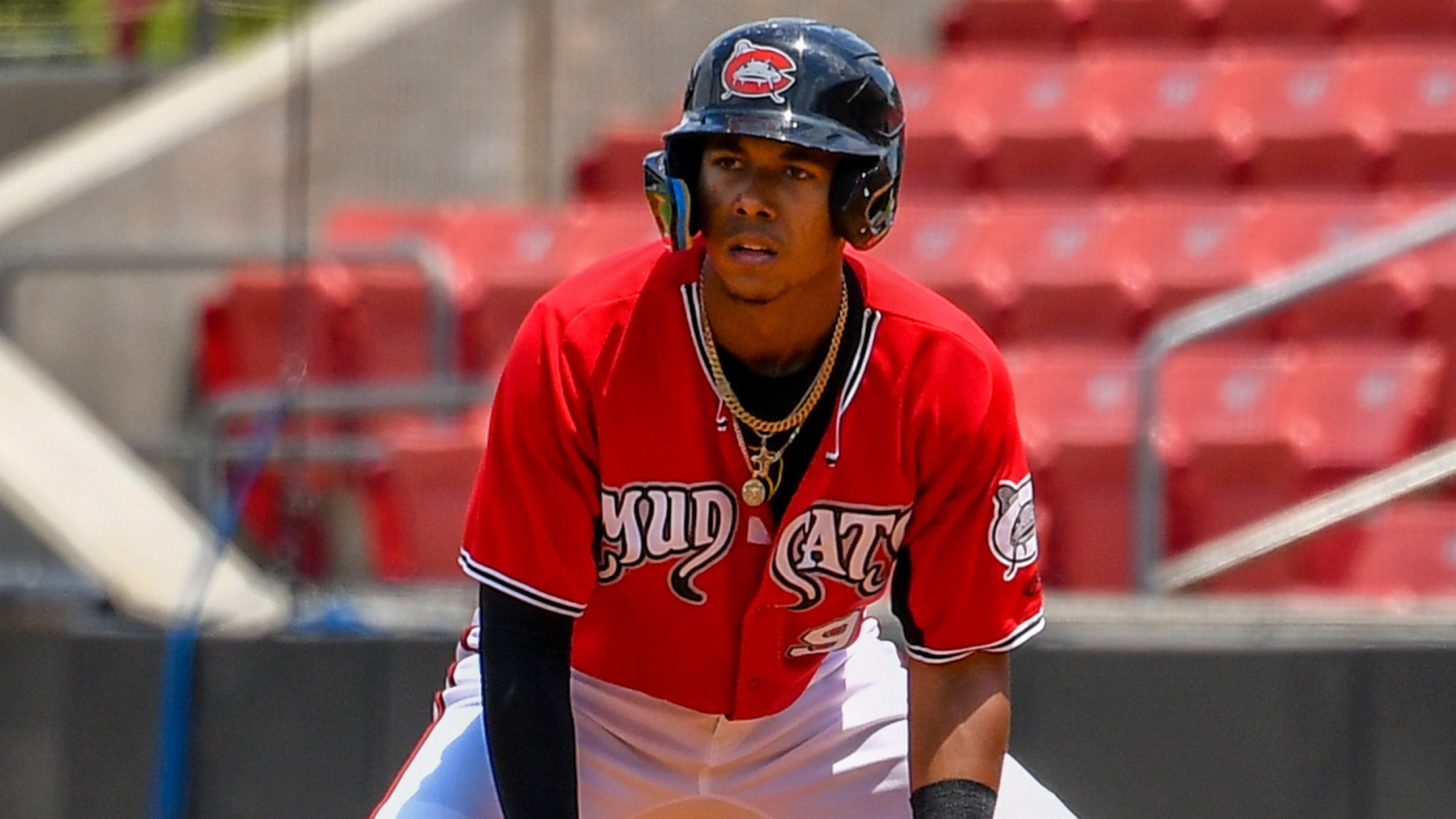 Hendry Mendez - Carolina Mudcats (Neal Hock)
Carolina 7 @ Fayetteville 3 July 26, 2022 | Venue : SEGRA Stadium | First pitch : 7:57 PM | Att : 2,792 | T : 2:40 (:51 delay) CAR: 0 0 0 1 4 2 0 0 0 7 7 0 FAY: 0 0 0 3 0 0 0
Carolina 7 @ Fayetteville 3
July 26, 2022 | Venue : SEGRA Stadium | First pitch : 7:57 PM | Att : 2,792 | T : 2:40 (:51 delay)
CAR: 0 0 0 1 4 2 0 0 0 7 7 0
FAY: 0 0 0 3 0 0 0 0 0 3 6 3
WP: Alexander Cornielle (6 - 7) LP: Shea Barry (0 - 4)
FAYETTEVILLE – Hendry Mendez went 3-for-3 while extending his hitting streak to 14 consecutive games and Alexander Cornielle struck out nine over five innings while earning the win as the Carolina Mudcats defeated the Fayetteville Woodpeckers 7-3 in the first game of a six-game series on Tuesday night at SEGRA Stadium.
Mendez singled, moved to third on a hit from Jeferson Quero and scored on a double steal while giving the Mudcats (12-13, 46-45) a 1-0 lead in the fourth. Mendez also singled to start the game and went 3-for-3 with two runs while extending his hitting streak to a career-high 14 consecutive games. Mendez's hit streak is now the longest for a Mudcats player this season.
Carolina's 1-0 lead disappeared in the last of the fourth after Cornielle (3-4) gave up a two-run home run and three runs overall in the Fayetteville (7-17, 38-51) half of the frame. Carolina's starter would eventually get out of the fourth and went on to pitch a scoreless fifth before leaving the game. In all, Cornielle totaled nine strikeouts, two walks and three run on five hits over five innings pitched.
The Mudcats were down 3-1 after the fourth but went on to take advantage of five walks and three hit-by-pitches while scoring five times on just one hit against Fayetteville reliever Shea Barry in the fifth. Barry (0-4) allowed five runs and six hits while losing the lead and taking the loss.
Carolina's 5-3 lead after the fifth would be more than enough for the Mudcats as Cornielle returned for the fifth before giving way to relievers Ryan Middendorf and Miguel Guerrero. Middendorf struck out four and faced one over the minimum from the sixth through the eighth. Guerrero then worked a scoreless ninth with a couple of strikeouts.
HOME RUNS:
Fayetteville: Williams, J (3, 4th inning off Cornielle, 1 on, 0 out).
TOP PERFORMERS - BATTERS:
Williams, J, 3B (Fayetteville): 1-for-4, 1 R, 0 2B, 0 3B, 1 HR, 2 RBI
Hallmark, 2B (Fayetteville): 2-for-4, 0 R, 0 2B, 0 3B, 0 HR, 0 RBI
Loperfido, J, LF (Fayetteville): 2-for-3, 1 R, 0 2B, 0 3B, 0 HR, 0 RBI
Molina, SS (Fayetteville): 1-for-4, 0 R, 1 2B, 0 3B, 0 HR, 1 RBI
Mendez, RF (Carolina): 3-for-3, 2 R, 0 2B, 0 3B, 0 HR, 1 RBI
Raabe, 2B (Carolina): 1-for-4, 2 R, 0 2B, 0 3B, 0 HR, 0 RBI
Sibrian, C (Carolina): 1-for-3, 1 R, 0 2B, 0 3B, 0 HR, 0 RBI
Silva, 3B (Carolina): 1-for-4, 1 R, 0 2B, 0 3B, 0 HR, 2 RBI
TOP PERFORMERS - PITCHERS:
Cornielle (W, 6-7) (Carolina): 5 IP, 5 H, 3 R, 3 ER, 2 BB, 9 SO
Middendorf (H, 1) (Carolina): 3 IP, 1 H, 0 R, 0 ER, 0 BB, 4 SO
Guerrero (Carolina): 1 IP, 0 H, 0 R, 0 ER, 1 BB, 2 SO
Gordon (Fayetteville): 4 IP, 3 H, 1 R, 1 ER, 0 BB, 5 SO
Schroeder (Fayetteville): 2 IP, 1 H, 0 R, 0 ER, 2 BB, 1 SO
SCORING:
Mudcats 4th (Mudcats 1, Woodpeckers 0) -- Hendry Mendez singles to right-center field. Oswal Leones grounds out, Leosdany Molina to Victor Mascai, Hendry Mendez to 2nd. Jeferson Quero singles to shallow center field, Hendry Mendez to 3rd. Jeferson Quero steals 2nd base, Hendry Mendez steals home. Hedbert Perez strikes out swinging. Eduardo Garcia strikes out swinging.
(1 Runs, 2 Hits, 0 Errors, 1 LOB)
Woodpeckers 4th (Woodpeckers 3, Mudcats 1) -- Joey Loperfido walks. Justin Williams hits a home run to left field on a 0-1 pitch, Joey Loperfido scores. Victor Mascai struck out looking. Tyler Whitaker walks. Jose Alvarez strikes out swinging. Tyler Whitaker steals 2nd base, Tyler Whitaker to 3rd;wild pitch by Alexander Cornielle. Leosdany Molina doubles to left field, Tyler Whitaker scores. Yeuris Ramirez flies out to Hendry Mendez.
(3 Runs, 2 Hits, 0 Errors, 1 LOB)
Mudcats 5th (Mudcats 5, Woodpeckers 3) -- Pitcher Change: Shea Barry replaces Colton Gordon. Jesus Chirinos walks. Zack Raabe singles to right-center field, Jesus Chirinos to 2nd. Jose Sibrian hit by pitch, Jesus Chirinos to 3rd; Zack Raabe to 2nd. Luis Silva reaches on fielding error by Justin Williams, Jesus Chirinos scores; Zack Raabe to 3rd; Jose Sibrian to 2nd. Hendry Mendez hit by pitch, Zack Raabe scores; Jose Sibrian to 3rd; Luis Silva to 2nd. Oswal Leones reaches on a fielder's choice out, Justin Williams to Jose Alvarez, Jose Sibrian out at home, Luis Silva to 3rd; Hendry Mendez to 2nd. Jeferson Quero out on a sacrifice fly to Logan Cerny, Luis Silva scores; Hendry Mendez to 3rd. Oswal Leones steals 2nd base, Hendry Mendez scores; throwing error by Jose Alvarez. Hedbert Perez grounds out, Jaxon Hallmark to Victor Mascai.
(4 Runs, 1 Hits, 2 Errors, 1 LOB)
Mudcats 6th (Mudcats 7, Woodpeckers 3) -- Eduardo Garcia flies out to Logan Cerny. Jesus Chirinos walks. Jesus Chirinos caught stealing 2nd base, Jose Alvarez to Jaxon Hallmark. Zack Raabe walks. Jose Sibrian singles to right field, Zack Raabe to 3rd. Luis Silva singles to right field, Zack Raabe scores; Jose Sibrian to 3rd. Wild pitch by Shea Barry, Luis Silva to 2nd. Hendry Mendez walks. Oswal Leones hit by pitch, Jose Sibrian scores; Luis Silva to 3rd; Hendry Mendez to 2nd. Jeferson Quero strikes out swinging.
(2 Runs, 2 Hits, 0 Errors, 3 LOB)