Moore Hits Second Home Run in 8-2 Loss to Pelicans
The Mudcats lost their second straight to the Pelicans on Thursday night in Myrtle Beach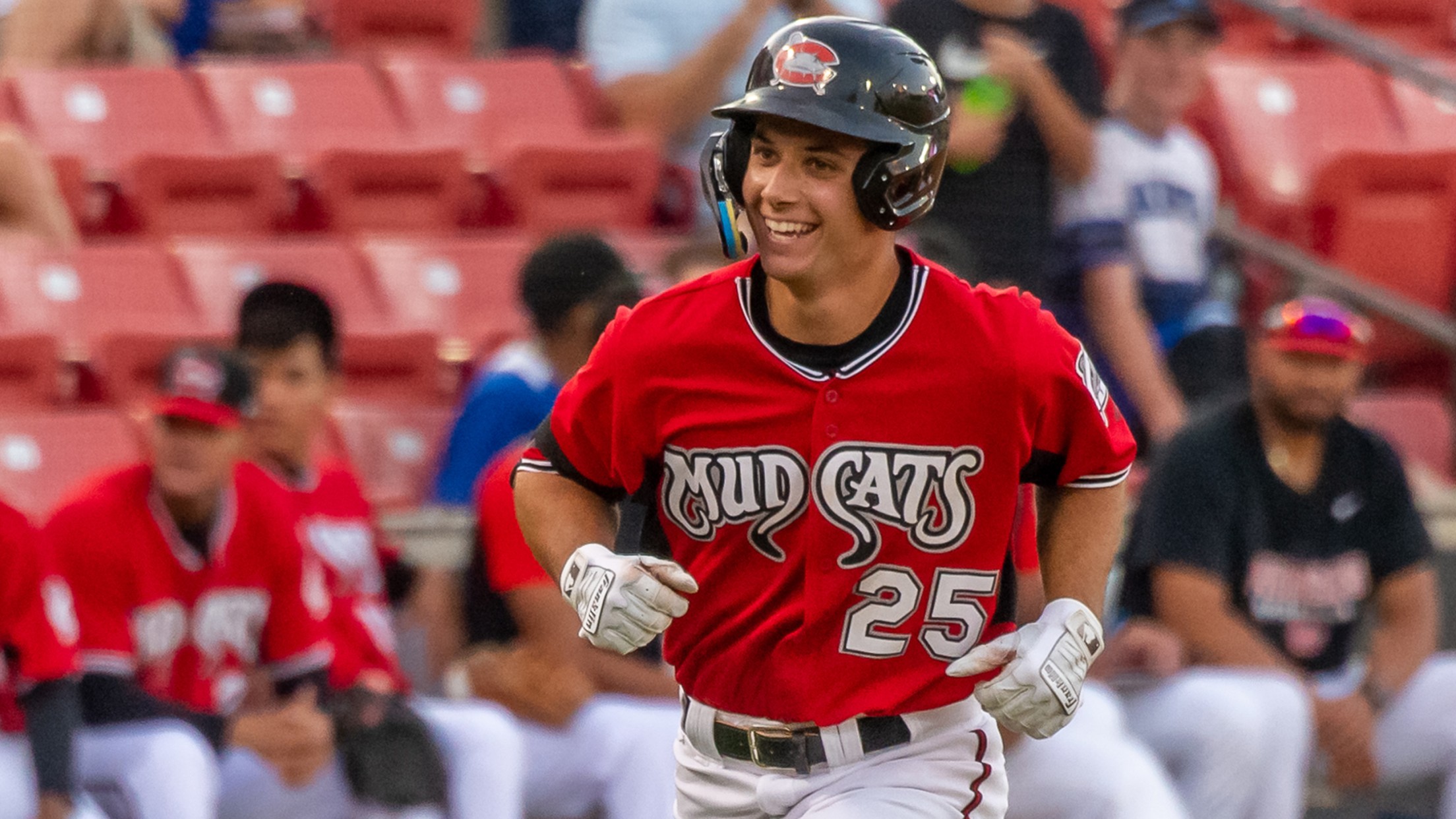 Robert Moore - Carolina Mudcats (Neal Hock)
Carolina 2 @ Myrtle Beach 8 September 08, 2022 | Venue : Pelicans Ballpark | First pitch : 7:57 PM | Att : 2,580 | T : 2:35 CAR: 0 0 0 2 0 0 0 0 0 2 3 3 MB: 0 0 3 0 0 2 2 1
Carolina 2 @ Myrtle Beach 8
September 08, 2022 | Venue : Pelicans Ballpark | First pitch : 7:57 PM | Att : 2,580 | T : 2:35
CAR: 0 0 0 2 0 0 0 0 0 2 3 3
MB: 0 0 3 0 0 2 2 1 x 8 12 2
WP: Gregori Montano (2 - 2) LP: Max Lazar (0 - 1)
MYRTLE BEACH – Robert Moore hit a solo home run in the fourth, Eric Brown Jr. doubled and scored a run in the fourth as well, and Jacob Misiorowski totaled three strikeouts in his second start, but the Carolina Mudcats fell 8-2 on Thursday night at Pelicans Ballpark in Myrtle Beach.
Carolina (33-29, 67-61) was already down 3-0 when Moore connected on his home run in the fourth. The home run was his second of the season and came during a two-run frame as Brown doubled and scored on a Jace Avina sacrifice fly earlier in that same inning. That two-run fourth came against starter Grant Kipp and ended up accounting for all of Carolina's runs, and two of their three overall hits in the game.
Kipp started and allowed two runs on two hits over four and 2/3 innings. Kipp also walked two, struck out four before leaving with a 3-2 lead in the fifth. Relievers Gregori Montano (2-2), Saul Gonzalez, and Brady McCullough took it the rest of the way as they combined to allow just one other Carolina hit while holding the Mudcats scoreless over the last half of the game.
The Pelicans (30-32, 77-51) led early and did not relinquish the lead after scoring three times in the third while going up 3-0 on reliever Max Lazar and the Mudcats. Lazar (0-1) pitched through three innings with three runs (two earned) on five hits. Two of his three runs allowed (all in the third) came on a two-run home run from designated hitter Moises Ballesteros.
The Ballesteros home run was the first of three in the game for the Pelicans as Ethan Hearn hit a solo shot in the sixth, and James Triantos hit a two-run blast in the eighth. Both home runs were allowed by reliever Edwin Jimenez after he took over in the sixth in place of Lazar. Jimenez ended up finishing the game while going through the final three innings with five runs (four earned) on six hits.
Misiorowski started for the Mudcats and worked through an inning and 1/3 scoreless while allowing one hit, walking three and totaling three strikeouts in his second appearance with Carolina. The start was also just his second as a professional. Trevor Tietz replaced Misiorowski and in the second and struck out both of the batters he faced while finishing his lone inning of work.
The game started nearly an hour later than scheduled due to a rain delay.
HOME RUNS:
Carolina: Moore (2, 4th inning off Kipp, 0 on, 2 out).
Myrtle Beach: Ballesteros (3, 3rd inning off Lazar, 1 on, 1 out); Hearn (10, 6th inning off Jimenez, 0 on, 0 out); Triantos (7, 7th inning off Jimenez, 1 on, 1 out).
TOP PERFORMERS - BATTERS:
Moore, 2B (Carolina): 1-for-4, 1 R, 1 HR, 1 RBI
Brown Jr., SS (Carolina): 1-for-3, 1 R, 1 2B
Ballesteros, DH (Myrtle Beach): 1-for-4, 2 R, 1 HR, 2 RBI
Triantos, 3B (Myrtle Beach): 2-for-4, 2 R, 1 HR, 2 RBI
Hearn, C (Myrtle Beach): 1-for-2, 1 R, 1 HR, 2 RBI
Chavers, LF-CF (Myrtle Beach): 3-for-5, 2 2B, 1 RBI
McGeary, 1B (Myrtle Beach): 3-for-5, 1 R, 2 2B
TOP PERFORMERS - PITCHERS:
Misiorowski (Carolina): 1.1 IP, 1 H, 0 R, 0 ER, 3 BB, 3 SO
Tietz (Carolina): 0.2 IP, 0 H, 0 R, 0 ER, 0 BB, 2 SO
Montano (W, 2-2) (Myrtle Beach): 1.1 IP, 0 H, 0 R, 0 ER, 2 BB, 0 SO
Gonzalez, S (H, 1) (Myrtle Beach): 1.2 IP, 1 H, 0 R, 0 ER, 1 BB, 1 SO
McCullough (Myrtle Beach): 1.1 IP, 0 H, 0 R, 0 ER, 0 BB, 3 SO
SCORING:
Pelicans 3rd (Pelicans 3, Mudcats 0) -- Pitcher Change: Max Lazar replaces Trevor Tietz. Pedro Ramirez grounds out, Robert Moore to Jesus Chirinos. Haydn McGeary doubles to right field. Moises Ballesteros hits a home run to left-center field on a 1-0 pitch, Haydn McGeary scores. James Triantos singles to center field. James Triantos steals 2nd base. fielding error by Eric Brown Jr. Ethan Hearn out on a sacrifice fly to Jace Avina, James Triantos scores. Reginald Preciado strikes out swinging.
(3 Runs, 3 Hits, 1 Errors, 0 LOB)
Mudcats 4th (Pelicans 3, Mudcats 2) -- Eric Brown Jr. doubles to center field, Eric Brown Jr. advances to 3rd on fielding error by Kevin Alcantara. Defensive Substitution: Liam Spence replaces center fielder Kevin Alcantara, batting 1st, playing left field. Defensive switch from left field to center field for Parker Chavers. Jace Avina out on a sacrifice fly to Parker Chavers, Eric Brown Jr. scores. Jesus Chirinos grounds out, Grant Kipp to Haydn McGeary. Robert Moore hits a home run to right field on a 2-1 pitch. Eduarqui Fernandez struck out looking.
(2 Runs, 2 Hits, 1 Errors, 0 LOB)
Pelicans 6th (Pelicans 5, Mudcats 2) -- Pitcher Change: Edwin Jimenez replaces Max Lazar. Ethan Hearn hits a home run to right field on a 2-2 pitch. Reginald Preciado triples down the right-field line. Felix Stevens out on a sacrifice fly to Hendry Mendez, Reginald Preciado scores. Liam Spence flies out to Jace Avina. Parker Chavers reaches on fielding error by Jesus Chirinos, Parker Chavers to 2nd. Pedro Ramirez pops out to Branlyn Jaraba in foul territory.
(2 Runs, 2 Hits, 1 Errors, 1 LOB)
Pelicans 7th (Pelicans 7, Mudcats 2) -- Haydn McGeary singles to shallow left field. Moises Ballesteros grounds into a force out, Robert Moore to Eric Brown Jr., Haydn McGeary out at 2nd. James Triantos hits a home run to left field on a 2-0 pitch, Moises Ballesteros scores. Ethan Hearn strikes out swinging. Reginald Preciado grounds out, Robert Moore to Jesus Chirinos.
(2 Runs, 2 Hits, 0 Errors, 0 LOB)
Pelicans 8th (Pelicans 8, Mudcats 2) -- Felix Stevens flies out to Jace Avina. Liam Spence singles to shallow left field, Liam Spence advances to 2nd on throwing error by Branlyn Jaraba. Parker Chavers doubles to center field, Liam Spence scores. Pedro Ramirez pops out to Robert Moore. Haydn McGeary flies out to Jace Avina.
(1 Runs, 2 Hits, 1 Errors, 1 LOB)