Mudcats Announce 2021 Season Schedule
Baseball is back as Mudcats announce 120 game season schedule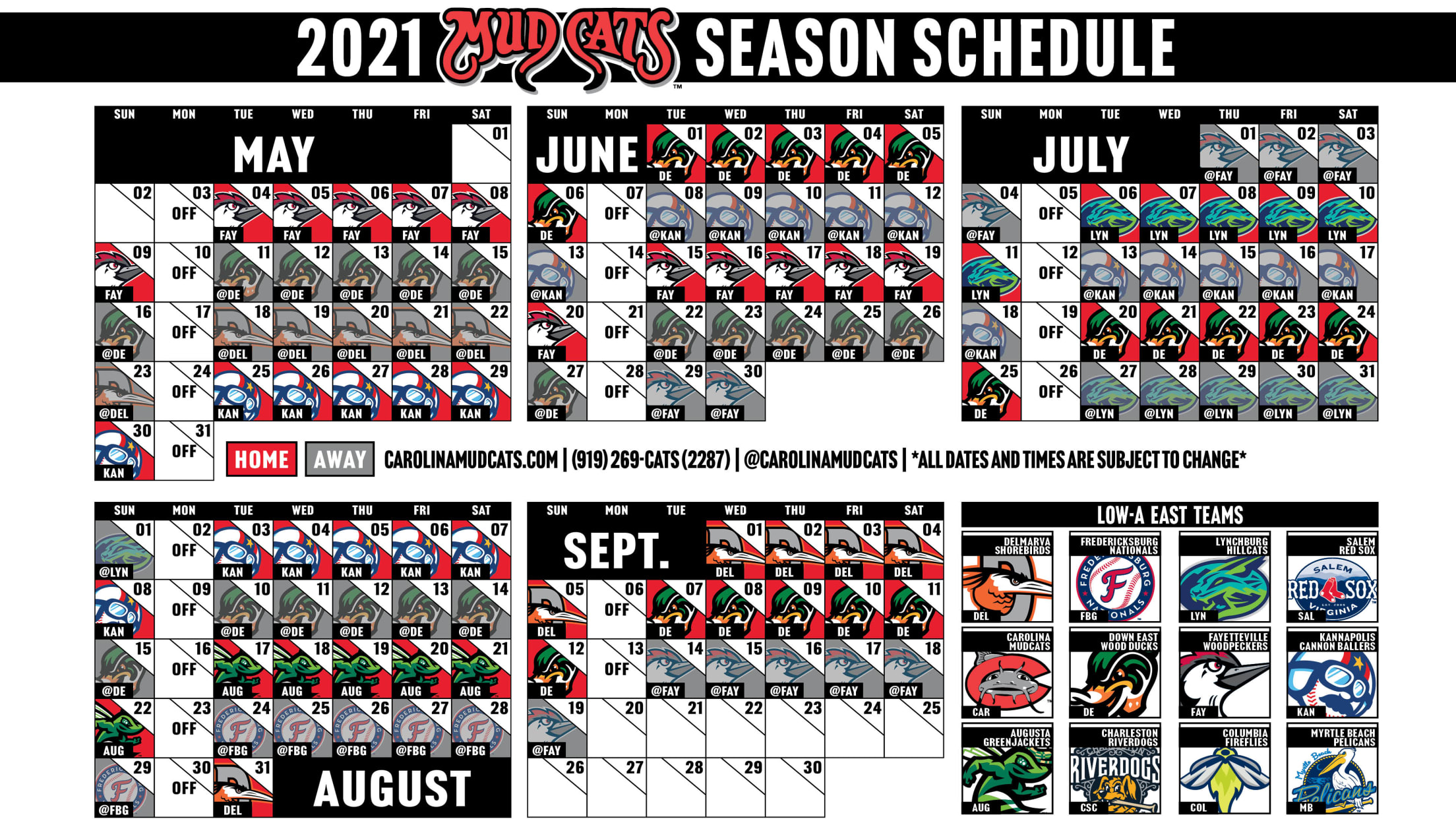 ZEBULON - The Carolina Mudcats today announced the club's 2021 Low-A East regular season schedule, which will begin on Tuesday, May 4 versus the Fayetteville Woodpeckers at Five County Stadium in Zebulon and conclude on Sunday, September 19 versus the Woodpeckers in Fayetteville. The inaugural Low-A East schedule calls for
ZEBULON - The Carolina Mudcats today announced the club's 2021 Low-A East regular season schedule, which will begin on Tuesday, May 4 versus the Fayetteville Woodpeckers at Five County Stadium in Zebulon and conclude on Sunday, September 19 versus the Woodpeckers in Fayetteville.
The inaugural Low-A East schedule calls for 120 games, evenly split with 60 home and 60 away games, for each member team beginning on Tuesday, May 4 and concluding on Sunday, September 19. Each member club will play 20 series in all, with each series running six games, and balanced with 10 series at home and 10 away. The schedule additionally features a universal off-day occurring every Monday throughout the season.
In its first year of existence, Low-A East is composed of former Carolina League and South Atlantic League teams. The Mudcats, Down East Wood Ducks, Fayetteville Woodpeckers, Fredericksburg (previously Potomac) Nationals, Lynchburg Hillcats, Myrtle Beach Pelicans and Salem Red Sox all join from the now defunct Carolina League. The Augusta GreenJackets, Charleston RiverDogs, Columbia Fireflies, Delmarva Shorebirds and Kannapolis Cannon Ballers all join from the now defunct South Atlantic League.
Low-A East is broken up into three divisions including the North, Central and South. The Mudcats are a member of the Central Division and the vast majority of its games will come against fellow Central teams including Down East, Fayetteville and Kannapolis. The new schedule is geographically centered and heavily weighted with intradivision meetings for all member teams. Carolina in particular is scheduled to play 84 of its 120 total games in its division, thus enhancing and creating exciting new local rivalries for fans. In all, the Mudcats will face Down East 36 times in 2021 (18 home, 18 away) and play 24 games (12 home, 12 away) against both Fayetteville and Kannapolis.
The Mudcats will also play three of the league's four North Division teams with 12 games (six home, six away) scheduled versus Lynchburg, 12 games (six home and six away) versus Delmarva and six games (six away) with Fredericksburg. The Augusta GreenJackets, meanwhile, are the only Low-A East South team to appear on Carolina's season schedule.
With the Mudcats joining a new league, the 2021 season presents many opportunities for several firsts for Carolina. The GreenJackets and Mudcats will face off for the first time during Carolina's eighth home series of the season between August 17 and August 22. Additionally, the club's May 25 game versus the Cannon Ballers in Kannapolis at brand new Atrium Health Ballpark will be the first ever meeting between the two teams. Finally, Carolina's first ever game versus Delmarva is scheduled for May 18 in Salisbury, Maryland.
Today's schedule announcement follows the recent news that the Mudcats have officially accepted their invitation to remain an affiliate of the Milwaukee Brewers after signing Major League Baseball's Professional Development License (PDL) agreement. First established in 1991, the Mudcats are entering their 31st consecutive season of baseball at Five County Stadium in Zebulon, N.C. and their fifth straight as an affiliate of the Brewers.
Ticket information, official game times and planned COVID-19 safety protocols for the 2021 season will be announced at a later date.
2021 Season Schedule:
Tuesday, May 4 - Sunday, May 9 vs. Fayetteville
Tuesday, May 11 - Sunday, May 16 at Down East
Tuesday, May 18 - Sunday, May 23 at Delmarva
Tuesday, May 25 - Sunday, May 30 vs. Kannapolis
Tuesday, June 1 - Sunday, June 6 vs. Down East
Tuesday, June 8 - Sunday, June 13 at Kannapolis
Tuesday, June 15 - Sunday, June 20 vs. Fayetteville
Tuesday, June 22 - Sunday, June 27 at Down East
Tuesday, June 29 - Sunday, July 4 at Fayetteville
Tuesday, July 6 - Sunday, July 11 vs. Lynchburg
Tuesday, July 13 - Sunday, July 18 at Kannapolis
Tuesday, July 20 - Sunday, July 25 vs. Down East
Tuesday, July 27 - Sunday, August 1 at Lynchburg
Tuesday, August 3 - Sunday, August 8 vs. Kannapolis
Tuesday, August 10 - Sunday, August 15 at Down East
Tuesday, August 17 - Sunday, August 22 vs. Augusta
Tuesday, August 24 - Sunday, August 29 at Fredericksburg
Tuesday, August 31 - Sunday, September 5 vs. Delmarva
Tuesday, September 7 - Sunday, September 12 vs. Down East
Tuesday, September 14 - Sunday, September 19 at Fayetteville