Magical Season Ends with 4-3 Loss in Kinston
Luke Adams hit a game-tying home run in the eighth, but Carolina's playoff run came to end with a 4-3 loss to the Wood Ducks in 11 innings in Friday's series finale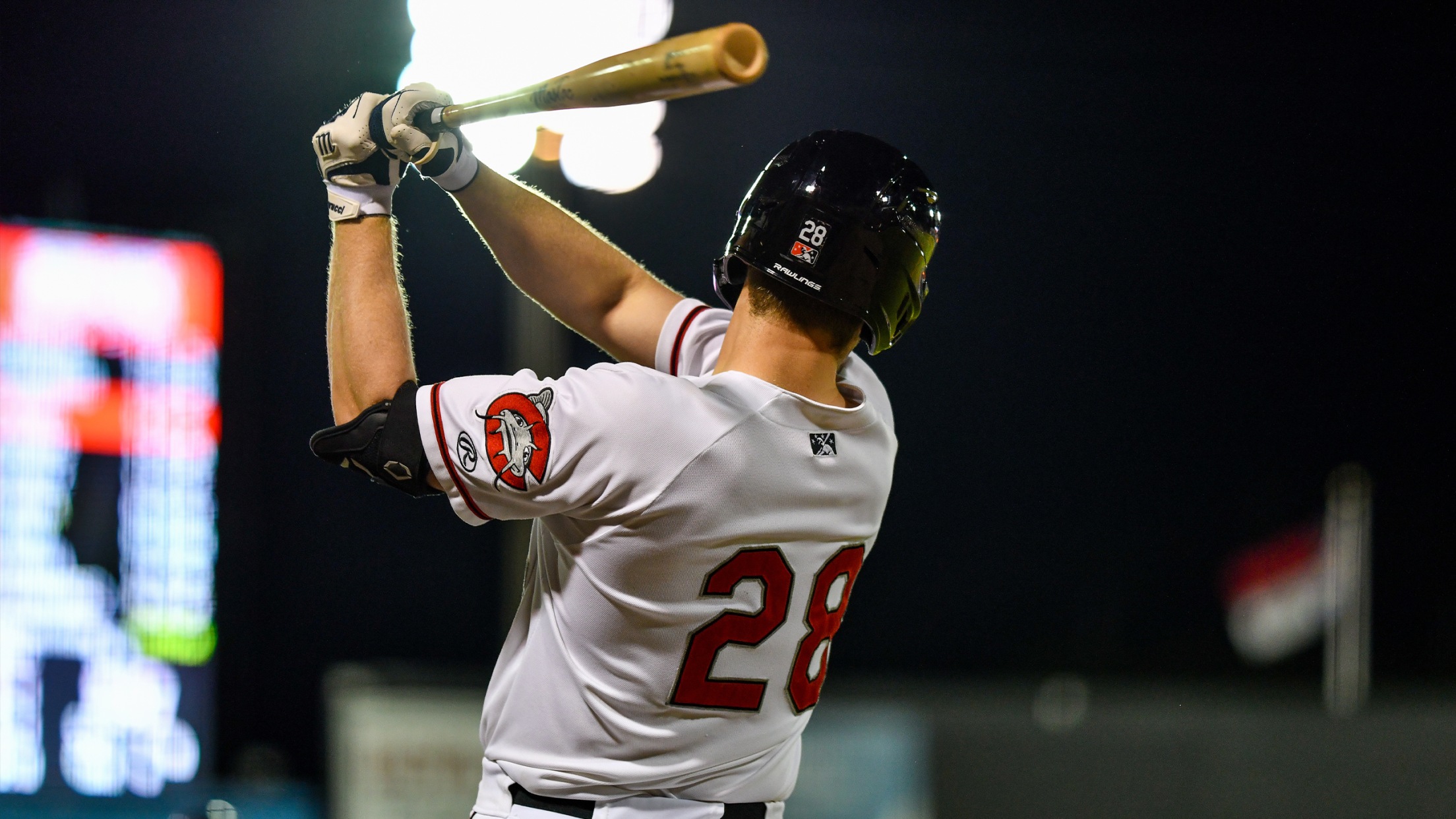 Luke Adams - Carolina Mudcats (Credit: Neal Hock)
Carolina Mudcats 3 @ Down East Wood Ducks 4 September 15, 2023 | Venue: Grainger Stadium | First pitch: 7:01 PM | T: 3:02 | Att: 739 | Box Score CAR: 0 0 0 0 0 0 0 2 0 1 0 3 6 1 DE: 2 0 0 0
Carolina Mudcats 3 @ Down East Wood Ducks 4
September 15, 2023 | Venue: Grainger Stadium | First pitch: 7:01 PM | T: 3:02 | Att: 739 | Box Score
CAR: 0 0 0 0 0 0 0 2 0 1 0 3 6 1
DE: 2 0 0 0 0 0 0 0 0 1 1 4 6 2
WP: Bryan Chi (1 - 0) LP: Yerlin Rodriguez (0 - 1)
KINSTON, N.C. – Luke Adams hit a game-tying home run with two outs in the eighth and Chase Costello pitched through three and 2/3 with just one unearned run late, but the Carolina Mudcats lost 4-3 in 11 innings to the Down East Wood Ducks in the finale of the Carolina League North Division Series on Friday night at Grainger Stadium in Kinston, N.C. The loss eliminated the Mudcats from postseason play.
The Mudcats (1-2) were originally down 2-0 from the outset as Konner Piotto doubled in two runs in the first to give the Wood Ducks (2-1) the early lead. That 2-0 lead held through the seventh but was wiped away when Adams connected on his two-run to straightaway center off reliever Alberto Mota (BS, 1).
Carolina went on to get a RBI single from Dylan O'Rae in the tenth, but the Wood Ducks answered in the last of the tenth with a game-tying single from Dylan Hurdle. The Mudcats left the bases loaded in the 11th and Down East capitalized with a game winning sacrifice fly to take the series and advance to the Carolina League Championship series.
Reliever Yerlin Rodriguez suffered the loss after starting the 11th with a wild pitch before getting an out and then giving up the game winning sac fly. Rodriguez (L, 0-1) faced just two batters in the loss as he only worked the 11th and final frame. Costello pitched the tenth and allowed just the one run over three and 2/3 stifling innings. He originally entered in the seventh in place of Brian Fitzpatrick and worked around two inherited runners while getting a double play to end his first inning of work.
Yorman Galindez started and allowed the Piotto two-run double in the first. He went to finish that opening frame without any further damage and worked through the third with just two runs on four hits. Jeferson Figueroa took over in the fourth and pitched through three perfect frames while keeping the Wood Ducks off the board.
The Mudcats stranded 11 baserunners in the loss, including three in the 11th.
HOME RUNS:
Carolina: Adams (1, 8th inning off Mota, 1 on, 2 out).
STOLEN BASES:
Carolina: Areinamo (1, 2nd base off Chi/Moller).
Down East: Scott (1, 2nd base off Galindez/Sibrian); Villarroel (2, 2nd base off Galindez/Sibrian).
TOP PERFORMERS - BATTERS:
Adams, DH (Carolina): 1-for-5, 1 R, 1 HR, 2 RBI
O'Rae, CF (Carolina): 2-for-3, 2 BB
Piotto, DH (Down East): 1-for-3, 1 2B, 2 RBI, 1 BB
Scott, RF (Down East): 2-for-5, 1 R
Hurdle, 2B (Down East): 1-for-4, 1 RBI
TOP PERFORMERS - PITCHERS:
Figueroa (Carolina): 3 IP, 0 H, 0 R, 0 ER, 0 BB, 3 SO
Costello (Carolina): 3.2 IP, 1 H, 1 R, 0 ER, 1 BB, 1 SO
McCarty, D (Down East): 3 IP, 1 H, 0 R, 0 ER, 0 BB, 3 SO
Tiger (Down East): 1 IP, 0 H, 0 R, 0 ER, 0 BB, 3 SO
Chi (W, 1-0) (Down East): 2 IP, 1 H, 1 R, 0 ER, 2 BB, 3 SO
SCORING:
Wood Ducks 1st (Wood Ducks 2, Mudcats 0) -- Quincy Scott singles to right field. Quincy Scott steals 2nd base. JoJo Blackmon strikes out swinging. Miguel Villarroel reaches on throwing error by Juan Baez, Quincy Scott to 3rd. Miguel Villarroel steals 2nd base. Konner Piotto doubles to right field, Quincy Scott scores; Miguel Villarroel scores. Ian Moller singles to left field, Konner Piotto out at home on the throw, Jace Avina to Jose Sibrian, Ian Moller to 2nd. Gleider Figuereo strikes out swinging. (2 Runs, 3 Hits, 1 Errors, 1 LOB)
Mudcats 8th (Mudcats 2, Wood Ducks 2) -- Luis Castillo walks. Offensive Substitution: Pinch runner Reidy Mercado replaces Luis Castillo. Dylan O'Rae walks, Reidy Mercado to 2nd. Jadher Areinamo grounds into double play, Gleider Figuereo to Devin Hurdle to Miguel Villarroel, Reidy Mercado to 3rd; Dylan O'Rae out at 2nd, Jadher Areinamo out at 1st. Pitcher Change: Alberto Mota replaces Damian Mendoza. Luke Adams hits a home run to center field on a 2-1 pitch, Reidy Mercado scores. Jose Sibrian singles to right field. Juan Baez singles to deep shortstop, Jose Sibrian to 2nd. Tayden Hall grounds out, Danyer Cueva to Miguel Villarroel. (2 Runs, 3 Hits, 0 Errors, 2 LOB)
Mudcats 10th (Mudcats 3, Wood Ducks 2) -- Pitcher Change: Bryan Chi replaces Izack Tiger. Reidy Mercado starts inning at 2nd base. Dylan O'Rae singles to right-center field, Reidy Mercado scores; fielding error by Devin Hurdle. Jadher Areinamo grounds into a force out, Danyer Cueva to Devin Hurdle, Dylan O'Rae out at 2nd. Luke Adams struck out looking. Jadher Areinamo steals 2nd base. Jose Sibrian strikes out swinging. (1 Runs, 1 Hits, 1 Errors, 1 LOB)
Wood Ducks 10th (Mudcats 3, Wood Ducks 3) -- Ian Moller starts inning at 2nd base. Gleider Figuereo flies out to Jace Avina. Devin Hurdle singles up the middle, Ian Moller scores; Devin Hurdle to 2nd. Marcos Torres grounds out, Juan Baez to Tayden Hall. Danyer Cueva hit by pitch. Quincy Scott grounds out, Gregory Barrios to Tayden Hall. (1 Runs, 1 Hits, 0 Errors, 2 LOB)
Wood Ducks 11th (Wood Ducks 4, Mudcats 3) -- Defensive Substitution: Kay-Lan Nicasia replaces Daniel Guilarte, batting 9th, playing right field. Pitcher Change: Yerlin Rodriguez replaces Chase Costello. Wady Mendez starts inning at 2nd base. Wild pitch by Yerlin Rodriguez, Wady Mendez to 3rd. JoJo Blackmon grounds out, Gregory Barrios to Tayden Hall. Miguel Villarroel out on a sacrifice fly to Kay-Lan Nicasia, Wady Mendez scores. (1 Runs, 0 Hits, 0 Errors, 0 LOB)