Mudcats Trail From Start to Finish in 2-1 Loss
Carolina pitchers added 11 more Ks to their MiLB leading total of 102 in the loss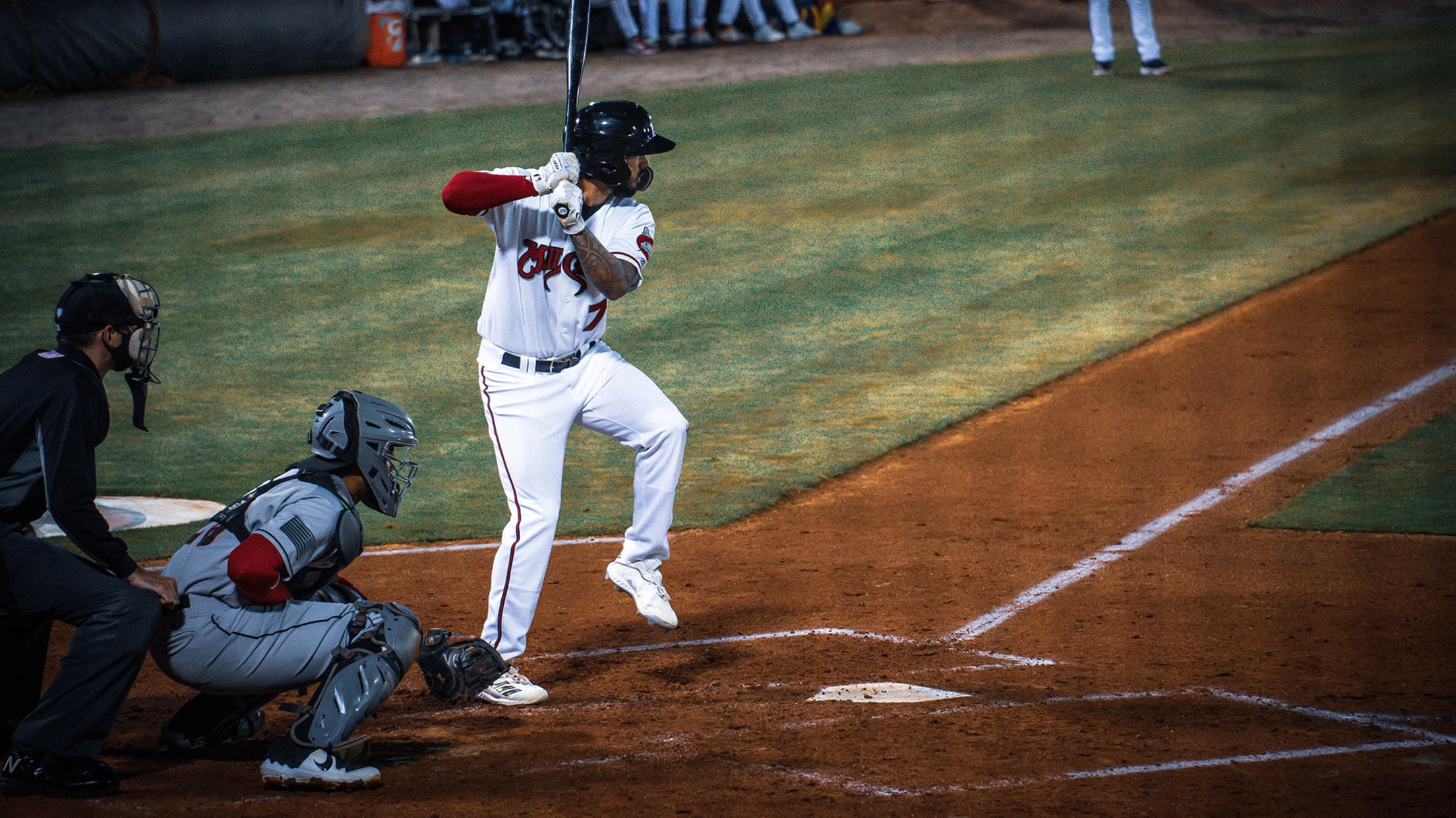 KINSTON – The Mudcats dropped their first road game of the season while falling 2-1 to the undefeated Wood Ducks on Tuesday night at Grainger Stadium. Down East improved to a perfect 7-0 record while picking up the series opening victory. The Wood Ducks (7-0) struck first with a run
KINSTON – The Mudcats dropped their first road game of the season while falling 2-1 to the undefeated Wood Ducks on Tuesday night at Grainger Stadium. Down East improved to a perfect 7-0 record while picking up the series opening victory.
The Wood Ducks (7-0) struck first with a run in the first two frames against Carolina (5-2) starter Caden Lemons. It was a two-out RBI single from Keyber Rodriguez that scored the lone Down East run in the first. Meanwhile, a double-play hit into by Evan Carter that forced across the second Down East run in the second.
In all, Lemons (0-1, 3.86) allowed just the two runs on five hits over three innings pitched. Lemons also walked four and struck out four, posting the same free pass and punch out totals as his last start.
Carolina's lone run off Down East starter Abdiel Mendoza came in the third after Alex Hall doubled and scored on a Gabe Holt single. The RBI was Holt's sixth of the season.
Mendoza did not earn a decision, but totaled eight strikeouts and scattered three hits over four scoreless frames. Reliever Nic Laio (2-0, 0.00) earned the win after striking out seven over three scoreless frames for Down East. Spencer Mraz worked the ninth and pitched around a double from Micah Bello while earning his second save.
The Carolina bullpen – including Joey Matulovich, Brock Begue and Abner Uribe - combined for five scoreless and five hitless frames following Lemons' start. They also combined for seven strikeouts with three from Matulovich, three from Begue and one from Uribe. With the four strikeouts turned in from Lemons, Carolina pitchers reached double digits in strikeouts for the seventh consecutive game. The Mudcats' pitching staff has now combined for a Minor League Baseball leading 102 strikeouts this season.
The Mudcats fell to 7-18 all-time in games played at Grainger Stadium against the Wood Ducks with the loss.
The series continues on Wednesday night with left-hander Brendan Murphy (0-0, 0.00) starting for the Mudcats at Grainger Stadium in Kinston.
TOP PERFORMERS - BATTERS:
Holt, 2B (Carolina): 1-for-3, 1 RBI
Bello, LF (Carolina): 2-for-4, 1 2B
Hall, A, C (Carolina): 1-for-3, 1 R, 1 2B
Harris, 1B (Down East): 1-for-4, 1 R
Freeman, C (Down East): 2-for-4
Rodriguez, K, 3B (Down East): 1-for-3, 1 RBI
Cabello, RF (Down East): 1-for-2, 1 R
TOP PERFORMERS - PITCHERS:
Matulovich (Carolina): 2 IP, 0 H, 0 R, 0 ER, 1 BB, 3 SO
Begue (Carolina): 2 IP, 0 H, 0 R, 0 ER, 2 BB, 3 SO
Uribe (Carolina): 1 IP, 0 H, 0 R, 0 ER, 0 BB, 1 SO
Mendoza, A (Down East): 4 IP, 3 H, 1 R, 1 ER, 0 BB, 8 SO
Laio (W, 2-0) (Down East): 3 IP, 1 H, 0 R, 0 ER, 1 BB, 7 SO
Matthews (H, 2) (Down East): 1 IP, 0 H, 0 R, 0 ER, 1 BB, 1 SO
Mraz (S, 2) (Down East): 1 IP, 1 H, 0 R, 0 ER, 0 BB, 2 SO
SCORING:
Wood Ducks 1st (Wood Ducks 1, Mudcats 0) -- Evan Carter grounds out, Freddy Zamora to Ernesto Martinez. Luisangel Acuna grounds out, Gabe Holt to Ernesto Martinez. Dustin Harris singles to right field. Cody Freeman singles to right-center field, Dustin Harris to 3rd. Keyber Rodriguez singles to right-center field, Dustin Harris scores; Cody Freeman to 3rd. Keithron Moss struck out looking.
(1 Runs, 3 Hits, 0 Errors, 2 LOB)
Wood Ducks 2nd (Wood Ducks 2, Mudcats 0) -- Antonio Cabello singles to right-center field. Jose Rodriguez walks, Antonio Cabello to 2nd. Jayce Easley walks, Antonio Cabello to 3rd; Jose Rodriguez to 2nd. Evan Carter grounds into double play, Gabe Holt to Freddy Zamora to Ernesto Martinez, Antonio Cabello scores; Jose Rodriguez to 3rd; Jayce Easley out at 2nd, Evan Carter out at 1st. Luisangel Acuna walks. Dustin Harris struck out looking.
(1 Runs, 1 Hits, 0 Errors, 2 LOB)
Mudcats 3rd (Wood Ducks 2, Mudcats 1) -- Ernesto Martinez strikes out swinging. Alex Hall doubles to left-center field. Arbert Cipion struck out looking. Gabe Holt singles to right-center field, Alex Hall scores. Felix Valerio grounds into a force out, Luisangel Acuna to Keithron Moss, Gabe Holt out at 2nd.
(1 Runs, 2 Hits, 0 Errors, 1 LOB)