Offense Stifled Again in 7-1 Loss to Fireflies
The loss dropped the Mudcats to 5.5 games back of first with just 10 games left this season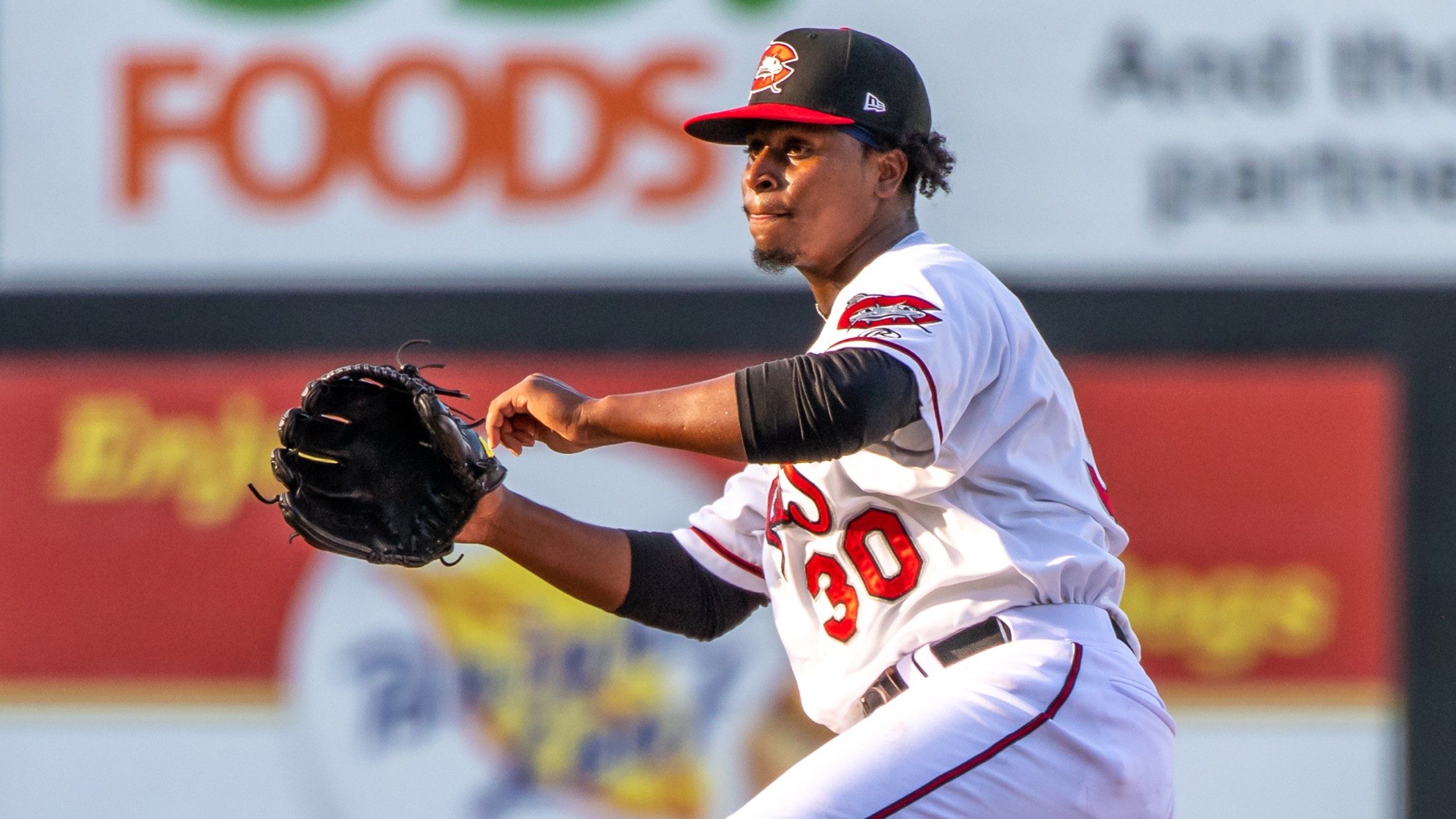 Leoni De La Cruz - Carolina Mudcats (Neal Hock)
*Columbia 7 @ Carolina 1 *August 31, 2022 | Venue : Five County Stadium | First pitch : 6:58 PM | Att : 1,085 | T : 2:34 COL: 1 0 0 0 0 2 0 1 3 7 10 1 CAR: 0 1 0 0 0 0 0 0
*Columbia 7 @ Carolina 1
*August 31, 2022 | Venue : Five County Stadium | First pitch : 6:58 PM | Att : 1,085 | T : 2:34
COL: 1 0 0 0 0 2 0 1 3 7 10 1
CAR: 0 1 0 0 0 0 0 0 0 1 7 1
WP: Frank Mozzicato (2 - 6) LP: Edwin Jimenez (4 - 7) SV: Luis Barroso (9)
ZEBULON – Reliever Leoni De La Cruz saw his streak of five straight scoreless appearances come to a halt as the Columbia Fireflies rallied for four runs against him over the eighth and ninth innings while defeating the Carolina Mudcats 7-1 on Wednesday night at Five County Stadium. Starter Edwin Jimenez allowed a run in the first and two in the sixth while suffering the loss in what was his fourth quality start of the season.
The Mudcats (30-26, 64-58) were down 1-0 in the second before Perez came through with his game-tying RBI double off Columbia (32-23, 50-71) starter Frank Mozzicato. That lone second inning run, however, would be the only Carolina run scored in the game as Mozzicato (2-6), along with relievers Ben Sears and Luis Barroso, limited the Mudcats to just one run on seven hits. Mozzicato struck out eight, walked one and allowed just the one run on six hits.
Jimenez (4-7) started for the Mudcats and worked through the sixth with three runs allowed on six hits. He saw the game's first run score on a double steal in the first, but limited the damage while working the next four without allowing a run, before allowing two, two-out runs in the sixth. That two-run sixth saw three straight two-out hits beginning with a Gavin Cross single, then a Cayden Wallace RBI triple and a Guillermo Quintana RBI double. Jimenez did not return for the seventh and ended up going through six innings with five strikeouts, no walks, three runs and six hits.
De La Cruz replaced Jimenez in the seventh and went on to strike out the side in his first inning of work before allowing a run in the eighth and three in the ninth. Javier Vaz started the eighth with a bunt single before later scoring on a bases loaded walk by Quintana. De La Cruz eventually escaped the eighth with just the one run allowed after turning a 1-2-3 double play. The same would not be true in the ninth though as he gave up a two-run double to Vaz and lost wild pitch that scored Vaz from third while allowing three runs in the final frame. Trevor Tietz eventually took over in the ninth and would retire his only batter faced with just one pitch to end the inning.
The loss, combined with a Fredericksburg Nationals victory, dropped the Mudcats to 5.5 games back of the first place FredNats in the Carolina League North second half standings. Only 10 games remain this season for the Mudcats with four left at home versus Columbia and six away at Myrtle Beach.
*TOP PERFORMERS – BATTERS:
*Chirinos, 1B (Carolina): 2-for-3, 1 R
Perez, LF (Carolina): 1-for-4, 1 2B, 1 RBI
Vaz, LF (Columbia): 3-for-5, 2 R, 1 2B, 2 RBI
Wallace, 3B (Columbia): 2-for-5, 1 R, 1 3B, 1 RBI
Quintana, 1B (Columbia): 1-for-3, 1 2B, 2 RBI
*TOP PERFORMERS - PITCHERS:
*Jimenez (L, 4-7) (Carolina): 6 IP, 6 H, 3 R, 3 ER, 0 BB, 5 SO
Tietz (Carolina): 0.1 IP, 0 H, 0 R, 0 ER, 0 BB, 0 SO
Mozzicato (W, 2-6) (Columbia): 5 IP, 6 H, 1 R, 1 ER, 3 BB, 8 SO
Sears (H, 4) (Columbia): 2 IP, 1 H, 0 R, 0 ER, 0 BB, 0 SO
Barroso (S, 9) (Columbia): 2 IP, 0 H, 0 R, 0 ER, 1 BB, 2 SO
SCORING:
Fireflies 1st (Fireflies 1, Mudcats 0) -- Javier Vaz flies out to Jace Avina. Carter Jensen doubles to right field. Gavin Cross strikes out swinging, Carter Jensen to 3rd; Gavin Cross to 1st;wild pitch by Edwin Jimenez. Cayden Wallace pops out to Jadher Areinamo. Gavin Cross steals 2nd base, Carter Jensen steals home. Gavin Cross steals 3rd base. Guillermo Quintana flies out to Jace Avina.
(1 Runs, 1 Hits, 0 Errors, 1 LOB)
Mudcats 2nd (Fireflies 1, Mudcats 1) -- Jesus Chirinos walks. Eduarqui Fernandez singles to center field, Jesus Chirinos to 2nd. Hedbert Perez doubles to right-center field, Jesus Chirinos scores; Eduarqui Fernandez to 3rd. Jadher Areinamo strikes out swinging. Branlyn Jaraba strikes out swinging, Carter Jensen to Guillermo Quintana. Alex Hall strikes out swinging.
(1 Runs, 2 Hits, 0 Errors, 2 LOB)
Fireflies 6th (Fireflies 3, Mudcats 1) -- Javier Vaz strikes out swinging. Carter Jensen grounds out, Jadher Areinamo to Jesus Chirinos. Gavin Cross singles to right field. Cayden Wallace triples to center field, Gavin Cross scores. Guillermo Quintana hits a ground rule double to left field, Cayden Wallace scores. Levi Usher strikes out on foul tip.
(2 Runs, 3 Hits, 0 Errors, 1 LOB)
Fireflies 8th (Fireflies 4, Mudcats 1) -- Javier Vaz bunt singles to shallow right field. Javier Vaz advances to 2nd on a balk. Wild pitch by Leoni De La Cruz, Javier Vaz to 3rd. Carter Jensen grounds out, Robert Moore to Jesus Chirinos. Gavin Cross walks. Cayden Wallace reaches on fielding error by Jesus Chirinos, Gavin Cross to 2nd. Guillermo Quintana walks, Javier Vaz scores; Gavin Cross to 3rd; Cayden Wallace to 2nd. Levi Usher grounds into double play, Leoni De La Cruz to Alex Hall to Jesus Chirinos, Gavin Cross out at home, Levi Usher out at 1st.
(1 Runs, 1 Hits, 1 Errors, 2 LOB)
Fireflies 9th (Fireflies 7, Mudcats 1) -- Daniel Vazquez singles up the middle. Lizandro Rodriguez doubles to left field, Daniel Vazquez to 3rd. Dayton Dooney strikes out swinging. Javier Vaz doubles to left field, Daniel Vazquez scores; Lizandro Rodriguez scores. Carter Jensen grounds out, Jadher Areinamo to Jesus Chirinos, Javier Vaz to 3rd. Wild pitch by Leoni De La Cruz, Javier Vaz scores. Gavin Cross walks. Pitcher Change: Trevor Tietz replaces Leoni De La Cruz. Cayden Wallace flies out to Jace Avina.
(3 Runs, 3 Hits, 0 Errors, 1 LOB)