Perez Hits Tenth Inning Walk-Off in 7-6 Victory
Pablo Garabitos extended his scoreless innings streak to 20 and improved to 6-0 with 3.0 scoreless innings pitched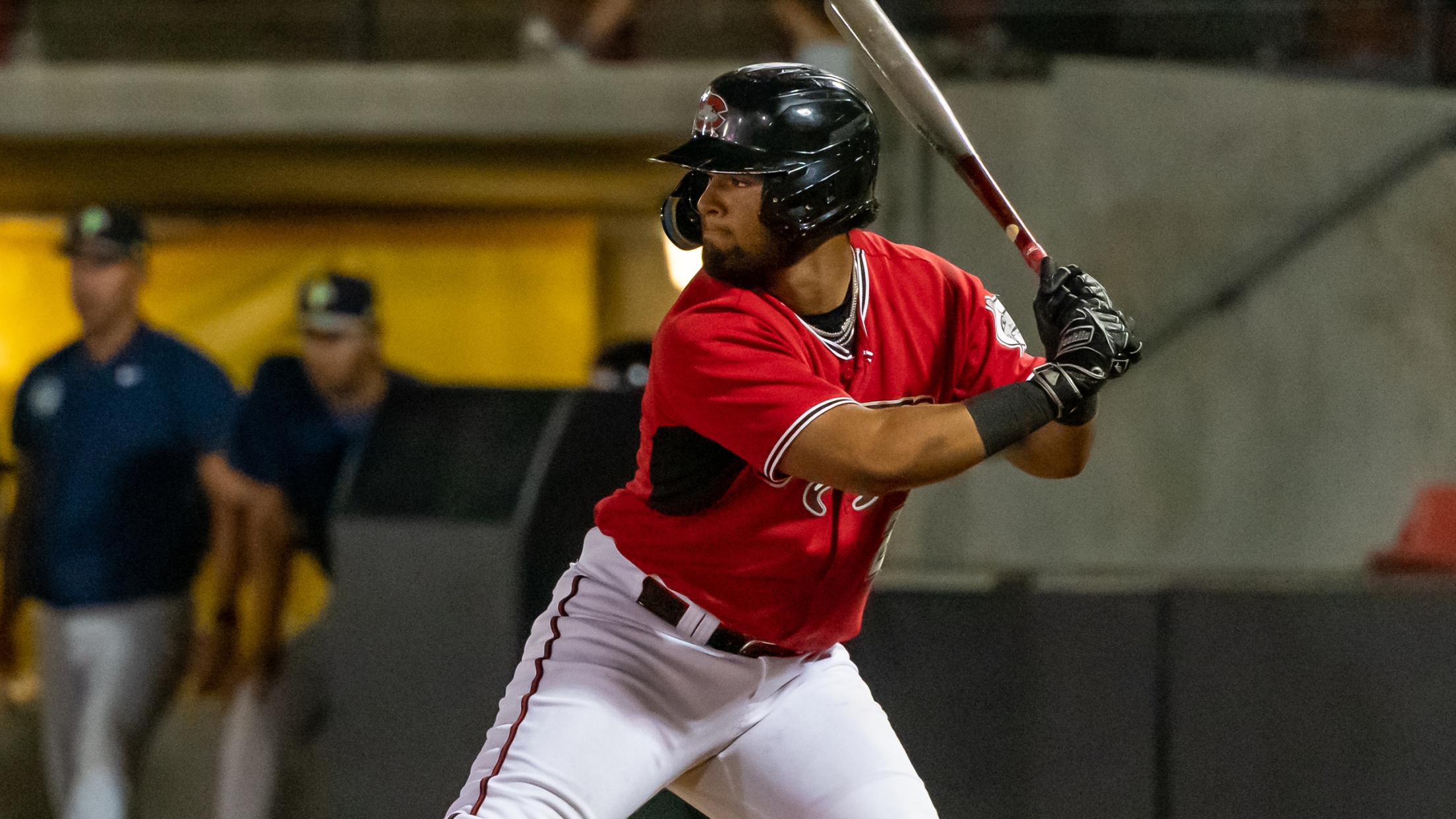 Columbia 6 @ Carolina 7 September 01, 2022 | Venue : Five County Stadium | First pitch : 7:00 PM | Att : 1,415 | T : 3:01 COL: 1 2 3 0 0 0 0 0 0 0 6 11 1 CAR: 1 2 0 0 0 1 0
Columbia 6 @ Carolina 7
September 01, 2022 | Venue : Five County Stadium | First pitch : 7:00 PM | Att : 1,415 | T : 3:01
COL: 1 2 3 0 0 0 0 0 0 0 6 11 1
CAR: 1 2 0 0 0 1 0 2 0 1 7 10 1
WP: Pablo Garabitos (6 - 0) LP: Ben Wereski (4 - 5)
ZEBULON – Hedbert Perez went 3-for-5 with a walk-off single in the tenth, Robert Moore hit his first professional home run and reliever Pablo Garabitos spun his way through three scoreless innings while earning his sixth victory as the Carolina Mudcats defeated the Columbia Fireflies 7-6 in ten innings on Thursday night at Five County Stadium.
Carolina (31-26, 65-58) trailed 6-3 after the third, but would go on to score once in the sixth on a RBI double from Perez and twice in more in the eighth with run-scoring hits from Eduarqui Fernandez and Alberis Ferrer to tie it at 6-6. Perez then drove in the game-winner after sending a bases loaded single to center off reliever Ben Wereski (4-5) in the tenth.
Perez led the way for the Mudcats while going 3-for-5 with two doubles, a run and two RBI. Ferrer also drove in two and went 1-for-2 with his game-tying single in the eighth. Moore went 1-for-5 with a game-tying home run (his first as a pro) in the first and assisted on one of Carolina's three double plays in the game.
The Fireflies (32-24, 50-72) built their early lead with a run off starter Jacob Misiorowski in the first, two runs against reliever Trevor Tietz in the second and three runs off reliever Alexander Vallecillo in the third. Vallecillo allowed only those three third inning runs as he ended up holding Columbia scoreless from the fourth through the seventh. In all, Vallecillo went five innings with three runs, eight hits, three walks and two strikeouts.
Garabitos (6-0) followed in the eighth and went on to pitch through three scoreless frames while earning the victory. He also allowed just one hit, walked one and struck out one while turning in his fifth straight scoreless appearance.
Misiorowski, in what was first professional start, walked four including two straight to load the bases and force in a run in the first. Misiorowski touched 100 mph several times during his first batter faced, but walked four of five in the first and left the game after reaching 32 pitches. Tietz followed and induced an inning ending double play in the first before giving up two runs in the second.
The victory, combined with a Fredericksburg Nationals victory, kept the Mudcats at 5.5 games back of the first place FredNats in the Carolina League North second half standings. Only nine games remain this season for the Mudcats with three left at home versus Columbia and six away at Myrtle Beach.
TOP PERFORMERS - BATTERS:
Perez, DH (Carolina): 3-for-5, 1 R, 2 2B, 2 RBI
Moore, 2B-SS (Carolina): 1-for-5, 1 R, 1 HR, 1 RBI
Ferrer, 3B (Carolina): 1-for-2, 2 RBI
Quintana, 1B (Columbia): 2-for-5, 1 R
Hollie, RF (Columbia): 1-for-3, 2 R, 2 RBI
Advincola, SS (Columbia): 2-for-5, 1 R, 1 2B, 2 RBI
Vaz, LF (Columbia): 2-for-4, 1 R
TOP PERFORMERS - PITCHERS:
Vallecillo (Carolina): 5 IP, 8 H, 3 R, 3 ER, 3 BB, 2 SO
Garabitos (W, 6-0) (Carolina): 3 IP, 1 H, 0 R, 0 ER, 1 BB, 1 SO
Kudrna (Columbia): 5 IP, 4 H, 3 R, 2 ER, 2 BB, 3 SO
Wereski (L, 4-5) (Columbia): 1.2 IP, 2 H, 1 R, 0 ER, 1 BB, 2 SO
*
SCORING:*
Fireflies 1st (Fireflies 1, Mudcats 0) -- Javier Vaz walks. Omar Hernandez grounds out, Robert Moore to Jesus Chirinos, Javier Vaz to 2nd. Gavin Cross walks. Carter Jensen walks, Javier Vaz to 3rd; Gavin Cross to 2nd. Cayden Wallace walks, Javier Vaz scores; Gavin Cross to 3rd; Carter Jensen to 2nd. Pitcher Change: Trevor Tietz replaces Jacob Misiorowski. Guillermo Quintana grounds into double play, Alberis Ferrer to Jesus Chirinos, Carter Jensen out at 3rd, Guillermo Quintana out at 1st.
(1 Runs, 0 Hits, 0 Errors, 2 LOB)
Mudcats 1st (Fireflies 1, Mudcats 1) -- Eric Brown Jr. flies out to David Hollie. Robert Moore hits a home run to right field on a 0-0 pitch. Hendry Mendez strikes out swinging. Jesus Chirinos walks. Luis Castillo pops out to Cayden Wallace in foul territory.
(1 Runs, 1 Hits, 0 Errors, 1 LOB)
Fireflies 2nd (Fireflies 3, Mudcats 1) -- David Hollie hit by pitch. David Hollie steals 2nd base. Lizandro Rodriguez flies out to Hendry Mendez. David Hollie advances to 3rd on a balk. Yeudi Advincola doubles down the right-field line, David Hollie scores. Javier Vaz singles to left-center field, Yeudi Advincola to 3rd. Omar Hernandez grounds out, Alberis Ferrer to Jesus Chirinos, Yeudi Advincola scores; Javier Vaz to 2nd. Gavin Cross walks. Carter Jensen grounds out, Eric Brown Jr. to Jesus Chirinos.
(2 Runs, 2 Hits, 0 Errors, 2 LOB)
Mudcats 2nd (Fireflies 3, Mudcats 3) -- Eduarqui Fernandez reaches on throwing error by Cayden Wallace. Hedbert Perez doubles to right field, Eduarqui Fernandez to 3rd. Alberis Ferrer out on a sacrifice fly to David Hollie, Eduarqui Fernandez scores; Hedbert Perez to 3rd. Jose Sibrian singles up the middle, Hedbert Perez scores. Eric Brown Jr. flies out to David Hollie. Robert Moore pops out to Lizandro Rodriguez.
(2 Runs, 2 Hits, 1 Errors, 1 LOB)
Fireflies 3rd (Fireflies 6, Mudcats 3) -- Pitcher Change: Alexander Vallecillo replaces Trevor Tietz. Cayden Wallace singles through the hole at second base. Guillermo Quintana singles to right-center field, Cayden Wallace to 3rd. Guillermo Quintana steals 2nd base. David Hollie singles to deep shortstop, Cayden Wallace scores; Guillermo Quintana scores; David Hollie to 2nd. Lizandro Rodriguez strikes out swinging. Yeudi Advincola singles to left field, David Hollie scores; Yeudi Advincola out at 2nd on the throw, Luis Castillo to Robert Moore. Javier Vaz walks. Javier Vaz caught stealing 2nd base, Jose Sibrian to Robert Moore.
(3 Runs, 4 Hits, 0 Errors, 0 LOB)
Mudcats 6th (Fireflies 6, Mudcats 4) -- Pitcher Change: Wander Arias replaces Ben Kudrna. Luis Castillo singles to left-center field. Eduarqui Fernandez pops out to Lizandro Rodriguez. Hedbert Perez doubles to center field, Luis Castillo scores. Wild pitch by Wander Arias, Hedbert Perez to 3rd. Alberis Ferrer strikes out swinging. Jose Sibrian strikes out swinging.
(1 Runs, 2 Hits, 0 Errors, 1 LOB)
Mudcats 8th (Fireflies 6, Mudcats 6) -- Jesus Chirinos walks. Wild pitch by Wander Arias, Jesus Chirinos to 2nd. Luis Castillo walks, Jesus Chirinos to 3rd;passed ball by Omar Hernandez. Eduarqui Fernandez singles through the hole at second base, Jesus Chirinos scores; Luis Castillo to 2nd. Hedbert Perez flies into unassisted double play, Javier Vaz, Luis Castillo out at 3rd, Eduarqui Fernandez to 2nd. Alberis Ferrer singles up the middle, Eduarqui Fernandez scores; Alberis Ferrer to 2nd. Pitcher Change: Ben Wereski replaces Wander Arias. Jose Sibrian strikes out swinging.
(2 Runs, 2 Hits, 0 Errors, 1 LOB)
Mudcats 10th (Mudcats 7, Fireflies 6) -- Hendry Mendez starts inning at 2nd base. Jesus Chirinos singles to left-center field, Hendry Mendez to 3rd. Luis Castillo strikes out swinging. Eduarqui Fernandez walks, Jesus Chirinos to 2nd.
(1 Runs, 2 Hits, 0 Errors, 3 LOB)