Devers, Holloway and Cabrera named 2019 Florida State League All-Stars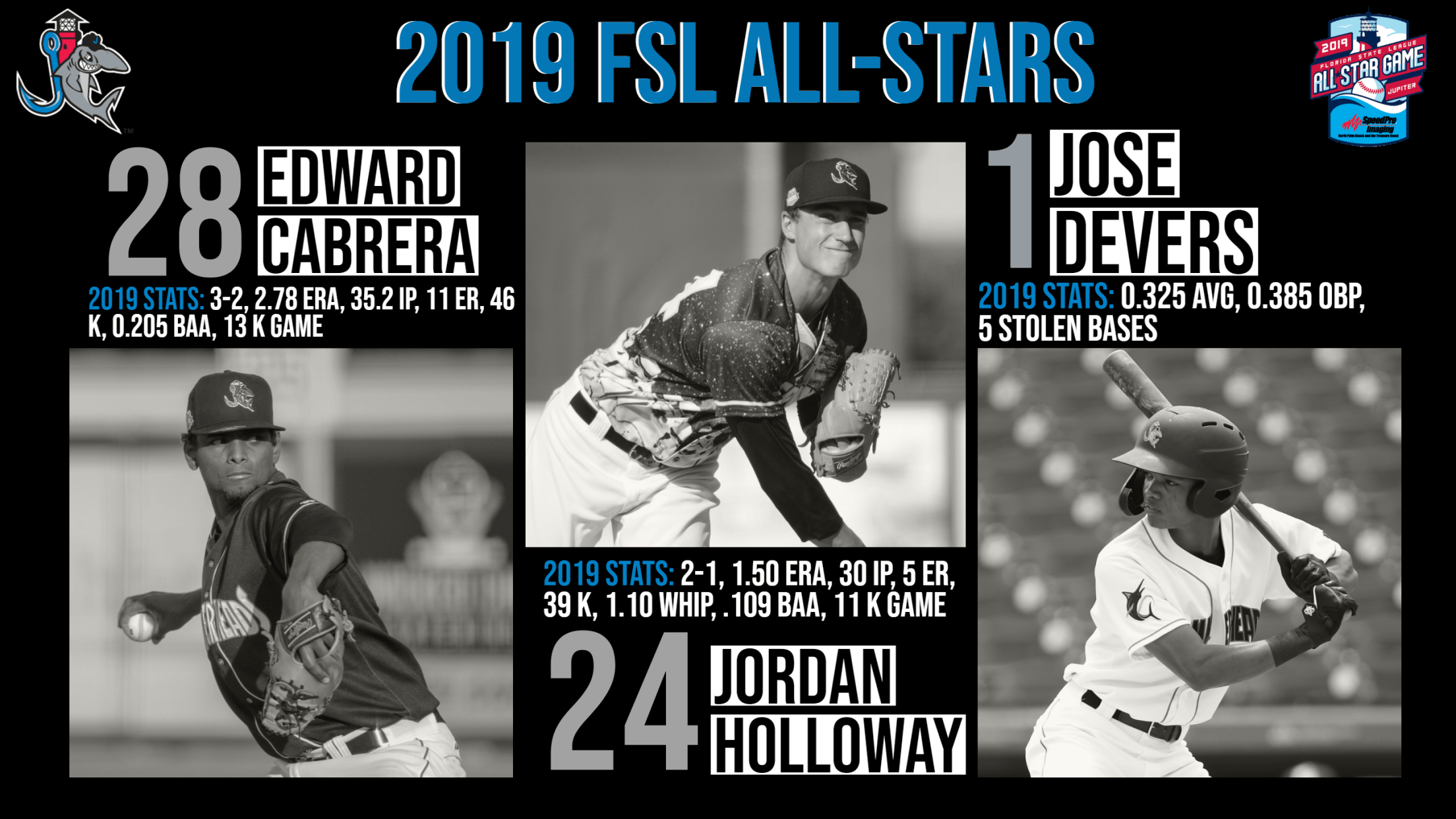 Jupiter Hammerheads players Jose Devers, Jordan Holloway and Edward Cabrera have been named Florida State League All-Stars for the 2019 season. Jose Devers is a nineteen-year-old rising star in the Marlins organization who at one point lead the entire Florida State League in batting average. His consistency at the plate
Jupiter Hammerheads players Jose Devers, Jordan Holloway and Edward Cabrera have been named Florida State League All-Stars for the 2019 season.
Jose Devers is a nineteen-year-old rising star in the Marlins organization who at one point lead the entire Florida State League in batting average. His consistency at the plate earned him the leadoff spot this year in the Hammerheads lineup. As of May 23rd, he is batting 0.325 with a 0.385 OBP and the young Dominican topped out at .370 average for the season so far.
The talented shortstop is playing in a league with players generally a few years older than him. In fact, going into the 2019 season, Devers was the youngest player in all of the Florida State League. The Marlins #12 prospect is one to watch as he progresses through the farm system.
Marlins #8 prospect Edward Cabrera has had a stellar season on the mound thus far, throwing some incredible games as a starter this year. In six starts he's allowed only eleven earned runs over 35.2 innings for a 2.78 ERA. Four of his seven starts have been shutouts.
His ability to shut down opponent offenses can largely be attributed to his knack for striking batters out. He's recorded 46 strikeouts on the season thus far. On May 1st, he helped the Hammerheads end and 11-game losing streak with a career-high 13-K outing.
Jordan Holloway hasn't skipped a beat in his first full season coming off Tommy John surgery. The Colorado native has already pitched four shutout starts in his seven games on the mound. As of May 24th, his ERA stands at a 1.50 after 30 innings pitched. He's allowed six runs total, one of which was unearned.
The 6'6" right-hander pitched a career-high eleven strikeouts in his last start and batters are currently limited to a .109 average against Holloway. Over seven outings, the Marlins #13 prospect has never allowed more than three hits, effectively freezing the bats of opponents.
Coaches, official scorers and broadcasters from each team in the Florida State League cast their votes to determine the All-Stars. Many major league players, like current Miami Marlin Brian Anderson, at one point played in the Florida State League All-Star Game.
Roger Dean Chevrolet Stadium is hosting the 2019 FSL All-Star game, so the three hammerheads will be playing at home in Jupiter on Saturday, June 15th. For tickets to the game visit https://rogerdeanchevroletstadium.com/2019/04/11/2019-fsl-all-star-game/.