Jupiter Hammerheads announce 2019 promotional schedule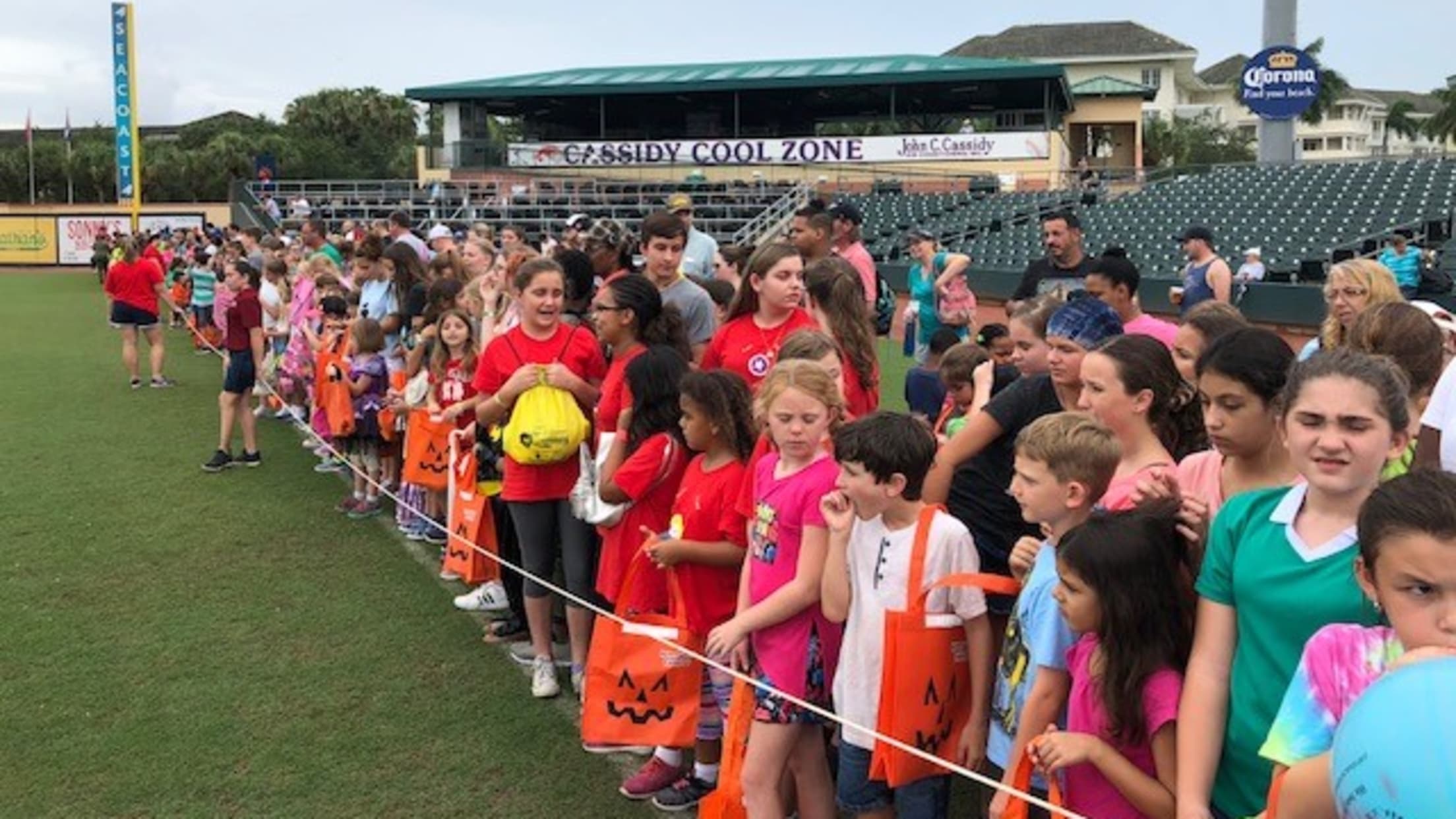 Any ballgame at Roger Dean Chevrolet Stadium is guaranteed to be a good time, but if you're looking for some extra entertainment this summer, look no further than the Jupiter Hammerheads' special promotional games.Any ballgame at Roger Dean Chevrolet Stadium is guaranteed to be a good time, but if you're
Any ballgame at Roger Dean Chevrolet Stadium is guaranteed to be a good time, but if you're looking for some extra entertainment this summer, look no further than the Jupiter Hammerheads' special promotional games.
Any ballgame at Roger Dean Chevrolet Stadium is guaranteed to be a good time, but if you're looking for some extra entertainment this summer, look no further than the Jupiter Hammerheads' special promotional games.
Every week we will host our Fins and Feathers kids club on Tuesday Nights. Fins and Feathers is a great way for kids 15 and under to experience the fun of baseball, all summer long. Membership includes admission to every Tuesday game, plus a free hot dog and soda and 10% off in the team store. Additionally, they get special invitations to other events like baseball signings and clinics, a free t-shirt, free mini-golf with a paying adult at Golden Cub Mini-Golf and Lighthouse Cove Mini-Golf and free movies at Cobb Theatre.
On Wednesdays we welcome our 55+ crowd of Silver Sluggers to the stadium. In addition to admission to Wednesday games, our Sluggers get a free hot dog and soda at those games, a seat cushion, 10% off the team store on Wednesdays and get to play Baseball Bingo presented by Legends Radio.
On Thursdays, it's a party at Roger Dean Chevrolet Stadium, literally. Purchase a reusable red Tire Kingdom cup and enjoy $1 domestic drafts and $2 crafts all season long at "Let's Have A Party" Thursdays. Also, every Friday, Roger Dean Chevrolet Stadium welcomes fans' cuddly companions to the stadium for Furry Fridays. Bring your dogs for a night at the ballpark! Sundays are Fiesta de Beisbol, a weekly celebration of the Hispanic community and culture!
At Opening Day on April 6th Roger Dean Chevrolet Stadium will host local Girls Scouts Troops at the stadium for a sleepover. Girl Scouts who come to the game will receive a special patch and after the game, the girls get to watch a movie and camp out on the field.
We couldn't leave out the Boy Scouts, though. Boy Scout Night will be April 13th. They'll also receive a patch from the stadium and troops will get to parade the field before the game. On the same night, Roger Dean Chevrolet stadium will be celebrating Star Wars Night, a fan favorite event. The Hammerheads will be wearing Star Wars themed jerseys that will later be auctioned off for Jupiter Medical Center Foundation. For entertainment around the stadium, the 501st Legion's Everglade Squad will come dressed as everyone's favorite characters and Star Wars promotions will be going on throughout the night. May the force be with you for this fun night out!
On April 25th fans at the stadium can mix it up and enjoy football and baseball at the same time. At our special NFL Draft Party fans can pay to watch both a baseball game and the NFL Draft from the comfort of one of our suites. The NFL Draft will play on the TVs in the suite, but game-goers can pop outside to catch the baseball game throughout the night too. On top of all that, the suites will be serving all you can eat chicken wings. Even after the baseball game wraps up, guests can stay in the suite until the end of the draft.
April 26th will be Faith and Family Night. For this night of fellowship we'll host local church groups and religious organizations. The stadium will play church music, play a game of Bible Bingo and give out inspirational prayer cards to those in attendance.
Join the Hammerheads on April 27th for Brew Ha Ha sponsored by Palm Beach Improv and Brown Distributing. It will be night full of laughs, beers and baseball. Two hours of craft beer tasting will be followed by a 45-minute comedy set from the local Palm Beach Improv group, then it'll be time to play ball.
We'll celebrate healthcare professionals for Nurse's Night on May 6th. That night, the stadium will offer special discounts for nurses with proper identification. Then, May 11th is Gulfstream Goodwill Industries Night, where fans can exchange three gently used items for a ticket to the game.
On Education Day May 24th, RDCS will give local students the chance to play hooky and watch a special morning game of baseball. We promise spending the day at Roger Dean Chevrolet Stadium is better than math class!
On May 25th, the stadium will pay tribute to the classic baseball movie Field of Dreams in honor of its 30th Anniversary. Dwier Brown, who played Ray's father in the movie, will make a special appearance at the stadium that night, which includes catch on the field.
Then it's officially summertime for students! On May 31st Roger Dean Chevrolet Stadium is celebrating the end of the school year with our School's Out Bash sponsored by Jupiter Medical Center.
This year Roger Dean Chevrolet Stadium will also be hosting the Florida State League All-Star Game presented by SpeedPro Imaging North Palm Beach and Treasure Coast. It will be the first time the game took place in Jupiter since 2000 and it's sure to be an exciting weekend of baseball. Top talent from the North and South Divisions of the Florida State League will play against each other on one field. The festivities begin Friday, June 14th with the All-Star Dinner presented by Palm Beach Sports Commission and a Food Truck Invasion and concert for fans in Downtown Abacoa. Following an autograph session with the All-Stars, top sluggers from the league will showcase their skills in the Home Run Derby presented by Tire Kingdom Saturday, June 15th. First pitch is thrown shortly after, officially kicking off the All-Star Game and giving fans a chance to see the MLB stars of tomorrow in action. Post-game fireworks courtesy of Pyrotecnico will finish off the evening.
On June 22nd the stadium will honor those who have served our country with a special Veteran's Night. Later that month, take a break from the Florida summer hear with our annual Splash Day on June 27th. Roger Dean Chevrolet Stadium will turn into a water park for the day, with water balloons, water slides and more to cool off the crowd.
Fans can also come celebrate Independence Day with us here at Roger Dean Chevrolet Stadium. On Thursday, July 4th thousands of fans will come out to the ballpark for Mega Bash, our most popular event of the season. Bounce houses, inflatables and games will be set up in a MEGA kids area. After the Hammerheads play fans can enjoy a Fourth of July fireworks show, presented by the Town of Jupiter and Juno Beach.
July 20th is Pirate and Princess Night, where we encourage kids to live out their imagination and dress up as pirates and princesses for the Hammerheads baseball game. Face painting, bounce houses and balloon artists will be there to entertain our pirate and princess fans throughout the evening as well.
The Jupiter Hammerheads look forward to having you out at Roger Dean Chevrolet Stadium for our exciting promotional nights, or any night this season. See you this summer!