Hammerheads' Sarah Campbell named Emo Murphy Female Executive of the Year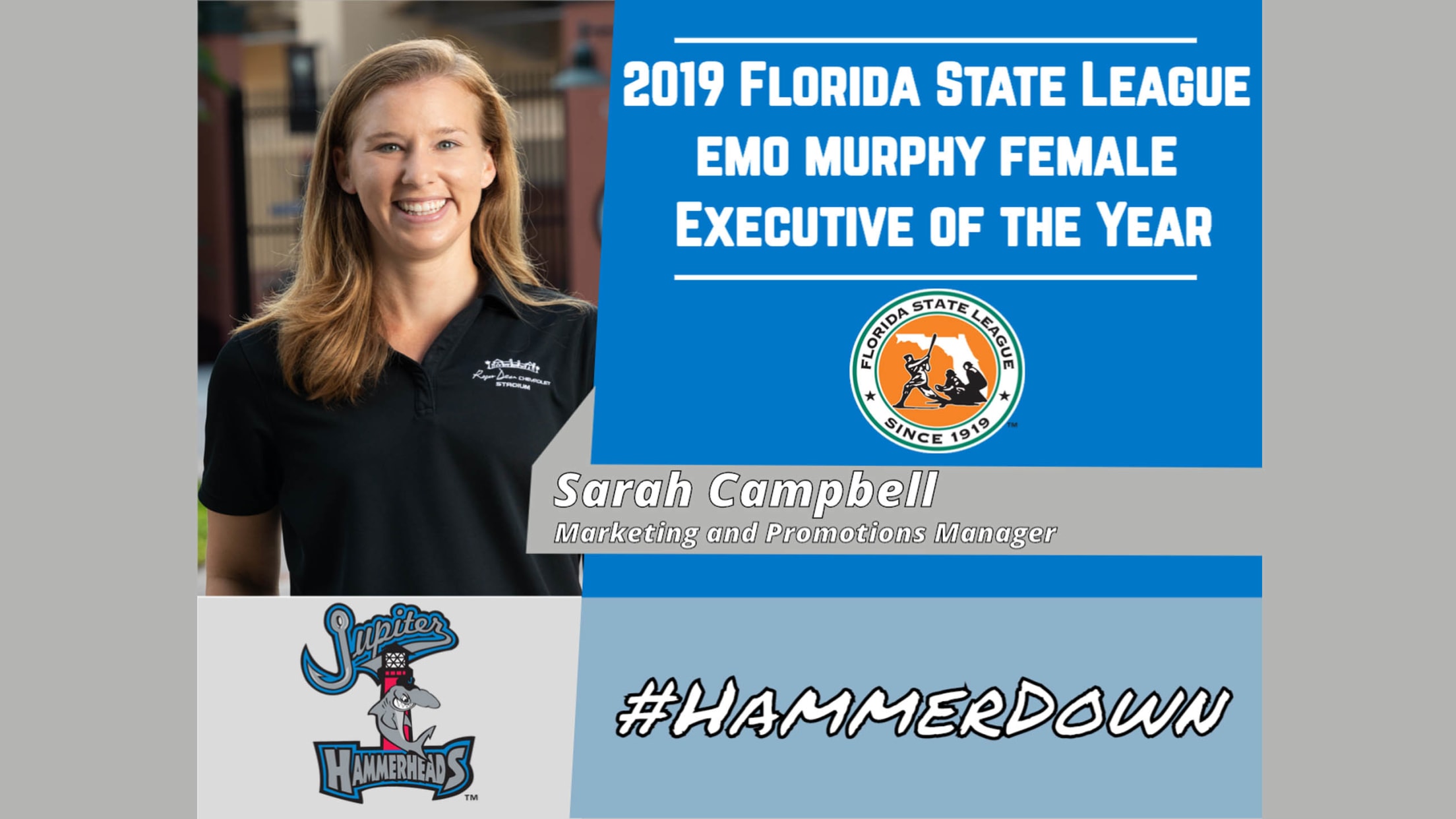 The Jupiter Hammerheads are ecstatic to announce that Marketing and Promotions Manager Sarah Campbell has been named Emo Murphy Female Executive of the Year for the 2019 Florida State League season.This is the first time Campbell has won the prestigious award after being nominated by executives throughout the league. Her
The Jupiter Hammerheads are ecstatic to announce that Marketing and Promotions Manager Sarah Campbell has been named Emo Murphy Female Executive of the Year for the 2019 Florida State League season.
This is the first time Campbell has won the prestigious award after being nominated by executives throughout the league. Her tenure at North America's busiest stadium began in 2014 when she was an intern. After a season with the independent York Revolution, Campbell returned to Jupiter in 2016 where she has been ever since.
In her four years at the helm of the Marketing and Promotions department, she has been responsible for the over 500,000 fans to walk through the gates of Roger Dean Chevrolet Stadium during the Florida State League Season.
She also played an integral part in the planning and execution of the 2019 Florida State League All-Star Game in Jupiter that saw 5,380 patrons watch the future MLB stars of tomorrow.
One of Campbell's biggest assets is the relationships that have been built between the Hammerheads and local community. The team has partnerships with numerous non-profits such as Scripps Research Center, Quantum House, First Serve, Miracle League, and many others. Over the past year alone, over $50,000 has been raised and donated back into the local area.
Of those fundraising events, the Hammerheads held a promotion dubbed Sneakers for Science which was nominated for Minor League Baseball's promotion of the month for August. The players and coaches of the team donated autographed cleats that were auctioned and raffled off as part of the sneaker show to benefit Scripps Research, a non-profit research center that specializes in medical advancements for diseases such as Parkinson's, ALS, multiple cancers, HIV, muscular dystrophy and more.
Aside from being the only employee in all of Minor League Baseball to handle the marketing and promotions of two teams, Campbell also serves that role for the Miami Marlins and St. Louis Cardinals Spring Training slate.