Jupiter Hammerheads announce 2021 Coaching Staff
Jupiter Hammerheads announce 2021 Coaching Staff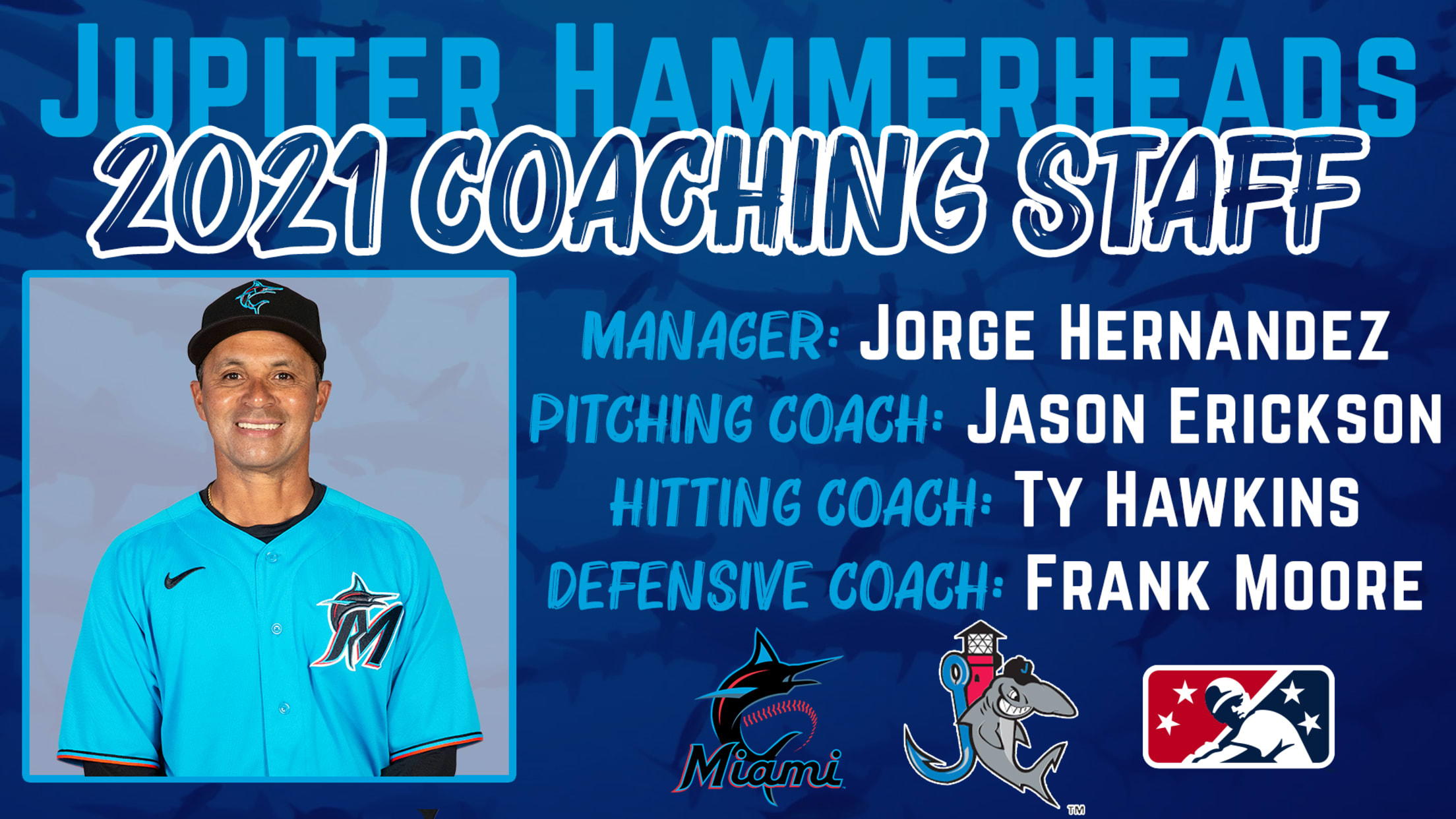 JUPITER – Ahead of the 2021 Low-A Southeast Division season opener on May 4th, the Jupiter Hammerheads announced the coaching staff for the upcoming campaign. This season will be the team's first as the Miami Marlins Low-A affiliate after previously serving as the team's High-A affiliate. Manager Jorge Hernandez is
JUPITER – Ahead of the 2021 Low-A Southeast Division season opener on May 4th, the Jupiter Hammerheads announced the coaching staff for the upcoming campaign. This season will be the team's first as the Miami Marlins Low-A affiliate after previously serving as the team's High-A affiliate.
Manager Jorge Hernandez is new to the Hammerheads however has been an integral part of the Miami Marlins player development over the past 15 seasons. The 55-year old has spent time as the Marlins' GCL manager from 2009 through 2012 where he led the squad to three straight first-place finishes.
His last season at the helm came with the Batavia Muckdogs in 2019 when the team clinched a spot in the New-York Penn League playoffs for the first time since 2010.
In college, Hernandez was a member of the 1987 Troy State baseball team that won the Division II World Series.
Jason Erickson is tabbed as the Jupiter pitching coach, his fourth season in the Marlins organization. His coaching career in Minor League Baseball began with the Pittsburgh Pirates in 2015 & 2016. The Great Falls, Montana native spent the 2017 & 2018 seasons in Batavia before coaching GCL in 2019. A 24th Round selection in the 2009 MLB Draft by the Pirates, Erickson spent three seasons in the minors reaching Advanced-A Bradenton.
Serving as hitting coach for the 2021 season will be Ty Hawkins who is entering his first season in the organization. Prior to joining the Fish, Hawkins spent 20 seasons coaching in the New York Yankees organization throughout the affiliates.
Defensive Coach Frank Moore will be with the organization for his third season with Jupiter. The Hammerhead alumni spent parts of the 2005 and 2006 seasons playing in the teal and white. After his playing career ended in 2008, Moore joined the organization as a coach in 2009 and served as the Hammerheads hitting coach in 2011 and 2016.
Sandy Krum will serve as the Hammerheads Athletic Trainer following a successful lineage from both the sports and television realm. Krum was the Athletic Trainer on numerous hit television shows such as The Biggest Loser, The Amazing Race, American Gladiators, and Losing It with Jillian Michaels among others. The Chicago native also spent two decades working with the Chicago Cubs, Cincinnati Reds, and Pittsburgh Pirates winning two Athletic Trainer of the Year awards in that span.
Rounding out the Hammerhead's staff is Strength & Conditioning coach Samuel Sauer who enters his first season in professional baseball. Prior to joining the Marlins, Sauer was the Assistant Strength & Conditioning coach at IMG Academy and Wichita State University. The Iowa State and Grand Canyon alum was tabbed to be the Single-A Strength & Conditioning coach in 2020 before the season was canceled due to COVID-19.
The Jupiter Hammerheads begin the 2021 slate on the road before the team's first homestand beginning on May 11th. Tickets and more information will follow in the coming weeks.