Bowie Cruises Past Erie in Series Opening Win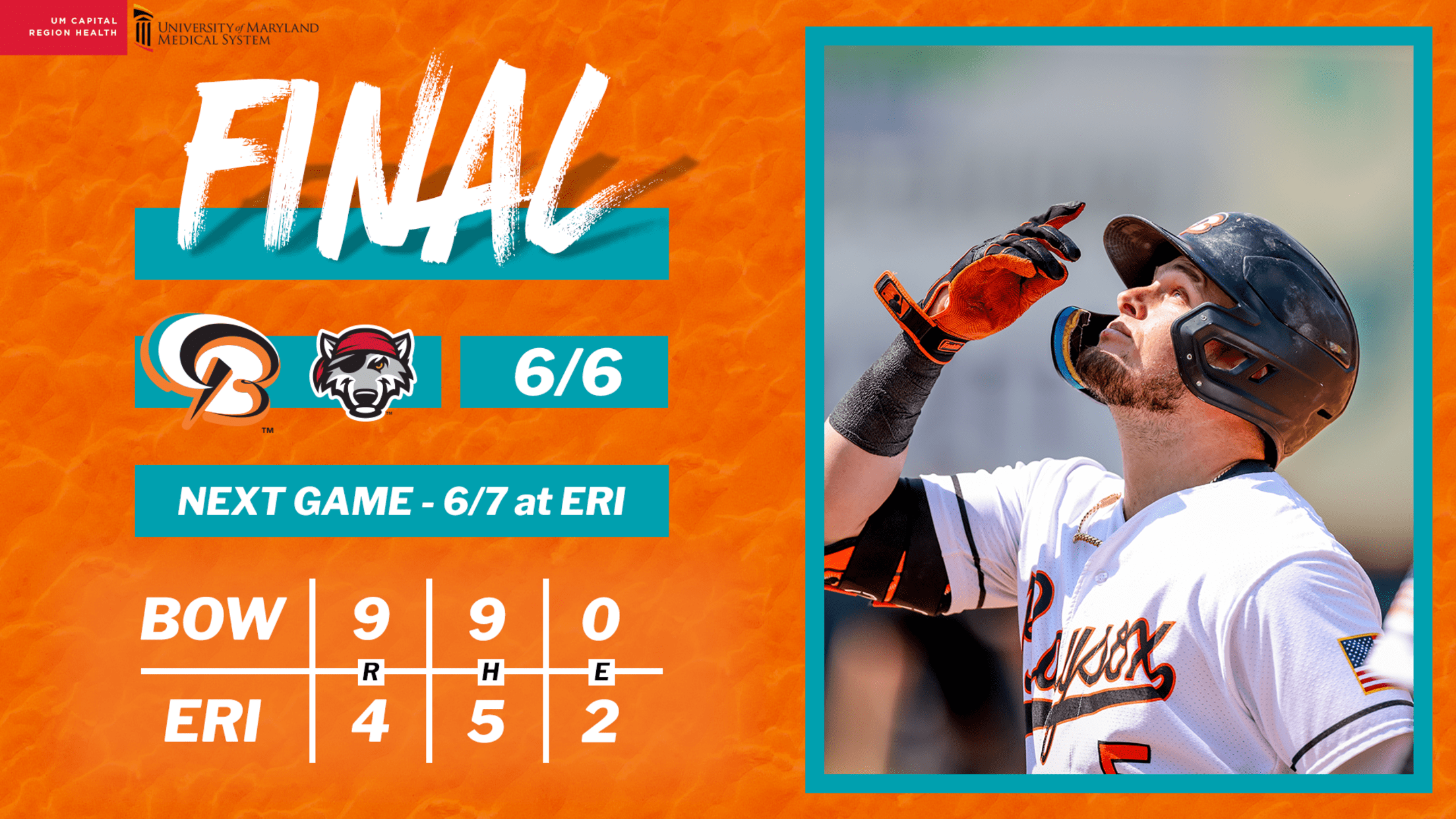 BOX SCORE ERIE, PA – It was another successful series opener for the Bowie Baysox on Tuesday night, as they began a six-game series against the Erie SeaWolves with a 9-4 win. Chayce McDermott fired 94 pitches in a strong five-inning showing, while Cesar Prieto paced the offense with three
ERIE, PA – It was another successful series opener for the Bowie Baysox on Tuesday night, as they began a six-game series against the Erie SeaWolves with a 9-4 win. Chayce McDermott fired 94 pitches in a strong five-inning showing, while Cesar Prieto paced the offense with three hits and four RBI.
Two early hits in the first inning gave Bowie a brief lead in the contest, as Dillon Dingler was able to drive in a run on a fielder's choice. The two hits would be most of what Erie could manage against Chayce McDermott, as the right-hander allowed just three hits total over five innings. While needing a career-high 94 pitches, McDermott (W, 4-4) only walked one batter while striking out seven in a winning effort.
Bowie claimed the lead in the second inning when Maverick Handley slugged a first-pitch two-run home run. While Erie starter Brant Hurter (L, 2-2) did respond with two scoreless innings to maintain the one-run game, Bowie was gifted a run in the fifth inning in peculiar fashion. When TT Bowens flew a ball to right field on the foul line, right fielder Andrew Navigato overran the ball, allowing it to drop. Navigato, however, believed the ball to have been foul, and did not pick it up in time, allowing Bowens to make the quick trip around every base. Two more runs came later in the inning when Cesar Prieto singled to right field, making it 5-1.
Two more pitchers got nicked by Bowie bats in the sixth, as Billy Cook and Joseph Rosa each drove in runs against Michael Bienlien, and Prieto served up another two-RBI base hit against Tim Naughton. Blake Holub and Yaya Chentouf kept Bowie from adding to the lead over the final two innings.
Following McDermott, Bowie got a strong opening from Conner Loeprich, but after retiring five batters, Loeprich allowed a pair of runs in the seventh inning on a Luis Santana single. Xavier Moore replaced Loeprich, and retired all four batters he faced through the eighth inning. Fresh off of the Injured List, Jensen Elliott took the ninth inning for Bowie, but was dealt his first earned run of the season when he allowed a solo home run to Andrew Navigato.
Taking the opening game of the series, Bowie increases 19-31 on the season. Bowie and Erie will continue their six-game set on Wednesday at UPMC Park. Carlos Tavera is scheduled to get the start, with the first pitch set for 6:05 p.m.