Areinamo, Figueroa earn Mudcats' Year-End Awards
Areinamo earned the 2023 Willie Duke Award and Figueroa was named the 2023 Ed Hales Award winner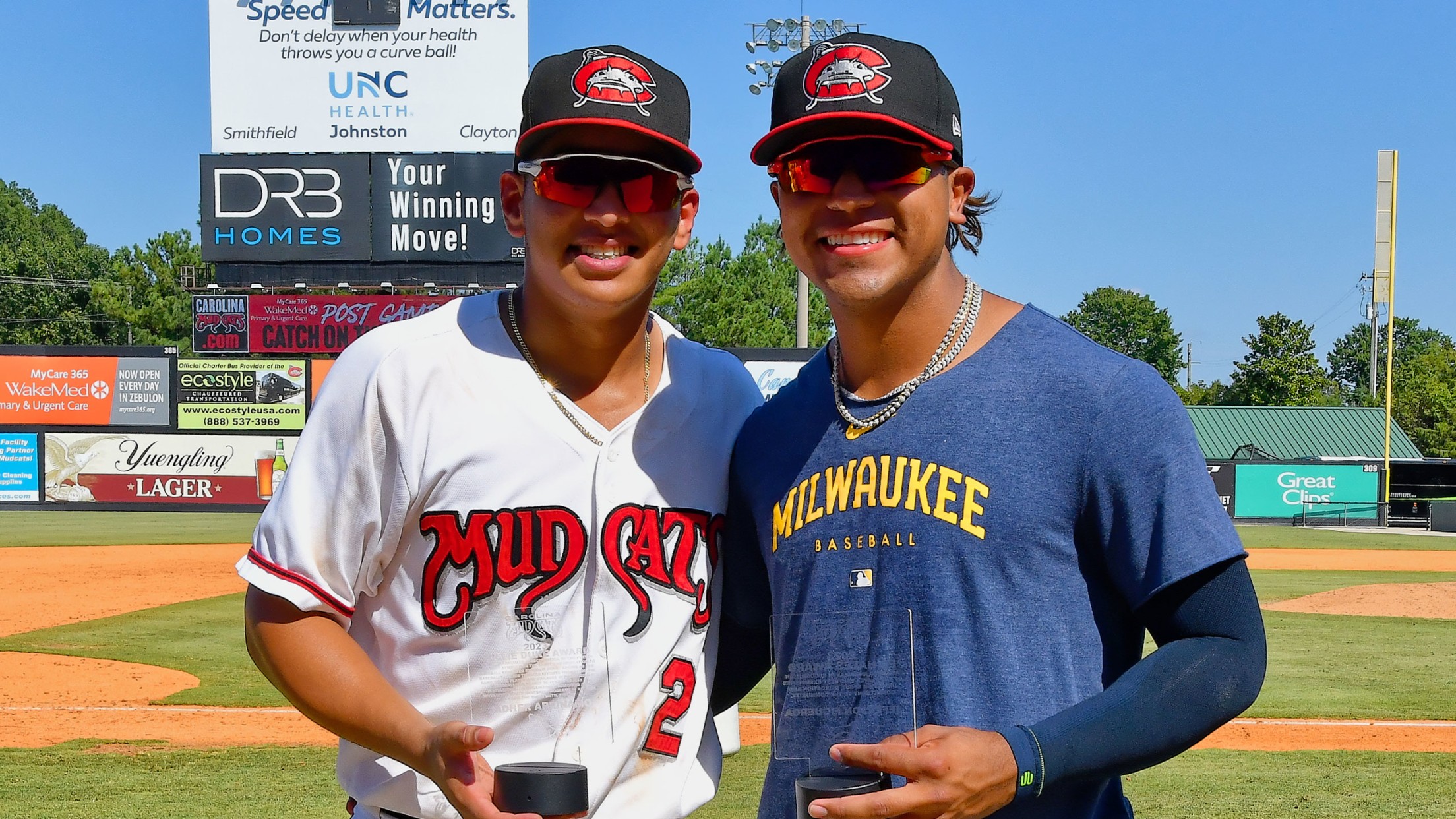 ZEBULON, N.C. - The Carolina Mudcats closed their 2023 regular season home schedule on Sunday, September 3 with their annual post-game award ceremony honoring infielder Jadher Areinamo as the franchise's Willie Duke Award — Team MVP — winner, and reliever Jeferson Figueroa as the franchise's Ed Hales Award — Community
ZEBULON, N.C. - The Carolina Mudcats closed their 2023 regular season home schedule on Sunday, September 3 with their annual post-game award ceremony honoring infielder Jadher Areinamo as the franchise's Willie Duke Award — Team MVP — winner, and reliever Jeferson Figueroa as the franchise's Ed Hales Award — Community Service Leader — winner for the 2023 season.
The Willie Duke Award (the equivalent of the club's most valuable player award) is presented annually by the Mudcats to the player who best symbolizes the spirit and dedication to baseball exhibited by Willie Duke. Known as "Mr. Baseball" for his tireless efforts promoting the game, Willie played and managed in professional baseball for nearly 20 years. He was instrumental in organizing, promoting, and developing youth baseball programs in the Raleigh area since the 1940's.
Areinamo, the 2023 Willie Duke Award Winner, entered Sunday's home finale against Down East ranked second in the Carolina League in batting (.308), first in hits (117), first in multi-hit games (40), first in doubles (26) and ninth in slugging (.408). He had additionally committed just seven errors across three positions while playing at second, third and shortstop this season.
The Ed Hales award is presented by the Mudcats in recognition of the player(s) who best exemplifies unselfish spirit, dedication and commitment to the community.
Whether it was an appearance at a local community event, or a day of summer camp work with youth baseball players, Figueroa always remained eager and willing to volunteer his time whenever the opportunity arose. Figueroa's commitment to community engagement was infectious and was most notably felt as he helped organize his teammates for a trip to the Miracle League of the Triangle earlier in the season.
The full list of past winners is available online: Mudcats Awards