Cardinals voted Best Ballpark in Rookie League
TVA Credit Union Ballpark bests 17 other rookie league squads in Ballpark Digest contest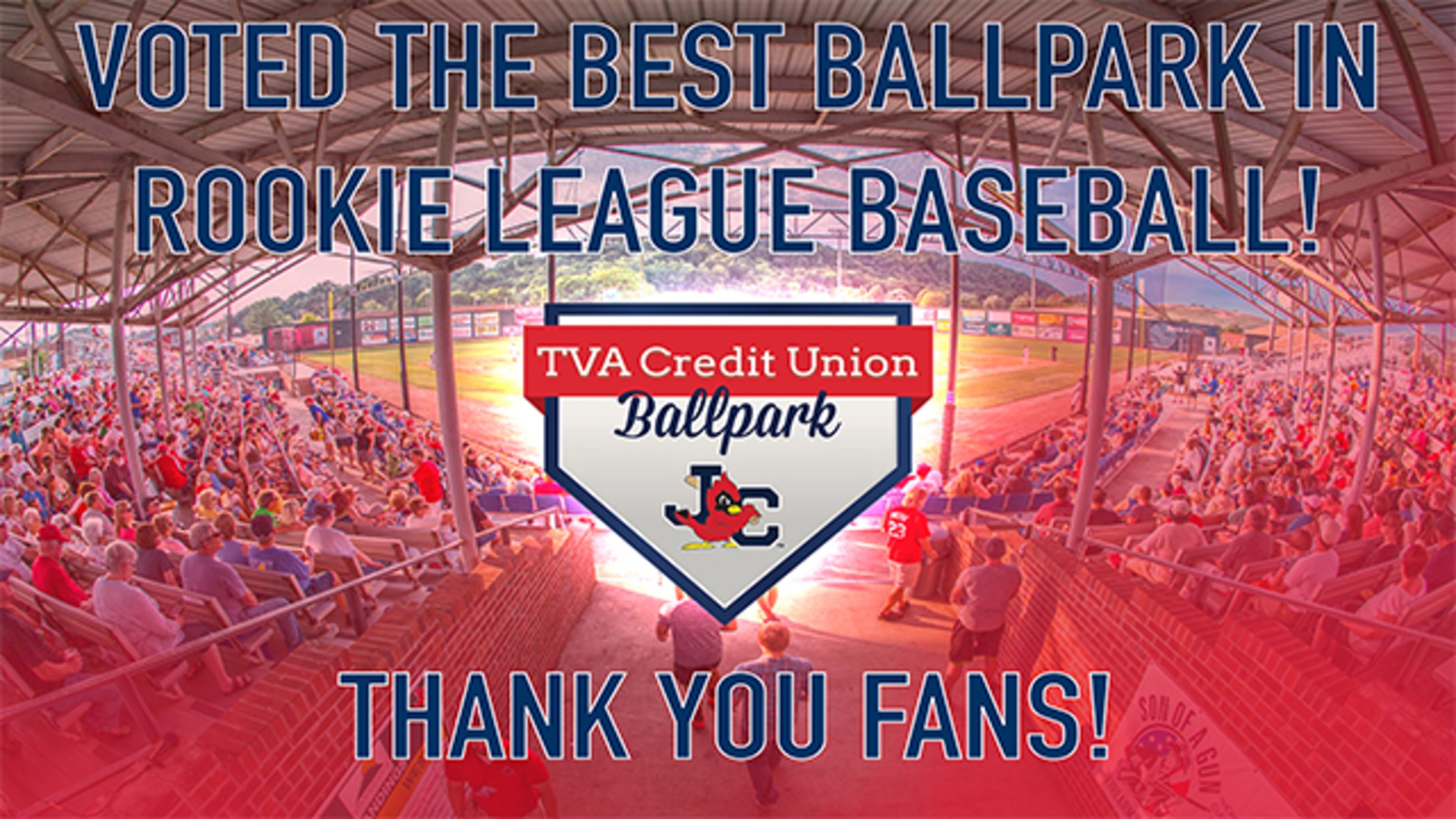 JOHNSON CITY, Tenn. -p.p1 {margin: 0.0px 0.0px 0.0px 0.0px; text-align: justify; font: 10.0px Arial} p.p2 {margin: 0.0px 0.0px 0.0px 0.0px; text-align: justify; font: 10.0px Arial; min-height: 11.0px}On Monday afternoon it was announced that the Johnson City Cardinals' TVA Credit Union Ballpark had been voted the best stadium in rookie league baseball
JOHNSON CITY, Tenn. -On Monday afternoon it was announced that the Johnson City Cardinals' TVA Credit Union Ballpark had been voted the best stadium in rookie league baseball in Ballpark Digest's annual "Best of the Ballparks" fan vote. In the bracketed contest, TVA Credit Union Ballpark outlasted Suplizio Field, the home of the Pioneer League's Grand Junction Rockies, in the final round.
This marks the latest in a series of achievements and honors for the stadium since Boyd Sports, LLC took over management of the franchise prior to the 2016 season. Ballpark Digest awarded "The Perch" down the third-base line at TVA Credit Union Ballpark as Minor League Baseball's best ballpark improvement under $1 million for the 2016 campaign. In addition, the stadium has also seen the franchise record for attendance broken for both a single-season (53,444 in 2016) and a single-game (3,549 on July 3, 2017).
"There's a great baseball tradition in Johnson City, and in the past few years the fans have been rewarded with a much-improved experience," said Ballpark Digest publisher Kevin Reichard in a post on the page's website. "When Boyd Sports took over management of the Johnson City Cardinals and the ballpark in 2016, the firm immediately made improving the fan experience a priority. And it's obviously paid off."
Entering Tuesday, the Cardinals have drawn 35,007 fans to TVA Credit Union Ballpark in 2017 over 17 openings. At the moment, the Cardinals are on pace to blow past last year's single-season attendance record, as they are currently on course to draw 67,951 fans during the 2017 season. As well, the current average of 2,059 fans per game would also set a ballpark record.
Johnson City's victory in the "Best of the Ballparks" competition is the first for an Appalachian League team in the last three years. Dehler Park (Billings Mustangs) and Melaleuca Field (Idaho Falls Chukars) were the two previous winners, both from the Pioneer League. TVA Credit Union Ballpark won the competition by defeating the 17 other ballparks in rookie league baseball.
Single-game tickets are still available and can be purchased online at JCCardinals.com or by calling the Cardinals' Ticket Office at (423) 461-4866.
ABOUT THE JOHNSON CITY CARDINALS
The Johnson City Cardinals are the Rookie affiliate of the St. Louis Cardinals. Members of the ten-team Appalachian League, Cardinals baseball has been entertaining families and fans of America's national pastime in the East Tennessee region for 80 years. To learn more about the Johnson City Cardinals, visit www.jccardinals.com.