Maxwell Elementary student wins the Legends 'Hit the Books' Reading Program Bookmark Design Contest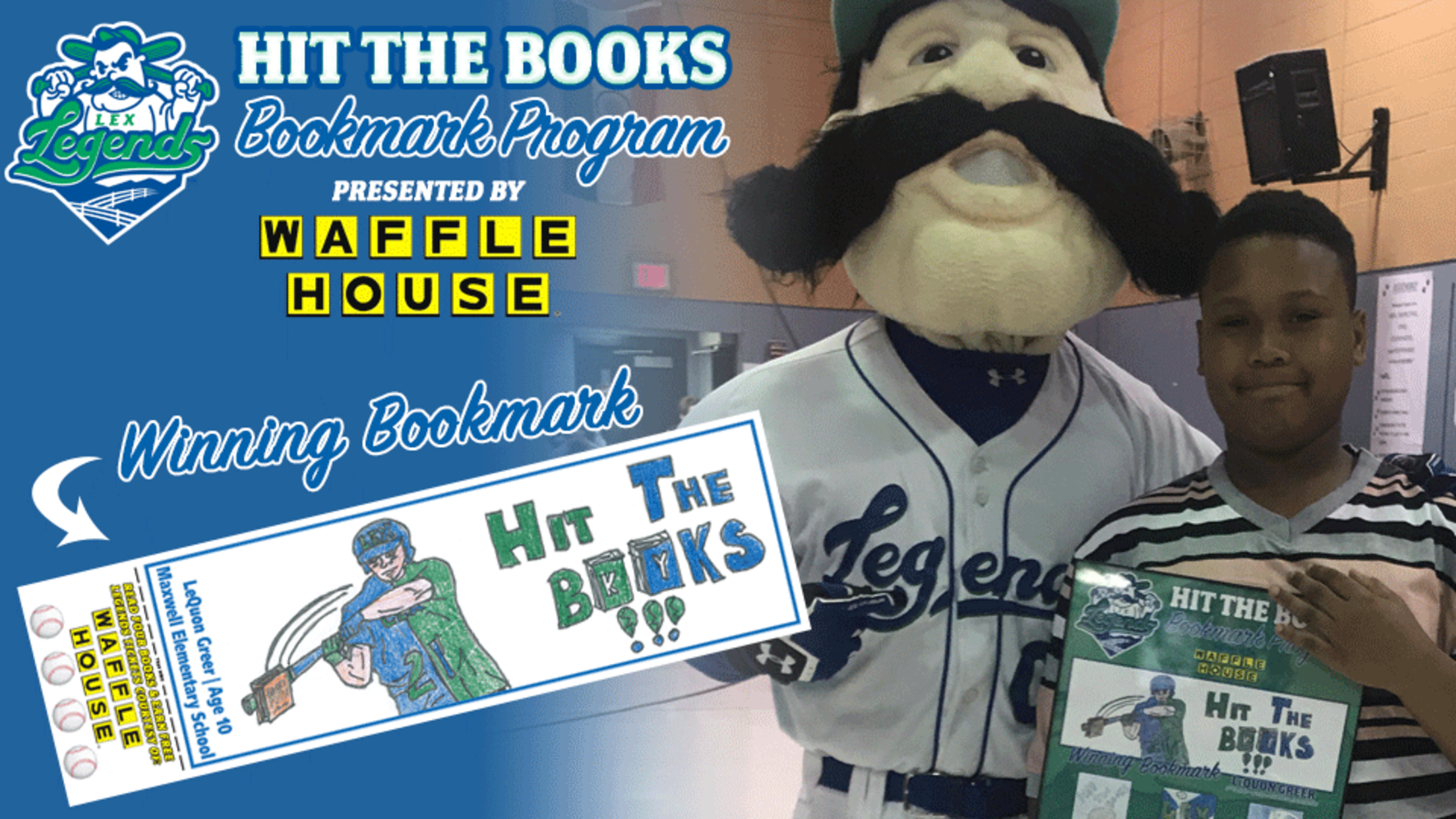 WHITAKER BANK BALLPARK (Lexington, KY) - Legends announce 10 year old LeQuon Greer, a 5th grader at Maxwell Elementary in Lexington, as the overall winner of the bookmark design contest that is part of the Lexington Legends Hit the Books reading incentive program sponsored by Waffle House.Greer (picture with graphics attached)
WHITAKER BANK BALLPARK (Lexington, KY) - Legends announce 10 year old LeQuon Greer, a 5th grader at Maxwell Elementary in Lexington, as the overall winner of the bookmark design contest that is part of the Lexington Legends Hit the Books reading incentive program sponsored by Waffle House.
Greer (picture with graphics attached) received a Legends prize pack that included Legends merchandise, a framed Hit the Books poster featuring his artwork, and membership in the 2018 Kids Club. He also will be invited to throw a ceremonial first pitch at a designated Legends game for his school. Bookmarks featuring his artwork will be distributed to students at every school that participates in the Hit the Books program. More than 43,000 students from over 110 Central Kentucky schools take part in the program, which runs through April 1 with bookmark redemption nights throughout the season.
In Hit the Books, a baseball diamond is used to record credit for a student's reading. For every book a student reads, a teacher places his or her initials on a base. When the student has all three bases and home plate initialed by the teacher, the student may bring a Hit the Books bookmark to the Legends Box Office at Whitaker Bank Ballpark to exchange it for two (2) tickets to a Legends home game designated for their school.
"Hit the Books will continue to be an important part of community outreach for the Legends," said Dominique Neel, the Legends Hit the Books coordinator and Account Executive. "We enjoy going out to the schools, meeting with students and providing an incentive for their efforts in reading. It's great to be part of a program that has a positive impact in the educational development of so many students."
Runners-up in the design contest were Tiffany Setters, 3rd grader at Bourbon Central Elementary in Paris, Kentucky and Audrie Kind, 8th grader at Garrard Middle School in Lancaster, Kentucky. Both of these students (pictures also attached) also received Legends prize packs and opportunities to represent their schools at a game with a ceremonial first pitch opportunity.
The 2018 season is the 18th for Legends baseball in Lexington, and will also mark the 15th year that the Legends have been associated with Hit the Books. Over the course of the program, over 350,000 students have participated in the reading program sponsored by Waffle House.
For more information about the Hit the Books reading program, contact Dominique Neel at [email protected] or (859) 422-7851. The Legends, a Class A affiliate of the Kansas City Royals and member of the South Atlantic League, kickoff the 2018 season at Whitaker Bank Ballpark against the Charleston RiverDogs, an affiliate of the New York Yankees, on Opening Day - April 5, 2018. For ticket information, call (859) 422-7867 or visit LexingtonLegends.com. All individual game tickets are now on sale.