Blash blasts three homers for Rainiers
Mariners prospect collects career-high seven RBIs in Triple-A romp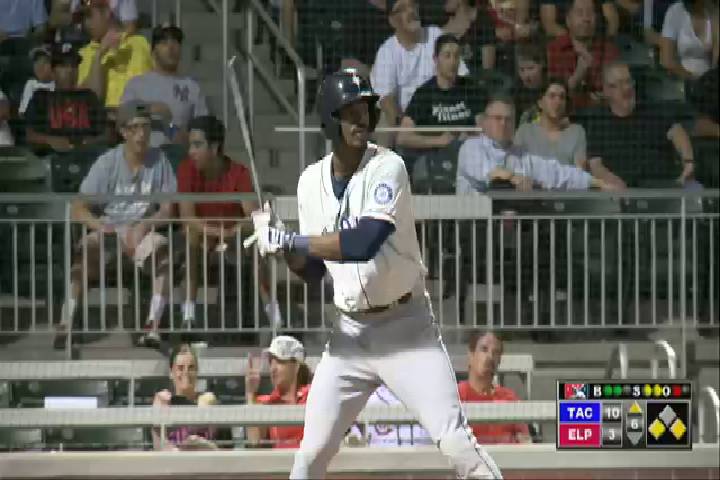 By Josh Jackson / MiLB.com | June 4, 2014 1:28 AM
It was only nine days ago that Jabari Blash established a career high with a six-RBI game. But when he had an even bigger night on Tuesday, he felt like it was long overdue.
"'Bout time,' that's what I was thinking," said the Mariners' 18th-ranked prospect. "It's a good feeling. I've been struggling lately. A game like this can throw you back into a good rhythm."
Blash hit three homers and eclipsed his personal best with seven RBIs to power Triple-A Tacoma to a 13-4 romp at El Paso. It was the first three-homer game in the Pacific Coast League this season.
"I feel great," the 24-year-old outfielder said. "I don't think anyone could feel any other way after hitting three home runs in a game."
The last Rainier to pull off the feat was Alex Liddi, who did it Aug. 5, 2011. Blash recorded the first three-homer game at El Paso's new Southwest University Park.
"When you hit the ball in the air here, it does not stop," the 2010 eighth-round pick said. "I definitely got some extra confidence in BP. At this ballpark, if you get the ball up, it can really go. But it was just like any other game, I wasn't trying to hit three home runs. I was just trying to get good pitches I could put good swings on."
Blash sent his first dinger over the center-field fence on the sixth pitch he saw in a two-out at-bat against Chihuahuas starter and No. 14 Padres prospect Keyvius Sampson in the third inning. After grounding out in the first inning, he thought he'd worked a walk but instead ended up with a three-run homer.
"I think the 3-1 pitch was outside a little bit," Blash said. "I was frustrated about that [call] for a second, but I got back in the box and looked for a good pitch to square up on. I was able get out in front of it."
Each of his next two homers came against Tim Sexton, whom Blash welcomed to the game by swatting his first pitch over the left-field fence leading off the fifth.
"I was looking for something away. I think he tried to throw me a cutter that stayed up and in, and that helped me get the bat head on it," Blash said.
For a moment, the ball seemed headed for the wrong side of the foul pole.
"For a split second when it took off, I was like, '[Darn]', but it stayed fair, thank God," he said.
With two men aboard in the sixth, Blash battled Sexton for five pitches, but the result was another homer over the left-field fence.
"[The fifth pitch] was a slider that I think he wanted more away," the native of the U.S. Virgin Islands said. "It stayed over plate and I mentally stayed in my same approach. I wasn't trying to hit a third one, which is what I usually do, and it doesn't work when you try to do too much."
After homering in three consecutive at-bats, Blash struck out in the eighth. He tried not to think about a fourth homer, but he knew that possibility was on the minds of the El Paso fans.
"They're expecting you to hit another one or they really, really want you to get out," he said. "Those home fans were not too happy about the three home runs."
Even after the 3-for-5 performance, Blash is batting .190 over 29 games in the PCL after hitting .262 in 25 games with Double-A Jackson. He went hitless in five of his last 10 games, but he also has six homers, two doubles and 13 RBIs during that span.
"Hitting the ball and hitting the ball hard gives that you confidence and you can build off this kind of game," he said. "We have a day off tomorrow, but I look forward to squaring up on some more balls at home."
Taijuan Walker, MLB.com's No. 5 overall prospect, gave up a run on a hit and four walks over two innings in his second Triple-A rehab appearance. He struck out four but threw 56 pitches.
"He's a great pitcher. He didn't have a good outing, but he's a phenomenal pitcher. Sometimes you're great, sometime you're not," Blash said. "His next outing, he might go nine and give up two hits. He just had a tough night, that's all."
Sampson (2-5) surrendered eight runs on seven hits and four walks with three strikeouts over four innings.
Josh Jackson is a contributor to MiLB.com. This story was not subject to the approval of the National Association of Professional Baseball Leagues or its clubs.
View More