Cleveland promotes Lindor to Triple-A
Top prospect plans to 'have fun, continue working hard' with Clippers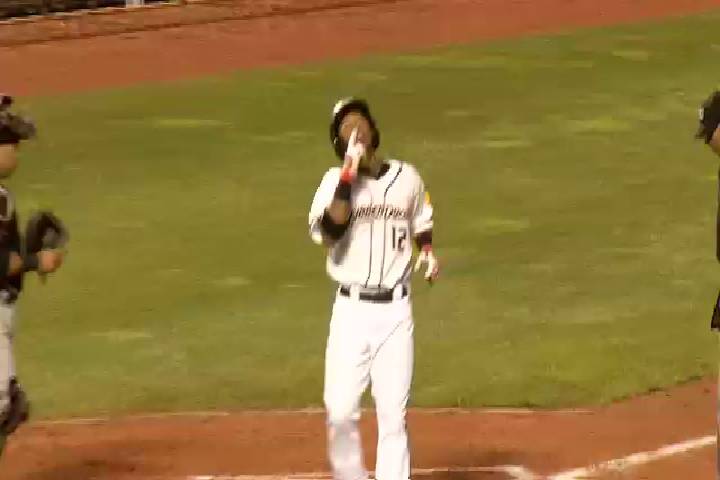 By Ashley Marshall / MiLB.com | July 22, 2014 1:05 AM
The next time Indians shortstop Francisco Lindor gets told he's being promoted, it will be the call he's been working his whole life to achieve. But that won't distract from his work ethic and will to succeed.
Cleveland's top prospect was promoted from Double-A Akron to Triple-A Columbus late Monday evening after the RubberDucks' 2-0 loss to the Flying Squirrels, putting him one step away from the Majors.
"As a player, you don't expect it, you hope for it and you work for it," Lindor said. "I'm excited, very happy. I can't wait. [The day] wasn't so good because we lost our fifth game in a row, but it got better."
Ranked ninth overall among MLB.com's top prospects, he has produced at every level he's played at in the Minors. He batted .257 with 33 extra-base hits and 27 steals in his first year of full-season ball with Class A Lake County in 2012 and hit a combined .303 with 31 extra-base hits, 34 RBIs and 25 steals between Class A Carolina and Double-A Akron in 2013.
"We're proud of him, not just for the player he is, but for the man he is," RubberDucks manager Dave Wallace said. "A lot of people had a hand in his progress and will continue to have a hand in it and help him win a world championship in Cleveland."
This year, Lindor was batting .278 with 48 RBIs in 89 Eastern League contests. His six homers already have matched a career high, while he stands just two steals away from setting a new personal high in that category too.
"My manager pulled me into his office and told me with the hitting coach [Rouglas Odor] and the pitching coach [Jeff Harris]. He told me to keep doing whatever I'm doing and to keep playing hard and working hard. He said nothing has changed but my uniform.
"I have nothing to prove. I just have to go out there and have fun and just continue to work hard. That is what the Minor Leagues are about. Just continue being you. It's cool [being at Triple-A], but I'm not paying attention to it. I'm paying attention to Triple-A and being the best player I can be."
Wallace has been a constant figure in Lindor's ascent through the system. The skipper was Lindor's first in the Minors in his rookie season with short-season Mahoning Valley in 2011 and the pair moved up together to Lake County in 2012, Carolina in 2013 and Akron in 2014. Of the 320 games Lindor has played, Wallace has managed 299 of them. Edwin Rodriguez managed Lindor for 21 games last year with the then-Aeros.
Both Odor and Harris were with Lindor in Carolina, and Harris was also with him for his brief stint in Mahoning Valley and Lake County.
"I watched him a lot," Lindor said of Wallace. "As a manager, you can't react to a lot. He stays calm and I've learned that from him. He's so calm whatever happens. He keeps his emotions with himself. The way he handles the players and talks with the team and with fans, I see those things.
"My mom and dad have been there since day one, but as a professional, the people that have been with me from day one are Wally, Rouglas and Jeff. They're great people and I learned how to be a better person from them."
Lindor, who was hit in the face by a ball last month and expects to wear a protective mask for at least one more week, has been on the prospect radar for several years now. He made the world's squad for the Futures Game in each of the past three years and he has been either a mid- or postseason All-Star in the Eastern, Carolina and Midwest Leagues.
Lindor will fly out to join his new teammates tomorrow at noon and he hopes to play later that night when the Clippers face the Indianapolis Indians in the second contest of a four-game series. His first Triple-A home game could be against Norfolk on Friday evening when the Clippers begin a seven-day homestand.
"It was a proud day, obviously for Frankie, but also for our staff here in Akron," Wallace said. "We've had the pleasure of working with Frankie for a few years now, and it is fun to see all that hard work pay off and him taking that next step in the next chapter of his career.
"I told him how proud Rouglas and Jeff and I were of him and the adjustments he's made, and that we want him to keep doing those things he has been, but to do them in a Columbus Clippers uniform. He broke out into a big smile and that is what makes this job so fulfilling -- the smile on his face and on the face of each player we send up."
Wallace said Lindor has grown in every aspect of the game since he first saw him as a teenager three years ago. But he added that his attitude and work ethic have remained consistent throughout.
At 20 years and eight months of age, Lindor will be more than six years younger than the league average when he plays in International League. He will be the youngest player on the Clippers roster and one of just five to be born in the '90s. There are only 61 other players in the 14-team International League born in the '90s, none of whom were born in 1993 or later.
"Whether he thought he was getting called up or not, his play didn't suggest it," Wallace said. "He was doing such a good job of staying in the moment each day, down to each inning and each pitch. The maturity of him being 20 years old with the pressures that come with being a highly touted prospect, he remained consistent in his work and that is one of the reasons he has got himself in such a good position to move up.
"I sometimes forget about [his age] and that's a testament to the work he has put in. Obviously, he's been able to make the physical adjustments that he has needed to, but he's also put a lot of work into his defense on the back-hand side and he's maintained two different swings as a switch-hitter. Then there's also the growth on the mental side, on defense and on the basepaths."
According to the Akron Beacon Journal, the move was planned Sunday night and not a response to Asdrubal Cabrera's injury. Erik Gonzalez has been called up to Akron to replace Lindor.
Ashley Marshall is a contributor to MiLB.com. Follow him on Twitter @AshMarshallMLB. This story was not subject to the approval of the National Association of Professional Baseball Leagues or its clubs.
View More