Duffy belts three homers for RedHawks
Newcomer becomes first to achieve feat for the club since Hessman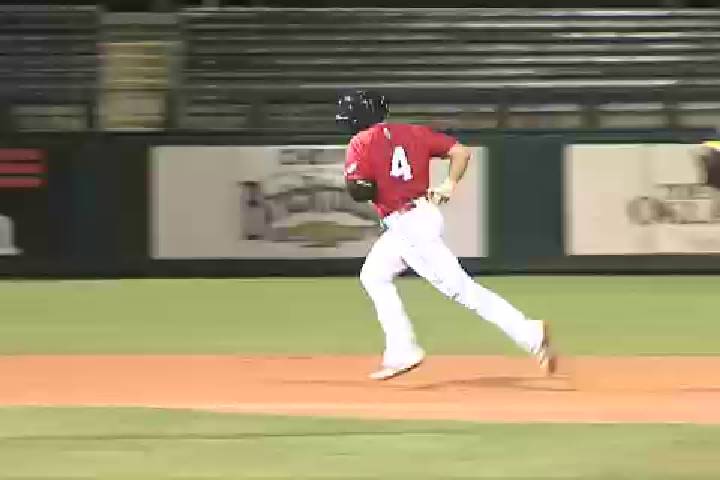 By Jake Seiner | June 10, 2014 1:04 AM ET
Nine games into his first stint in Triple-A, Matt Duffy wasn't sure he was cut out for the level. After Monday night's performance, the 25-year-old has far fewer doubts.
The Astros prospect went 2-for-27 in his first nine Pacific Coast League contests. During that time, the 2011 20th-round pick began questioning his skills and whether they'd translate one step from the Majors.
"It was crazy seeing players on other teams I recognized from being in the big leagues," he said. "I think I was a little taken back at first, wondering if I could play here."
On Sunday, Duffy managed to relax at last, belting his first PCL homer in his 10th game. On Monday, he slugged three more long balls for Oklahoma City in a 6-2 win over Salt Lake.
The trifecta set a career high for Duffy, who said he'd never hit that many in a game in his life. It was the sixth three-homer game in RedHawks' history -- the last was by Mike Hessman on June 3, 2012 vs. Iowa.
Duffy said the adjustment he's made at Triple-A was the same he made at Double-A earlier this season. The third baseman struggled in 24 games with Corpus Christi last year, in many ways because he pressed expecting the jump in competition to be bigger than what it was.
The Tennessee product took an extended deep breath during the offseason. He returned to the Hooks and hit .302 in 49 games, good enough to earn a promotion to Oklahoma City.
The process was mostly the same with the RedHawks. For the first week or so, Duffy struggled with the mental challenge of playing against Triple-A players.
This time, he was ready to make the adjustment much quicker.
"It's the same game, but you can just psych yourself up a little bit," Duffy said. "You get excited, get the adrenaline going. Your whole life, you're trying to get to the big leagues, and now you're one step closer. It's all about just getting comfortable with your surroundings and teammates and simplifying everything. Make it as simple as possible."
His first and third homers were driven out to center field, and the middle blast went to right. The right-handed hitter saw 10 pitches in that middle at-bat, working deep into the count while leading off the fourth inning against right-hander Anthony Lerew.
"Once he got two strikes on me, we started to battle," Duffy said. "He was mixing in curves and changeups."
At one point in the at-bat, Duffy ripped a foul ball down the right-field line, clipping RedHawks catcher and Duffy's roommate Max Stassi in the hand. Stassi, who was coaching first base at the time, was fine, but the experience shook Duffy up momentarily.
"I almost killed Stassi down the first-base line," Duffy said. "I was kind of rattled after that. I regrouped, fouled one off to the left, just kept working until he made a mistake."
The mistake was a fastball left over the plate that he bashed over the right-field fence.
"Before the game, I was just thinking about getting a good pitch to hit, try to get a few base hits," Duffy said. "Try to hit low line drives, like I do every game. Sometimes you just miss them trying to hit a line drive, and with a little wind, it'll go over the fence. That was my approach today."
Duffy has 10 homers on the season after clubbing 24 last year, including 19 with Class A Advanced Lancaster. His performance with the JetHawks earned him a promotion to Double-A late in the season, where he hit .247 over 24 games.
"Playing there for the last month last year was a big help," Duffy said. "When I got there, I struggled off the bat. Again, it was an adjustment period I had to go through a little physically and mentally. I had to convince myself I could play with these guys. I think that helped a lot going into this year."
And to celebrate? Duffy said the first thing on his list was a phone call to his brother, Mike. While Matt had never clubbed three homers in his career, Mike did it once in Little League, a fact he's never let Matt live down.
"He's been holding that over my head for forever," Duffy said. "I'm going to give him a call, let him know."
Jake Seiner is a contributor to MiLB.com. Follow him on Twitter at @Jake_Seiner. This story was not subject to the approval of the National Association of Professional Baseball Leagues or its clubs.
View More